Lewis Hamilton v Nico Rosberg: how the title can be won
Last updated on .From the section Formula 1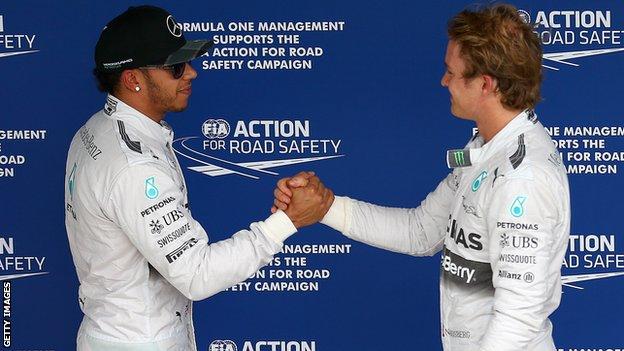 Abu Dhabi Grand Prix
Date
: 21-23 November
Coverage:
Live on BBC TV, Radio 5 live and online
Race starts:
Coverage begins at 12:10 GMT on 23 November. Race at 13:00 GMT.
Qualifying starts:
13:00 GMT on 22 November
Following Nico Rosberg's victory in Brazil just 17 points now separate him from championship leader Lewis Hamilton going into the final race of 2014.
In any other Formula 1 season, sixth in the Abu Dhabi Grand Prix on 23 November would be enough for Hamilton to clinch his second world title, even if Rosberg won the race.
But with double points available in the last race this season, the situation is more precarious for the British driver:
Title permutations for the final race

Hamilton, 334 points

Rosberg, 317 points

How the Briton can win the title:

How the German can win the title:

Finish ahead of Rosberg

Win the race with Hamilton third or lower

Finish no lower than second if Rosberg wins

Finish second with Hamilton sixth or lower

Finish fifth or better if Rosberg doesn't win

Finish third with Hamilton seventh or lower

Finish sixth or better if Rosberg is not in the top two

Finish fourth with Hamilton ninth or lower

Finish eighth or better if Rosberg misses out on the podium

Finish fifth with Hamilton 10th or lower

Finish ninth or better if Rosberg is fifth

Should Hamilton not score any points, Rosberg still must finish no lower than fifth to overturn the 17-point deficit
Abu Dhabi scoring

Place

Race points

1st

50

2nd

36

3rd

30

4th

24

5th

20

6th

16

7th

12

8th

8

9th

4

10th

2