Brazilian GP: Agenda to force small teams out of F1 - Kaltenborn
Last updated on .From the section Formula 1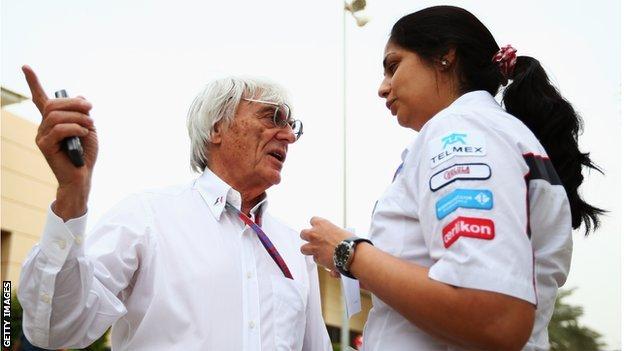 Sauber team principal Monisha Kaltenborn believes there is "an agenda" in Formula 1 to force small teams out of the sport.
And Sauber, Force India and Lotus have said that revenues are split unfairly in favour of the top teams.
"The agenda seems to be that people are looking at four or five names to remain," said Kaltenborn.
"When ideas are offered to us of a year-old chassis or engines which maybe are a different spec, a different series - there must be an agenda.
"We don't know whose agenda it is, but the fact is it cannot go on like this. It's not the way we want to work or can work.
"The more these ideas come up, the more we three get the feeling that maybe some people don't want us to be around and maybe the sport is supposed to be changed in a very different way."
Red Bull boss Christian Horner, however, refuted any claims of an agenda.
"Red Bull's position is we want to see a full grid of two-car teams," he said.
Agreements between commercial rights holders CVC Capital Partners and the teams say that if the number of cars on the grid drops below 20, the major teams have an obligation to field a third car.
But Horner insisted running a third car, which would likely cost between 35-40m Euros per year, isn't something his team are considering at the moment.
"The numbers haven't dropped significantly low enough and we haven't been requested by the promoter to run a third car," he said.
"Our preference is we have at least 10 healthy competing two-car teams."