Pressure on Nico Rosberg in Abu Dhabi - David Coulthard

By David Coulthard
BBC F1 co-commentator and former F1 driver
Last updated on .From the section Formula 1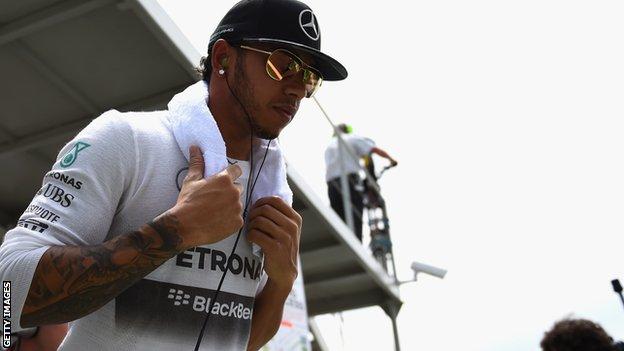 Nico Rosberg had to deliver at the Brazilian Grand Prix to take some momentum from Lewis Hamilton in the battle for the drivers' championship and he was faultless in claiming victory.
Rosberg made no mistakes through the whole weekend at Interlagos, managed the race very well and took his first win since the German Grand Prix in July.
Hamilton will undoubtedly rue the mistake he made when he spun just before coming in for his second pit stop.
At the time, he was wondering why the team did not bring him in at the end of the previous lap and he mentioned that he had not put his brake balance back towards the front for that corner.
But most of those decisions are as much in his hands as they are the team's.
Had Hamilton won the race, it would not have changed the title picture a huge amount, because the championship would still have been up for grabs at the last race in Abu Dhabi, where double points will be awarded.
Brazil was a fascinating race and it sets up a nail-biting finale, in which Hamilton can win the title even if he finishes second to Rosberg.
In that Abu Dhabi finale, I hope the title is decided by racing, rather than reliability. It would be quite an anti-climax if one of the contenders hits trouble early on and deprives the world of a race to the championship.
Hamilton closer to the edge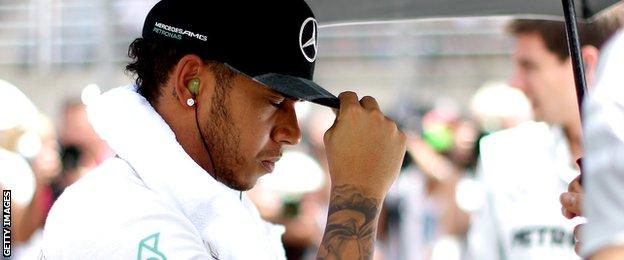 The story of the season appears to be that Hamilton has generally had stronger pace than Rosberg but has made more mistakes and had worse reliability.
There were a couple of stand-out mistakes by Rosberg at the Italian Grand Prix in September, which prompted the conspiracy theories that they were done deliberately as payback for his crash with Hamilton at the previous race in Spa.
Racing cars have a physical limit, defined by physics as opposed to the driver's courage. Logic says that, if Hamilton is taking the car to its physical limits more often than Rosberg, he is therefore more susceptible to going over them.
That may well be the reason Hamilton appears to have not had a flawless season on the driving side.
More pressure on Rosberg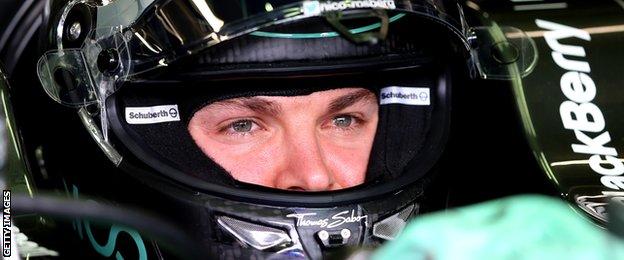 Rosberg will head to Abu Dhabi feeling charged following his performance in Brazil - you cannot do much better than being fastest in every practice session and leading the race from start to finish.
I expected Hamilton to be a bit more downbeat after the race following his mistake, but he knows that second place in the next race is enough for him to win the championship - that is not a bad pressure to have.
There is no doubt in my mind that the pressure on Rosberg in Abu Dhabi is greater than on Hamilton.
Given the performance of the Mercedes car this season, they are likely to finish one-two in Abu Dhabi. Rosberg knows he has to win the race and even that will not be enough if Hamilton is second.
Even the most successful team in F1 has only won 33% of all the races they have competed in. The statistics are generally similar with drivers.
That's the way of things in F1 - you lose more often than you win - therefore, needing to win has to be more pressure than just needing a placing.
As far as Hamilton is concerned, drivers tend to compartmentalise mistakes very quickly and I suspect he will be focusing on how fast he was and how he made up ground on Rosberg during the race.
That's certainly what he was saying afterwards and that suggests he is already mentally in Los Angeles, or wherever he is going before Abu Dhabi, ready to refresh himself and then switch it back on again for the final race.
Based on the season, on racing success, Hamilton is one step ahead, not just on points but also in most people's eyes in being fairly clear cut as the one who is more deserving of the championship.
He has, after all, won double the amount of races of Rosberg.
That's not to be detrimental to Rosberg because he's done an exceptional job this year, both in the way he has driven and the manner in which he has conducted himself.
He has helped the Mercedes team grow for five years, showed strongly against Michael Schumacher and has now given Hamilton a good run for his money.
On double points
It's a shame that such a good championship battle could be decided by the award of double points, which most people seem to be against.
It does increase the jeopardy, pressure and focus on that final race, in that Hamilton has to finish second if Rosberg wins, rather than just take a lower position, but it still does not seem right.
However, it appears, for one year only at least, that is what we have.
We have been talking about it since it was introduced last December. So, from a media point of view, you have to say it has been a masterstroke.
David Coulthard was talking to BBC Sport's Andrew Benson