Red Bull back rivals' calls to open up F1 engine development

By Andrew Benson
Chief F1 writer in Sao Paulo
Last updated on .From the section Formula 1
Red Bull F1 boss Christian Horner has threatened to join with rival teams to tear up restrictions on engine development from 2016.
Renault, Ferrari and Honda want an extra step of development during the season to try to catch Mercedes.
Talks over the issue broke down at the Brazilian Grand Prix.
"There are no guarantees we can close that gap significantly to Mercedes but not having the opportunity to do so seems pretty unpalatable," Horner said.
Teams are currently only allowed to develop their engines during the winter.
Mercedes in 2014
651 points, never below third in a race, 1-2 finishes in 11 of first 18 races
Change in 2016 would require only majority agreement, whereas unanimous agreement is needed for a relaxation of the rules for 2015.
Horner said: "I think that's the only option because with a majority vote '16, '17, '18 can be open, which is ridiculous because it just means we're all going to end up spending a lot more money over a longer period of time, whereas it should be opened to allow Renault, Ferrari, Honda to close the gap."
World champions Mercedes argue the current rules allow plenty of scope for development, saying 92% of the engine design can be changed for next season.
They have, though, offered a limited relaxation of the in-season restrictions for next year, with a proposal for a small number of extra changes to be allowed mid-season. But rivals Renault, Ferrari and, from next year, Honda, want more.
Mercedes F1 boss Toto Wolff said: "I don't think it's the way forward trying to unsettle the system and saying if you don't agree for '15 , we are going to turn the whole thing upside down, [and have an] engine war.
"You're looking a bit too narrow on your own team's performance and not considering what is going on around you in F1."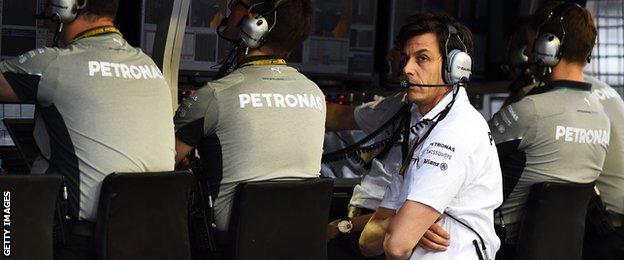 Horner has blamed the adoption of new turbo hybrid engines this season for the problems of the small teams, because engine bills have at least doubled.
He said F1 ought to consider a return to the previous outdated V8 normally aspirated engines.
"Nobody likes to go backwards but sometimes desperate means require desperate measures," he said.
"You look at the costs of these power units. How sustainable is it for all the teams and indeed the manufacturers?
"I think it's extremely unlikely [F1 would go back to the V8s] but if we were rational about it then yes we would."
But Mercedes non-executive chairman Niki Lauda said the German company would pull out of F1 if the turbo hybrid engines were abandoned.
And Renault have previously said they would no longer be in F1 if the new engines had not been introduced.
The manufacturers pushed for their adoption because they considered the previous naturally aspirated V8s were no longer relevant to road-car development.
When it was put to him that the road-car manufacturers would quit F1 if the sport returned to the old engines, Horner said: "They might pull out anyway [because of the increasing costs]. It's just a crazy situation; completely nuts."