Hamilton v Rosberg: Why Briton should beware in Abu Dhabi

By Allan McNish
BBC F1 analyst
Last updated on .From the section Formula 1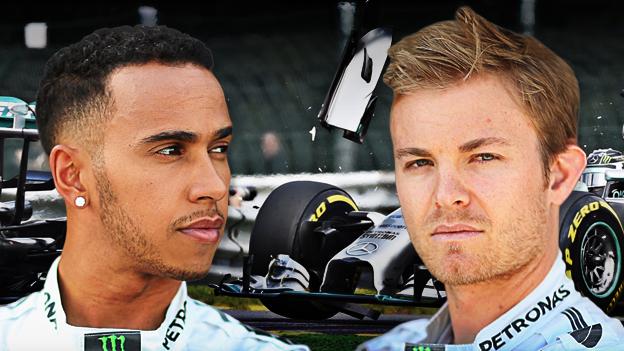 The Formula 1 World Championship will be decided at the final race of the season in Abu Dhabi and the award of double points there brings quite a different dynamic to the fight between Mercedes drivers Lewis Hamilton and Nico Rosberg.
The teams have been preparing for this since the start of the season. They have all been working on making sure they have the best possible equipment for that race, in terms of performance and reliability, because they all know it could have a big effect on their final championship position.
From the point of view of the Mercedes team, they cannot lose. They have already won the constructors' championship and they know one of their drivers is going to win that championship.
But that puts a huge amount of pressure on the team because they want to make sure they allow the drivers to fight it out and not let either of them down.
As far as the drivers are concerned, there is a very different pressure on each.
Rosberg - one focus
Rosberg has one goal. He knows that his only focus is to win the race, because he knows that the two Mercedes will likely finish first and second and that, if they do, Hamilton will win the championship.
Rosberg has to win and hope Hamilton finishes lower than second for whatever reason.
He can't control what Hamilton does. So Rosberg will just focus on doing what he can.
Rosberg knows that if he goes out and has a clean weekend and wins - exactly like he did in Brazil - then the pressure is on Hamilton.
That is generally how Rosberg has approached the season - keep it clean, do his own job, not worry too much about what Hamilton is doing.
From a championship perspective at the last race like this, it is easier to be behind than in front.
When you are in front, it's easy to feel that you can only lose it. When you're behind you can lose it and win it, but as you're behind already you've kind of lost it anyway.
So Rosberg is in a cleaner position in his head. He is behind on points, but he can simply think: "I've got one job to do, and anything less than that is not going to be good enough."
There is a parallel here with 2010, when Sebastian Vettel was in a worse position than both Fernando Alonso and Mark Webber going into Abu Dhabi. Alonso and Webber tripped up in various ways and Vettel took a win from pole position that ultimately won him the title.
Double jeopardy: Hamilton v Rosberg for the title
Hamilton now has a 17-point lead over Rosberg with a maximum of 50 points remaining at the final race in Abu Dhabi. Hamilton can win the title by finishing second to Rosberg - third or lower for the Briton means Rosberg is champion if he wins the race.
Read more on the title permutations
In that race, Vettel asked not to be given any information on where Alonso and Webber were and how it affected the championship as he wanted to be totally focused on his job.
There is every chance Rosberg could do the same thing in Abu Dhabi this year, especially judging by his performance in Brazil last weekend, where he was ahead from the beginning to the end of the weekend.
Rosberg did a perfect job in Brazil and he needs to do that again in Abu Dhabi.
It has been surprising that Rosberg has been the guy to push Hamilton so close. Rosberg has flourished this season and delivered results I don't think many people thought he could deliver.
Hamilton - harder than it looks
Another factor is that Rosberg is going for his first world championship, the biggest prize he has ever fought for, whereas Hamilton has been here before, albeit six years ago.
There have been a lot of races in between and a lot of people - myself included - questioned whether Hamilton would ever get another opportunity to win a world championship.
It was obvious in Brazil that Hamilton was on the attack, that he wanted to win the race badly.
If he had been playing the percentage game and been risk averse, he would not have spun the way he did before his second pit stop, and he would not have been pushing Rosberg so closely in the final stint.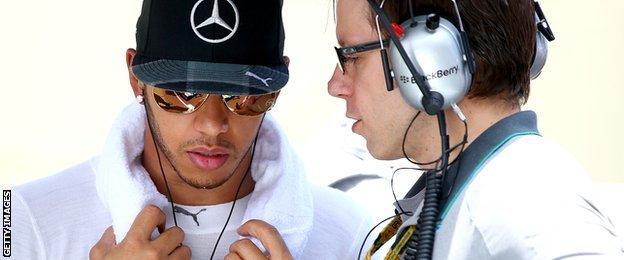 That is Hamilton. He does not have two settings. He has one - flat-out, attack, try to win.
That's why you get these stirring drives he produces, but it's also why he gets into difficult situations, because he is so close to 100% all the time.
From his point of view, he has a lead of 17 points, and he knows the most he has to do is finish second, no matter what Rosberg does.
In theory, that should be a reasonably simple job, given the performance of the Mercedes cars.
However, Mercedes may not have things all their own way in Abu Dhabi. The track has long straights and the Williams cars have always got better top speeds than the Mercedes.
All it takes is a silly situation and Hamilton could have a problem. Things can happen when you're within touching distance of the championship.
Look back at another recent title decider, in Brazil in 2012.
There, Vettel was leading Alonso by 13 points going into the race, but the German was very lucky to come through a messy first lap.
He half looked down the inside of team-mate Mark Webber at the first corner and lost places. He got caught out on the outside going into Turn Four, turned in and hit Bruno Senna's Williams, got spun round and then was hit by Senna again.
The first half of the lap he was driving with a nervous half-commitment, too cautious, but from that point on he knew he had to go for it, and he did exactly that and in the rest of the race he drove stunningly well.
Hamilton could easily find himself in that situation. So he has to go there with the attitude to win, but be ready to shadow Rosberg if he has to.
His problem is that if you play the percentage game too much it often bites you back. All it takes is a puncture and it could be game over.
Hamilton being who he is, if he is behind Rosberg and feels he is faster, he will try to overtake. He won't be able to help himself, because there is no better way to win a championship than by winning the race that decides it.
Not just about the championship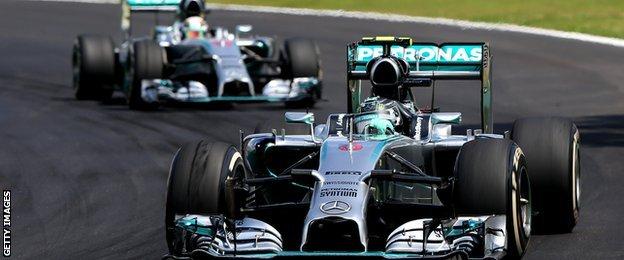 There are two different battles going on in Abu Dhabi.
One is for this year's world title. The other is for supremacy in the Mercedes team going into next year.
If a driver can mentally have his team-mate under his thumb after one season, it takes a lot for him to build back up before he gets another chance to get that momentum going back the other way.
If Hamilton loses the title, he will have the consolation that he won more races than Rosberg this year, but he won't have the world championship.
Allan McNish is a former F1 driver, a three-time winner of the Le Mans 24 Hours and the world endurance champion. He was talking to BBC Sport's Andrew Benson