Mercedes & Renault keen to avoid F1 engine 'war'

By Andrew Benson
Chief F1 writer
Last updated on .From the section Formula 1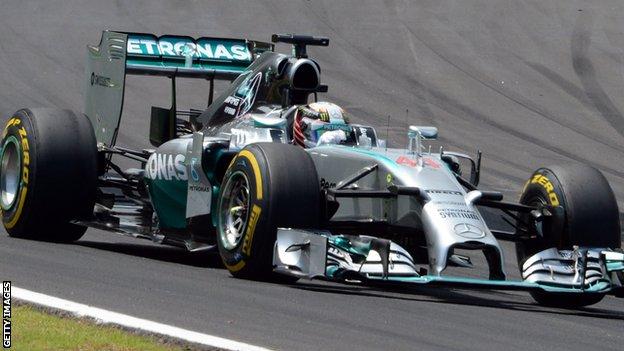 Mercedes say they and Renault agree that Formula 1 cannot afford an all-out engine development war.
They say Mercedes are blocking plans to reduce limits on in-season development next year.
Mercedes F1 boss Toto Wolff said: "No serious company would allow a complete lifting of restrictions. Renault and Mercedes have full alignment."
Red Bull team principal Christian Horner said at the Brazilian Grand Prix that F1 should consider dropping the turbo hybrid V6 power-units that were introduced this season and return to the naturally aspirated V8 engines with which Red Bull won their four consecutive world titles from 2010-13.
But Wolff said that Mercedes would quit F1 if the current engines were dropped because the V8s are no longer relevant to road-car development.
"If we dropped the current format, I can guarantee for sure that manufacturers would not be interested in supplying any other power unit because of the stability and sustainability of the sport and the road relevance of the hybrid technology," Wolff said.
"We should be promoting the technology of those engines - we are doing races on a third less fuel than last year and going faster."
He added: "Renault was very vocal in introducing these engines as a condition to stay in F1 and this is where we are today. All the other things being discussed are just funny."
Complicated rules
Red Bull, Ferrari and Honda, which is returning to F1 with McLaren next season, are pushing for a relaxation of the restrictions on engine development.
The turbo hybrid rules have a complicated series of steps over the next few years reducing development from one season to the next. In-season development is not allowed.
For next year, 92% of the power-unit, including the internal combustion engine and hybrid system, is defined as able to be changed and manufacturers have to choose within that up to 48% that they will modify.
This 48% is designed as 32 "tokens", which are parts of the engine given a weighting on the basis of their relevance to performance, with 66 making up the whole engine.
Mercedes have reluctantly agreed to a proposal by Red Bull, Ferrari and Honda to introduce an extra development stage in July. But there is a row about how big this step should be.
Mercedes have agreed to allow the use of five tokens in a July update, but Red Bull and Ferrari are pushing for 13.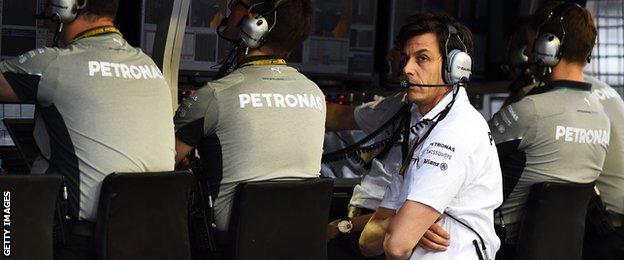 At the root of Horner's threat to abandon any restrictions for 2016 is that any change in the rules for 2015 requires unanimous agreement, but a change for 2016 can be passed on a simple majority.
Wolff added: "Nobody can be in favour of an all-out engine war in 2016. None of the current manufacturers would be in favour."
There is another meeting on the topic at the Abu Dhabi Grand Prix next weekend.
Wolff said he did not agree to any more development than is currently allowed in the rules because it would "increase the costs massively, but because we don't want to feel like hardliners, we have offered a compromise, even though I still don't believe this is the right thing to do".
"We embrace competition and innovation but we are looking at the bigger picture of sustainability of the whole sport.
"Let's be sensible; what we need now is stability not controversy."
The smaller teams are struggling financially and have cited the costs of the turbo hybrid engines as one of the factors driving their problems.
Critics of the new engines say costs of gone up by two or three times from 2013 to 2014, but Wolff said that was inaccurate.
He said the cost of a Mercedes engine had increased only 20% from year to year, if the hybrid part of both engines was included in the price.
Wolff said: "We will certainly be very vocal if it's going to ever come down to a situation that somebody would opt for gloves off in 2016 - full steam ahead into an engine war.
"It's very clear how irresponsible that would be for the sport in an environment where we have just lost two teams, where we are talking about financial hardship for some of the other teams, that somebody wants to go gloves off."