Caterham administrator reveals 230 staff redundancies
Last updated on .From the section Formula 1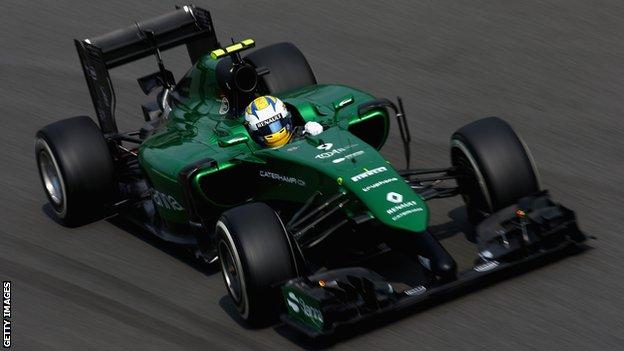 Caterham's administrator has told the BBC the team has made 230 staff redundant while still planning to race in next weekend's Abu Dhabi Grand Prix.
But administrator Finbarr O'Connell said it had been done by staff request.
"I'm not sure this is the bad news. This is what the employees as a group have been asking me to do," he said.
"This is what they want because it brings them closer to receiving money and if you speak to any of the staff representatives, they will confirm to you that 14 November was the date that they gave me."
The team went into administration last month and staff have not been paid since 30 September.
O'Connell explained the redundancies had come at the behest of a majority of the staff who had wanted to start a formal claims process if the team is not sold.
The claims process takes at least a month before any payments are made.
Caterham sat out the last two grands prix in the United States and Brazil, but plan to take 40 team personnel to the Yas Marina circuit for the season finale.
O'Connell, representing administrator Smith & Williamson, will also meet a potential purchaser at the Abu Dhabi race who he believes can save the team.
"I've got one really important meeting in Abu Dhabi with a seriously interested party and discussions with others are continuing," he said.
"Everybody is doing their best to get to the main event, and that's find to someone who will take over and have it running again."