Lewis Hamilton column: Title fight, Mercedes journey and special fans
Last updated on .From the section Formula 1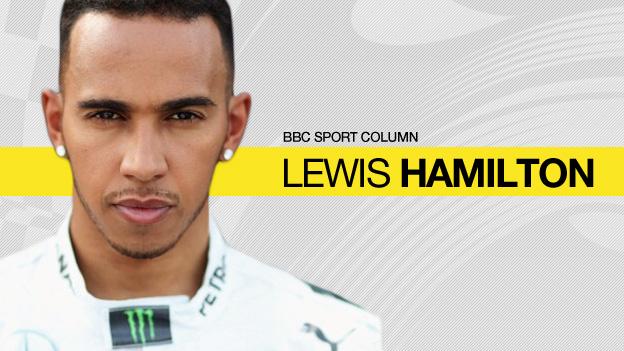 Abu Dhabi Grand Prix
Date:
21-23 November
Coverage:
Live on BBC TV, Radio 5 live and online
Race starts:
Coverage begins at 12:10 GMT on 23 November. Race at 13:00 GMT.
Qualifying starts:
13:00 GMT on 22 November
Before coming to Abu Dhabi for the race that will decide this year's World Championship, I had no idea how I was going to feel this weekend.
But now I am here, I am just massively happy and really excited.
In the past, I was probably nervous of what was going to happen in these situations. Now, with more years of experience, I am excited about what can happen. That is a much nicer way to come to the weekend.
It might be hard to understand how I am not nervous or tense but, if you're not in the situation yourself, it's best not to try to understand.
I remember when I was driving in Formula Three and I used to wonder what it might be like to be in a Formula 1 car. And then I drove one and it was way beyond my imagination.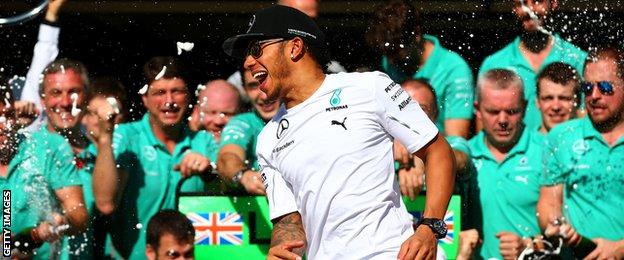 Sometimes you simply can't explain what it is like to be in such a unique and privileged situation.
If I tried to describe the feelings I've had this year, all the ups and down, I wouldn't be able to come up with the right words.
What's most important is the steps I've taken to be here this weekend and the ones I will take while I am here.
Taking inspiration from great men
I woke up on Thursday morning before coming to the track and felt absolutely amazing. I really feel like I am on top of things.
You may have seen that I posted a quote from the great American civil rights leader Martin Luther King on my Twitter account the other day: "The ultimate measure of a man is not where he stands in moments of comfort and convenience, but where he stands at times of challenge and controversy."
But it wasn't because it has any significance in relation to the championship. It's just one of my favourite quotes from one of my biggest heroes.
It is a quote I believe Nelson Mandela also liked. It is quite a powerful statement. I am always looking for things to put out there for my fans.
I have some younger friends who just aren't really aware of people like that, who are so empowering in terms of the things they achieved and what they stand for. So it's nice to put it out there, to remind people who know about it and open the eyes of people who don't.
Only one thing on my mind
Until I came here, I was not thinking about the race particularly.
Now, though, I feel a real singularity of focus. All I'm thinking about is the race weekend ahead. I am here to win the race, first and foremost, as I have wanted to win every race I have ever been in.
So it is about how to approach the sessions, how I want the car, step by step through the weekend.
I want to be quick in practice, I want to get pole position, but Sunday I can't plan yet because that will change depending on where I qualify and how the first lap goes.
I'll decide that approach on Saturday evening and Sunday morning.
Title permutations for the final race

Hamilton, 334 points

Rosberg, 317 points

How the Briton can win the title:

How the German can win the title:

Finish ahead of Rosberg

Win the race with Hamilton third or lower

Finish no lower than second if Rosberg wins

Finish second with Hamilton sixth or lower

Finish fifth or better if Rosberg doesn't win

Finish third with Hamilton seventh or lower

Finish sixth or better if Rosberg is not in the top two

Finish fourth with Hamilton ninth or lower

Finish eighth or better if Rosberg misses out on the podium

Finish fifth with Hamilton 10th or lower

Finish ninth or better if Rosberg is fifth

Should Hamilton not score any points, Rosberg still must finish no lower than fifth to overturn the 17-point deficit
I generally enjoy it here in Abu Dhabi and I feel I'm good at this track. I definitely come here feeling positive and strong for the weekend.
And I'd like to say I appreciate the support I have been getting from people all over the world.
Ultimately, it is not always about winning. Being recognised for your achievements is quite special.
Going into the race, people should just know I am an out-and-out racer and I am going to be going into it to win. I will not give up until I am past the chequered flag.
But I am certainly not going to take any stupid risks, because I don't need to.
A great year so far
I'm not one for looking back too often, because so much exciting stuff lies ahead.
But out of all my years in F1 so far, this is the one I am most proud of, in terms of my efforts, focus, precision and drive, the way I have performed, the small number of mistakes I've made.
I feel 100% comfortable in my heart that I have done the best I could with what I had.
I don't know how this weekend will work out, but I always think things - good or bad - happen for a reason.
If things don't go to plan for me, rather than think about how unlucky it was or whatever, I always try to think of the glass being half full.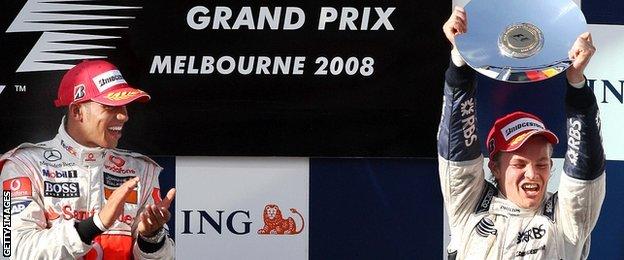 You can't have everything your own way and sometimes you struggle to understand why things are the way they are.
There have been some bad moments this season, but I have come back from them all and am leading the championship going into the final race of the season.
Ultimately, I can only be extremely grateful. I have this great car and great team. I am one of the few people racing in Formula 1. I can drive the way I do.
That has not happened through luck.
The feeling is that we have covered everything we needed to coming into the weekend. My engineers and I have a plan for how we will approach the race and now it is just about executing it.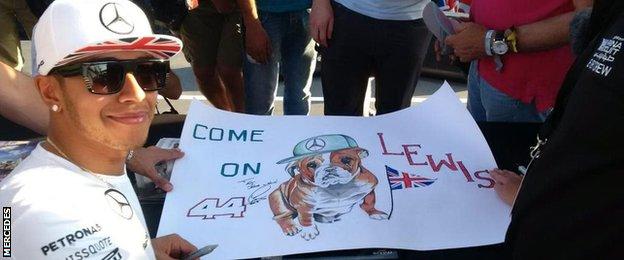 Connecting with my fans
I'm doing something really special with my fans this week. We're making a series of mini documentaries about their experiences leading up to the race.
We've built a mobile app that gives out film challenges and then records and sends us footage, so the fans really are the directors. We've been releasing the videos on social media over the week and will have a final short film soon after the end of the season.
#TeamlhMovie will be a celebration of all my fans all over the world, who experience the race week with me.
Whether we win or lose, we'll do it together. If you want to get involved get your phone out and go to www.teamlhmovie.com or follow me on Twitter to find out more.
Lewis Hamilton was talking to BBC Sport's Andrew Benson