Jules Bianchi: Injured Formula 1 driver 'out of coma'
Last updated on .From the section Formula 1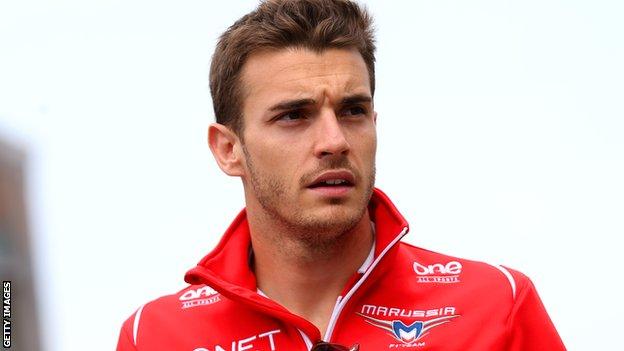 Formula 1 driver Jules Bianchi is no longer in an artificial coma and is breathing unaided, his parents have said in a statement.
The Frenchman has been flown from hospital in Yokkaichi to intensive care in Nice, where he arrived earlier.
However, his condition is still "critical" and he remains unconscious.
"Following a challenging period of neurological intensive care, we are able to announce Jules has made an important step," his parents Philippe and Christine Bianchi said.
"His treatment now enters a new phase concerned with the improvement of his brain function.
"Although the situation continues to be serious, and may remain so, it was decided that Jules was sufficiently stable to be repatriated to his native France."
They said they were "relieved" to confirm their son had been transferred to Le Centre Hospitalier Universitaire de Nice.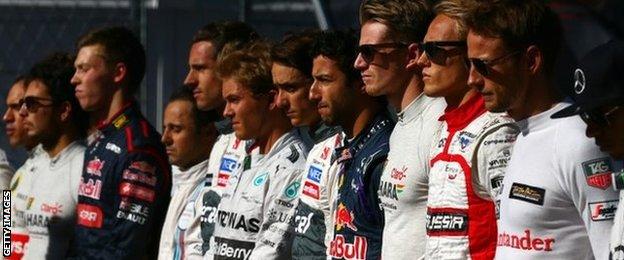 Bianchi suffered a diffuse axonal injury when he crashed into a tractor vehicle at Suzuka that was recovering Adrian Sutil's Sauber.
Marussia ran with one car the following week at the Russian Grand Prix in Sochi, where Lewis Hamilton dedicated his win to Bianchi.
His parents praised the "outstanding care" Bianchi received following the accident at the Mie General Medical Centre in Yokkaichi, adding they owed "an enormous debt of gratitude".
Since the crash, Formula 1's governing body the FIA has begun working on a plan for a 'virtual safety car' to force drivers to slow for warning flags in an accident zone.
Drivers tested such a car following first practice for the US Grand Prix on 31 October, however the system cannot be implemented immediately because of the complexity of the cars.