Fernando Alonso battles emotions as Ferrari career comes to an end

By Andrew Benson
Chief F1 writer
Last updated on .From the section Formula 1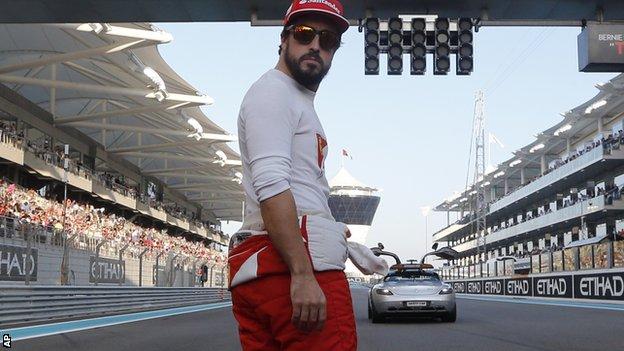 Fernando Alonso says it was difficult to cope with the emotions of his final race for Ferrari in Abu Dhabi.
"It was the worst moment," the 33-year-old said. "We fired up the engine and the mechanics stay there with the tyre blankets to the last minute.
"Two guys at the front, I saw they were looking at me, eyes shining. It was difficult to put first gear and start."
Alonso is to join McLaren next season, although his move has not yet been announced by the team or the driver himself.
King Juan Carlos of Spain, who is close to Alonso, said on Spanish television on Sunday that the two-time champion had told him he had signed for McLaren.
When Alonso was asked about this after the Abu Dhabi race on Sunday, he said, smiling: "What the king says, I don't say anything opposite. He is the king. He is always right."
He added: "It is terribly difficult to close the door with Ferrari and knowing I will not wear this red colour next year."
When discussing his exit, Alonso recalled Felipe Massa's departure from Ferrari in 2013, after seven years, to join Williams.
He said: "It is still a very difficult decision to make but I guess it was the same for Felipe last year - after a long relationship, saying bye bye. But today he is second (in the Abu Dhabu Grand Prix) and I am ninth and I miss being on the podium, winning races and titles.
"I think the new project will bring that possibility closer. Maybe not in one year time but I have no doubts I will fight again."
Alonso finished second in the championship to Red Bull's Sebastian Vettel in 2010, 2012 and 2013 - but has just endured the team's worst season in 20 years with an uncompetitive car, which he has managed to drive to a podium finish only twice.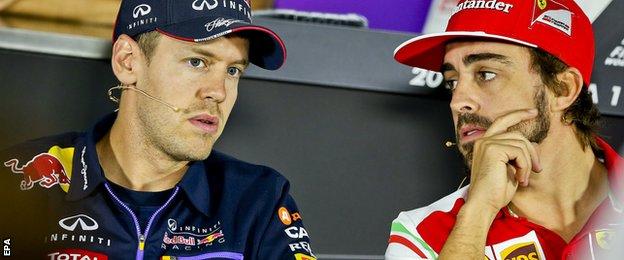 Asked to rate his five years at Ferrari out of 10, he said: "I would say nine. I know that seems high but it is my opinion. I enjoyed it so much. I grew up as a driver and a person.
"I worked with amazing people here and I race with my heart and the best level of my career.
"Even this year we have a world champion (Kimi Raikkonen) on the other side of the garage. I had no doubts but I was curious this year to see what could be the performance and what I could learn and improve.
"I got only two podiums but I beat (Raikkonen) 16-3 in qualifying, 17-2 in the races and I never imagined I'd have this beautiful performance over five years, fighting for the championship with everything I have inside, never giving up.
"So I'm proud of the team and the things we did together. We missed the title but let's say we raced against a very dominant period of F1 with Red Bull and now Mercedes that no-one can go close to them."
Alonso, who is to be replaced by Vettel, leaves behind a team that appears to be in crisis.
Team principal Marco Mattiacci, who was appointed only seven months ago, is expected to be replaced imminently, perhaps as soon as Monday.
Maurizio Arrivabene, the vice-president of global communications for Ferrari sponsor Philip Morris, has been lined up as the new boss of the team.
Abu Dhabi Grand Prix coverage details