Lewis Hamilton's second Formula 1 world title is long overdue

By Andrew Benson
Chief F1 writer
Last updated on .From the section Formula 1
Perhaps Lewis Hamilton's greatest strength this year, a key to the second title that he won at the Abu Dhabi Grand Prix on Sunday, was that he always believed he would do it.
Through all the difficult times - and there were plenty this year for Hamilton, despite the overwhelming superiority of the Mercedes car - faith was his crutch.
Hamilton has been waiting for a car this good for years, but was soon on the back foot, as an engine problem in the season's first race meant he had a win's worth of points to make up before he had even got going.
He put a brave face on it, but that was hard to take, because he knew already that team-mate Nico Rosberg was his only opposition for the title.
He picked himself up to win the next four races, only to be dealt another severe blow in Monaco, where he believed Rosberg deliberately went off at the end of qualifying to scupper Hamilton's chances of pole.
And so it went on - he got knocked down, in various ways, and then got up again.
The low point, Hamilton said as he struggled to contain his emotions on Sunday evening, was the final one of those blows - in August, when his Belgian Grand Prix was ended in a collision with Rosberg.
That was the third time in 12 races that Hamilton had been left with a 20-odd point deficit to make up through no fault of his own.
"It was a very difficult scenario to be in," Hamilton said, "and going back years ago, I wouldn't have reacted in the way I did this year. I would have chosen another way which wouldn't have been positive.
"I really thought for the following days and turned my focus to a different area. I came back to the races with a slightly different approach. I won't explain exactly what I did, because I need to bring it to the races next year, but I did tweak my approach throughout the weekend."
This, he added, "helped" him get the five wins in Italy,Singapore,Japan,Russia and the USA which proved the decisive turning point in the championship, building the advantage that meant he went into the final race - even after Rosberg won in Brazil, and with double points skewing the picture - with a relatively comfortable advantage.
Those wins encapsulated what has been the critical difference between Hamilton and Rosberg this season.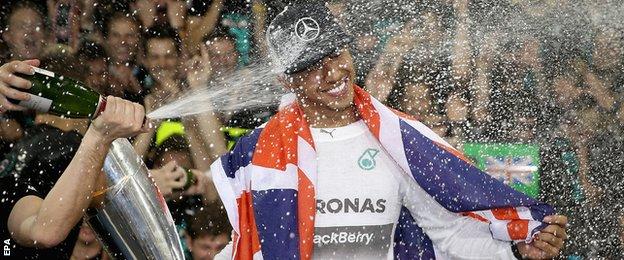 The German has impressively out-qualified Hamilton 12 times to seven - something which hardly anyone would have predicted at the start of the season - but in the races, the Briton has generally been on a separate level.
Whether defending from the front or attacking from behind, only rarely has Rosberg been close to Hamilton on race performance. In fact, only twice has Rosberg beaten his team-mate out of the 12 times they have started together on the front row - and one of them was Monaco, where overtaking is all but impossible.
The result, over the season, has been that Hamilton has won 11 races to Rosberg's five. And, as Rosberg admitted himself, the car problems that afflicted him in the finale in Abu Dhabi made no difference - Hamilton had been in control of the race from the moment he won the start.
There can, then, be no arguing with Mercedes non-executive chairman Niki Lauda, a three-time world champion, who said the best man had won: "He won 11 races this year. Outstanding performance."
Summing up Hamilton's season, Lauda said: "Unbelievable. You can't do a better job." Hamilton also thinks it was his best.
He made some mistakes in qualifying, an area he admits he needs to work on for 2015, but when they came, they were often when he knew he had ground to make up.
His long-overdue second title moves him level with Jim Clark and Graham Hill among fellow Britons, with only Sir Jackie Stewart ahead on three championships.
Among his contemporaries, Hamilton has equalled Fernando Alonso on two championships, with Sebastian Vettel ahead on four and very much a target.
The numbers, though, are not hugely relevant; Hamilton's qualities have been plain for years. Hardly anyone in Formula 1 doubts that Hamilton and Alonso are the two greatest drivers of their generation - least of all the two men themselves, who have long believed each other to be their only true rival in terms of ability.
Whatever happens in the remainder of their careers, both will be remembered as all-time greats, men whose skill-sets - subtly different though they are - set them apart from the rest, and on a level few drivers ever attain.
As for Rosberg, although the hybrid system failure that dropped him from second to 14th in Abu Dhabi was unfortunate, and must have been very difficult for him to deal with psychologically, it only evened up the major points losses each Mercedes man has had in races for reliability reasons.
Lewis Hamilton, two-time world champion

Hamilton is Britain's first multiple world champion in 43 years. Jackie Stewart last achieved the feat in 1971 and would win the title for a third and final time in 1973.

Hamilton's six-year wait between titles (2008 to 2014) just falls short of Niki Lauda's record of seven (1977 to 1984). Graham Hill (1962, 1968) and Jack Brabham (1960, 1966) also had six-year gaps between title wins.

Jackie Stewart (1969, 1971, 1973), Graham Hill (1962, 1968) and Jim Clark (1963, 1965) are Britain's only other multiple F1 world champions.

Hamilton becomes Mercedes' first champion since Juan Manuel Fangio's back-to-back titles for the manufacturer in 1954 and 1955.
So, in the final analysis, for Hamilton to win the championship by 67 points, which would have been 42 without double points, feels about right.
If Hamilton was a deserving champion, though, Rosberg has done his reputation a lot of good, both with the impressive way he kept the pressure on his team-mate through the season and the way he handled defeat.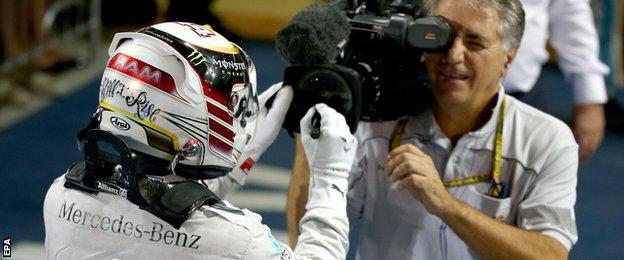 Rosberg sought out the new champion in the pre-podium room to embrace and congratulate him on a great season - sentiments Hamilton returned - and then made a very generous speech about his rival's victory.
Lauda said: "The biggest pleasure I had today, where I really got emotional, was when I saw Nico went up and congratulated Lewis.
"This is really an outstanding performance by Nico, especially because I know what discussions we had after Spa.
"They were not always, let's say, in that kind of relationship. It was the opposite after Spa."
Rosberg has won a lot of admirers this season, for being able to push Hamilton so hard, for the steel he has shown in certain moments - whatever some might feel about his actions - and for the strength of mind to keep plugging away, despite his sometimes dispiriting defeats.
He has emerged as a world-class Formula 1 driver, and the sport's audience can look forward to more of the same from the two Mercedes drivers next year, whether or not their rivals can catch them up.
"When you overcome all these issues," Lauda said, "one wins the title and the other doesn't, one hit the other, the other didn't, it's going to be easier next year because they respect each other's level of performance.
"Nico will fight back. Nico has the potential. There is still something to come out of his speed and performance and the technical inputs he gives. So next year is going to be fun again between the two."