Coulthard column: Lewis Hamilton showed 'new strengths' in 2014

By David Coulthard
BBC F1 co-commentator and former F1 driver
Last updated on .From the section Formula 1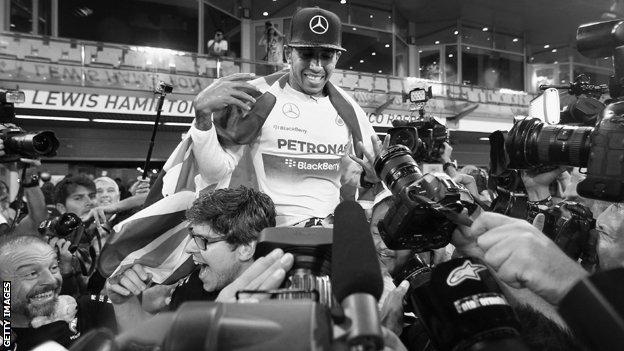 This was the year Lewis Hamilton came of age.
A great example was at Silverstone, where he chose to abort his final qualifying lap after a mistake on a drying track, only to see what had been pole position for his home race become sixth on the grid.
He looked like a broken man that afternoon.
We already knew from Hamilton's BBC Sport column after that race that he had gone through a very difficult time that evening, and on Sunday, after Hamilton had clinched the title in Abu Dhabi, his father Anthony revealed Lewis had been talking to him about letting the British fans down at that race in July.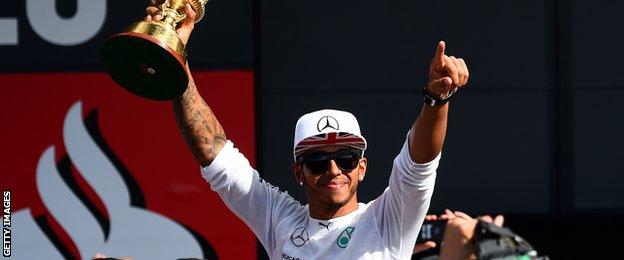 Hamilton was really carrying the burden of representing the fans and the country that day. Yet, unlike on some occasions in previous years, he was able to come back the next day, hit control-alt-delete, rest and take on the next challenge. He went on to win the race.
All the way through 2014, Hamilton gave us visible signs that he really believed the mantra of "it's only qualifying, the race is another day".
That was a completely sincere reflection of the way Hamilton approached this season - no matter what happened to him, he always believed he could bounce back. And that's what he did.
HAMILTON STRIPPED BARE
It was a more confident, relaxed and at peace Hamilton that we saw this year.
His shades were usually off in interviews. He was facing the world, naked if you like, not hiding behind anything.
Even in the difficult moments, there was a sincerity and openness, almost a vulnerability sometimes, when he was searching for words to describe how disappointed he was at various turns of events.
But in the end the one thing that won through is the one thing we have all known since he was signed by McLaren as a 12-year-old - he is a natural born racer. He has that rare gift of speed.
His heart-on-sleeve approach to life causes him to stumble occasionally but a bit like the Black Knight in Monty Python and the Holy Grail, who kept wanting to fight no matter how many arms and legs were chopped off, he just will not give up.
There is an action movie series that could be written for Lewis Hamilton's career - he is just like Fernando Alonso in that respect.
A GREAT, WITH ADDED SOFTNESS
You don't win as many grands prix as Hamilton has, against the people he has been racing, if you are not one of the greats.
Sir Jackie Stewart would say you need three titles to be classed as that. Hamilton now has two but it's not just about the numbers.
We know how great Alonso is - I don't think anyone would argue that he stacks up against the greats of the sport - and he has only won two titles because of circumstances rather than because of talent.
Hamilton is right up there, too.
What's fascinating about Hamilton is that we don't see the soft side of some of these truly exceptional drivers when they are in the sporting arena - take Ayrton Senna for example - but we do see the soft side of Lewis.
He gets caught out by certain questions that are outside the norm.
I have said before that we would find out in the fullness of time whether that openness becomes the making of him, the defining feature of his career, or whether it would hold him back from greatness.
This year, we can say it is the making of him. It is how he is. When he refers to people power and the fans, it is the most soft and sincere version of Nigel Mansell speaking.
It is easy to write it off as PR speak, but that's not what it is. It is part of how he reacts and what he feels he's representing.
HOW THE TITLE WAS WON
The season started as if it was going to be an uphill struggle for Hamilton, because of his non-finish in Australia, and the impression was that the momentum was going with Rosberg.
But Hamilton then put together a run of four victories in a row ahead of Monaco, where signs that the relationship between the two drivers was breaking down first emerged.
It became clear then that the Mercedes management were going to have to step in and take a firm hand.
After that, the drivers rubbed along OK until Belgium in August, when Rosberg tried rather clumsily to put some racing manners on Hamilton and the fall-out from that set the scene for the remainder of the year.
Rosberg was qualifying champion but, unfortunately for him, while from this year there is an actual trophy for that, there are no points. And Hamilton won the on-track battle.
Hamilton was getting fewer poles but more victories.
In the final analysis of the two contenders, Rosberg has a less raw approach to his driving but delivered consistency of qualifying. Hamilton was more fragile in qualifying because of his attacking driving style but that won through on race day because he sees a car and he just passes it. It's as if "follow a car home" does not compute.
That was a negative in the penultimate race in Brazil, because he spun the car when he did not really need to push it that hard, but he's a serial winner and serial winners only have an eye on the prize that day.
AN UNUSUAL AND FASCINATING TWIST
It was a strangely paradoxical situation. The man most would say is the faster driver was out-qualified, but the man whose more measured style might have been expected to give him an advantage in races was beaten comprehensively on Sunday afternoons.
That is hard to understand because most people would have thought at the beginning of the year that Hamilton would out-qualify Rosberg more often than not over the course of the season.
Hamilton did have a brake disc failure in qualifying in Germany and an engine failure in Hungary, so there were a couple of instances where it was nothing to do with him.
But equally there were a number of races where the strategy of being the second car on the road in the last part of qualifying did not work out for Hamilton.
We know what happened in Monaco, with Rosberg going off on his final lap and preventing Hamilton getting his in.
But there were other occasions when Hamilton needed to do it on that last lap and he seemed to make a mistake.
He never failed to get the pole because he went slowly. More often than not, it was because there was a visible mistake somewhere on the lap.
Whether that's the seven-year itch or yips, where it is just not flowing as well in qualifying as it used to, we will be able to judge next year. But certainly Hamilton was more able to deliver that lap time in the races, which is why he won through in the end.
WHAT COMES NEXT
I am curious to see what the next chapter of Hamilton's career is.
We know he is always going to be fast, but there is a vulnerability to him, and he is increasingly multi-dimensional.
You just don't know whether he is going to turn up next year and say he is going to go off and lead a peace mission in the Middle East or something.
He often says he was born to race - and that is clearly the case. But equally he is not a guy who only has racing in his life.
It is what he does and who he is but you just sense that as he goes on his journey in life he is embracing other things that are also inspirational for and important to him.
As far as the racing goes, I don't know whether Hamilton will be better in 2015, but Rosberg will be.
Rosberg has now had that experience of battling for a world championship and that will mean Hamilton will have to up his game even further next year. It is an enticing prospect whether or not the other teams can catch Mercedes over the winter.