Nico Hulkenberg to race for Porsche at Le Mans in 2015
Last updated on .From the section Formula 1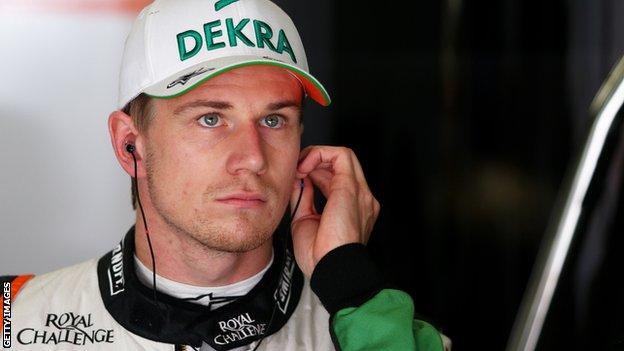 Force India driver Nico Hulkenberg will contest the 2015 Le Mans 24 Hours for Porsche.
The German, 27, will become the first active F1 driver to take part in the event since Sebastien Bourdais, then at Toro Rosso, raced for Peugeot in 2009.
"I am very pleased the 2015 Formula 1 calendar allows for it and I'm grateful to my Force India team's generosity to let me go for it," said Hulkenberg.
"Now it's up to me to work hard to satisfy both commitments."
Hulkenberg's partial 2015 schedule
19 Apr:
Chinese Grand Prix (Force India)
2 May:
Spa six-hour race (Porsche)
10 May:
Spanish Grand Prix (Force India)
24 May:
Monaco Grand Prix (Force India)
7 Jun:
Canadian Grand Prix (Force India)
13-14 Jun:
Le Mans 24 Hours (Porsche)
21 Jun:
Austrian Grand Prix (Force India)
Before entering the annual endurance race on 13-14 June, Hulkenberg will race Porsche's Le Mans Prototype car on 2 May in the six-hour race at Spa, a round of the World Endurance Championship.
Hulkenberg, who has contested 76 grands prix since his debut in 2010 and scored 96 points last season, is the first driver to be confirmed in the third Porsche 919 Hybrid.
The team entered two cars for its return to Le Mans earlier this year, with former F1 driver Mark Webber a part of their six-man line-up.
Porsche's Le Mans programme has also been touted as a possible option for Jenson Button next season should the 2009 F1 world champion part company with McLaren.