Carlos Sainz Jr: Rally champion's son joins Toro Rosso for 2015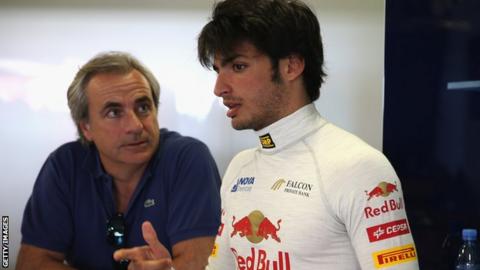 Carlos Sainz Jr will race for Red Bull junior team Toro Rosso in 2015.
The 20-year-old Spaniard, son of rally legend Carlos Sainz Sr, replaces Jean-Eric Vergne of France and will partner 17-year-old Dutchman Max Verstappen.
Sainz Jr was initially passed over by Red Bull this year, when they announced Verstappen would be promoted instead.
But four-time world champion Sebastian Vettel's decision to move to Ferrari led to Daniil Kvyat being promoted to Red Bull, freeing up a Toro Rosso seat.
Sainz Jr won his promotion after clinching the title in the Formula Renault 3.5 series, the feeder championship won by Dane Kevin Magnussen in 2013 before he was signed by McLaren for this season.
He spent a day in a Red Bull at this week's post-season test in Abu Dhabi and had previously driven for both Toro Rosso and Red Bull at a test at Silverstone in July 2013.
Toro Rosso team principal Franz Tost said: "I have watched Carlos progress through the junior categories, always improving as he moved higher up the ladder, culminating in a well-deserved win in this year's World Series.
"However, I also remember the day's testing he did with us at Silverstone in 2013 in the STR8. He really surprised me and his engineers that day, with his mature approach and his speed."
Sainz said: "Ever since I have been part of Red Bull's young driver programme, this has been my aim and I want to thank Red Bull for putting their faith in me.
"I have had a very successful season in World Series by Renault this year and now I am looking forward to taking the step up to Formula 1.
"I tested for a day with Toro Rosso last year and I liked the atmosphere in the team. In the next few months I will be working hard on my preparation, ready to get in the cockpit in Jerez for the first test of next year. It will be nice to make my 'official' debut as a Formula 1 driver in my home country."
The decision leaves only McLaren of the teams guaranteed to be in F1 next season without a confirmed driver line-up.
Fernando Alonso will drive one of their cars, although his move from Ferrari has not been officially confirmed as yet. But McLaren chairman Ron Dennis has yet to make up his mind whether to retain Jenson Button or Magnussen alongside the double world champion.