Toto Wolff: Mercedes boss backs new Formula 1 engines

By Andrew Benson
Chief F1 writer
Last updated on .From the section Formula 1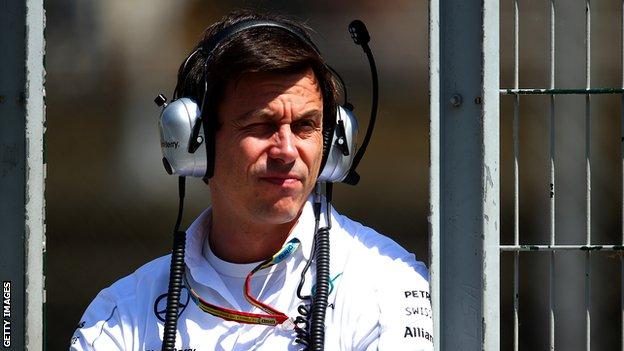 The car manufacturers in Formula 1 are committed to the sport's new turbo hybrid engines, according to Mercedes sports boss Toto Wolff.
Red Bull team principal Christian Horner wants to change the engines on the basis they are too expensive.
But Wolff said Horner was speaking only on behalf of Red Bull and not Renault.
"Mercedes, Renault, Ferrari and Honda are aligned on the power-unit specifications - a V6 turbo hybrid as per the current rules," added Wolff.
"We all agree development of the internal combustion engine and hybrid system will remain a part of the rules."
Horner has proposed various changes in the last month, initially a reversion to the V8 naturally aspirated engines used until 2013 and more recently a switch to a twin-turbo engine with a standard hybrid system.
"If we want to adapt the engine regulations, we will discuss that," said Wolff. "It's nice to hear the views of individual teams as part of that discussion but they do not reflect the views of the manufacturers."
The new engines are more powerful than the old V8s but enable cars to complete races on a third less fuel, and were introduced in 2014 to bring F1 in line with current trends in road-car technology in the hope of attracting new manufacturers to the sport.
Honda are entering F1 in 2015 with McLaren.
Renault and Ferrari had been pushing to end the ban on in-season engine development in an attempt to close the gap to Mercedes, which had the dominant power-unit in 2014.
But those talks reached an impasse, after Renault and Ferrari rejected a compromise proposal put forward by Mercedes as not going far enough, and the in-season development freeze will remain for 2015.
Manufacturers are allowed to develop their engines from one season to the next, under specific restrictions.
Wolff said: "We are not discussing 2015 any more but we are discussing where we want the engine rules to go in the medium term. These discussions are very open-minded.
"We believe stability is important and that we should follow the governance procedures."