McLaren: No decision on Jenson Button and Kevin Magnussen

By Andrew Benson
Chief F1 writer
Last updated on .From the section Formula 1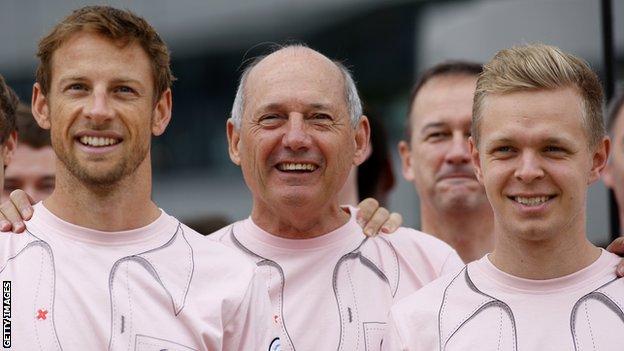 A McLaren board meeting on Thursday broke up without the team making a final decision on their driver line-up.
McLaren have so far been unable to choose between Jenson Button and Kevin Magnussen as his team-mate.
"The board meeting has concluded and no decision has been taken with regard our 2015 driver line-up," a spokesman said.
Sources say the decision is solely down to chairman Ron Dennis and there is no specific timeframe within which it will be made.
Dennis said at the season-ending Abu Dhabi Grand Prix that the team would decide following "a clinical and emotionless analysis of what the options are". He said he would consult with his fellow shareholders before making the decision.
Dennis and Saudi businessman Mansour Ojjeh - a former friend with whom Dennis is now at loggerheads - each own 25% of McLaren, with the Bahraini royal family's Mumtalakat investment group owning 50%.
McLaren had initially been leaning towards Magnussen, who impressed the team during his rookie season in 2014.
But a strong finish to the season by Button, and the fact that the 34-year-old scored more than double the points of Magnussen, has complicated the issue.
The longer the situation goes on without a resolution, the more likely Button, the 2009 world champion, is to take the decision out of McLaren's hands.
Button has admitted that in the early autumn he was having difficultly dealing with the uncertainty over his future.
But at the end of the season he made it clear to McLaren that he had decided to wait on Dennis's decision because he wanted to race on in F1 and test himself against Alonso, who is regarded by many observers as the best overall driver in the world.
However, he does have other options on the table, including a potential move to the world endurance championship, and these may dry up if he does not decide soon.
Another factor in the decision is that McLaren are embarking on a new engine partnership with Honda, which is returning to the sport for the first time since pulling out its own team at the end of the 2008.
Financial considerations are also playing a part.
McLaren have been without a title sponsor throughout 2014 and have this season effectively funded the shortfall that left from profits.
Honda is bringing a substantial funds injection to McLaren, but having two drivers on high salaries would necessarily impact on the budget available to develop the car.
Alonso has signed on a contract worth a reputed $40m (£25.5m) a year.
While Button would likely accept a small cut from his previous salary of £12m, he would not come down to the level of Magnussen's salary, which was about £500,000 in 2014.
Button is also known to be unhappy about the lack of respect he feels he has been afforded by a team for whom he has driven for five years, during which time he has won eight races.