Fernando Alonso: McLaren driver says he has 'unfinished business'

By Andrew Benson
Chief F1 writer
Last updated on .From the section Formula 1
Fernando Alonso says he has returned to McLaren because he felt he had unfinished business in trying to win the world title with the team.
"I felt it was unfinished business already when I left," said Alonso, who first joined McLaren as world champion.
"I brought number one to the cockpit and now I want to bring it back from the inside, driving for them."
The two-time champion negotiated an exit from Ferrari, where he spent five seasons, two years before the end of his contract to join McLaren because he was enticed by the prospects of their new engine partnership with Honda.
"It is something I want so much because I achieved some good things in my career, and even not winning races in the last years, earned some good reputation and respect from everybody.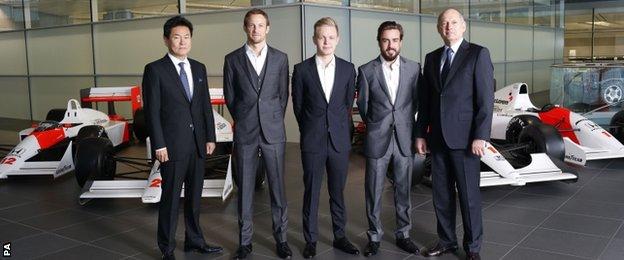 "But there was still something not right - the 2007 experience."
Both Alonso and Dennis admitted they had made mistakes in 2007, when the Spaniard finished tied on points with team-mate Lewis Hamilton one point behind the eventual champion Kimi Raikkonen of Ferrari.
Alonso said: "I didn't achieve or deliver the best of myself, so now some years later you are more mature, you learn things, you understand things you didn't at 25 and now I arrive to finish this thing I started in 2007.
"This was the first and main priority to come back.
"We spoke a lot during the year. We have been together at some dinners in some hotel rooms and we both understood that ultimately we both are extremely competitive and we love motor racing so much that sometimes we didn't agree."
Dennis said Hamilton was partly responsible for some of the problems that emerged in 2007.
"Lewis had immaturity," said Dennis, who also famously had to cope with a difficult relationship between Ayrton Senna and Alain Prost at McLaren in 1988-89.
"If you go along the line of who struck the first blow, I would say Lewis had his role to play in starting this process that escalated.
McLaren's 2015 partnership

Fernando Alonso
Jenson Button

33

Age

34

Spanish

Nationality

British

2

World titles

1

236/32

Races entered/Wins

268/15

97

Podium finishes

50
"And by and large those challenges you have with drivers - I had them Alain and Ayrton - were always able to be defused, but this one got away from me.
"And I look back on my contribution to that with exactly the same emotion Fernando expressed. You regret those things; I could probably have done things better. I don't anticipate any issues between Fernando and I."
Alonso says he has joined McLaren-Honda because he believes they are his best chance of winning the third title he craves.
He said that despite McLaren having two uncompetitive seasons in 2013 and 2014, he expected the team to at least fight for podium finishes in 2015 following changes to their technical structure.
"We can never say we won't win the world championship," Alonso said. "Who knows?
"But we have to be realistic, but hopefully we can get everything right from the first race.
"A reasonable level of competitiveness will be to fight for podiums and hopefully win races. That will be a good sign for our future."