Bernie Ecclestone: who can replace F1's Frank Sinatra?

By Dan Roan
BBC sports editor
Last updated on .From the section Formula 1277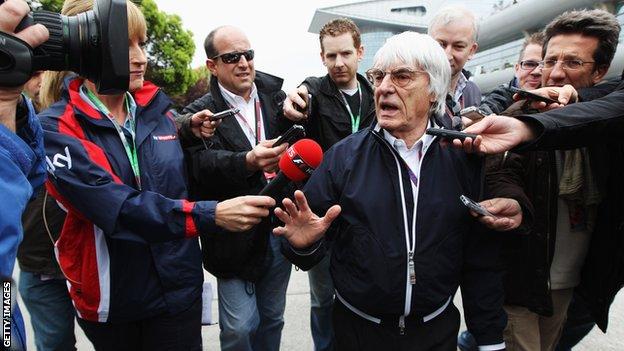 When Bernie Ecclestone calls you direct it usually means he has a message he wants to get across.
The Formula 1 chief executive was on his way to Biggin Hill to catch a flight in his private jet for a weekend away when he rang.
The 84-year-old thinks he may just have the solution to one of sport's most intriguing questions: who could replace him as supremo of the motorsport series he has ruled for so long?
Sacha Woodward-Hill is General Counsel to the Formula 1 group of companies - effectively its chief legal officer. And Ecclestone thinks she may just be the answer.
"She'd be a safe pair of hands," he said.
"We found her a long time ago. She's been working with me for a long time - 15 years I think - so she knows the way I work, she's very trustworthy. She doesn't just know what to do, she knows what not to do."
She may not be a household name to those outside of the sport, but there is little doubt that Woodward-Hill is a crucial figure in the Ecclestone empire. From working on many of the deals that have helped to make him a billionaire, to guiding him through a number of recent court cases, Woodward-Hill is clearly an extremely savvy operator, currently holding 19 directorships in various F1 companies.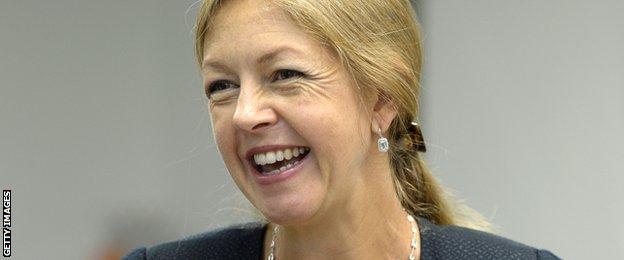 Look back at the video of Ecclestone wrestling with a revolving door at London's High Court last November.
After noticing his struggle, a smartly-dressed woman who is already inside, quietly and efficiently helps open the door and lets him in. As ever, Woodward-Hill was on hand to help.
So could the 45-year-old Cambridge law graduate really soon become the most powerful woman in the sport?
Those close to Woodward-Hill tell me she herself has no ambition to step into the high-profile role of chief executive, and Ecclestone himself admits that this is not something they have discussed.
The backdrop to all this is increasing speculation over Ecclestone's future after a particularly difficult 2014. In the summer he had to pay £60m to end a three-month bribery trial in Germany, avoiding a possible 10-year prison sentence, but had to step down from the board of F1 parent company Delta Topco.
Then came the demise of the Caterham and Marussia teams, a financial crisis blamed on the way the sport distributes prize money.
In a typically non-PC interview, Ecclestone then said he saw no reason for F1 to appeal to younger fans because "they haven't got any money".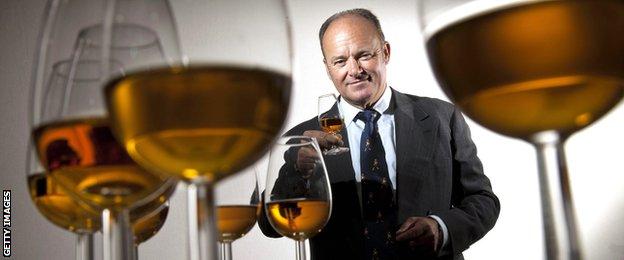 All this has led to speculation that Ecclestone's long reign could be drawing to a close. F1's owners, private-equity group CVC, are thought to be keen on Paul Walsh, the highly-regarded former chief of drinks giant Diageo, as a replacement for Peter Brabeck-Letmathe as chairman of F1.
Brabeck-Letmathe, a former CEO of Nestle, is known to be suffering from ill-health. So could such a move be the beginning of the end of Ecclestone's 40-year-reign if Walsh comes in as chairman, and cannot control his eccentric chief executive, or persuade him to change with the times?
Walsh would certainly have ideas - particularly given Diageo will have experienced frustrations as a sponsor in the sport. F1 is working on a digital strategy, and a new website will launch in January, but many still feel more needs to be done to engage with the next generation of fans.
On Monday, Ecclestone attended an F1 board meeting in Jersey where he was granted his seat back on the board. Some F1 insiders had expected Walsh to be named the new chairman. But he did not attend, and the issue was not discussed at the meeting.
Ecclestone met Walsh very briefly at the Abu Dhabi Grand Prix - the final race of the season - and then for an hour on Thursday night, so it seems highly likely the way is being prepared.
But Ecclestone will not be drawn on whether he thinks Walsh is the right man to help him take the sport forward: "I don't know enough about him or what he has done, I've only met him twice." Or indeed when any change may occur: "They're in no rush, but I guess it could happen at any time." In fact, Ecclestone insists that Walsh is not the only man CVC and F1's other shareholders are considering.
Walsh's views are not known, nor are CVC's - whose co-chairman Donald Mackenzie keeps his cards notoriously close to his chest.
But what seems clear is that, as ever, nothing will happen without Ecclestone's blessing, and it is easy to see why.
This will make the sport's cash-strapped smaller teams wince, but so far, CVC has made a mind-boggling $8.2billion from its investment into F1, and no-doubt recognises that to find a like-for-like replacement for Ecclestone, the man who has somehow kept the sport's teams, sponsors, broadcasters and rule-makers together over the years, is probably impossible.
As the man himself told me: "It's hard to find a singer like Sinatra."
Ecclestone appears to think that someone loyal to him, with years of experience from inside his unique business, someone like Woodward-Hill, could be the way forward when the time comes for him to step aside.
She may not agree, and nor may CVC, whose long-term ambition to float F1 on the Singapore stock exchange may make it more likely they would want a more traditional choice as Ecclestone's replacement - someone with experience of leading a FTSE 100 company.
But what is clear is that Ecclestone believes reports of his impending demise are wide of the mark.
"It's business as usual," he said before hanging up and catching his flight.
Even now, after such a bumpy ride these last few months, there is little sign of Ecclestone choosing to slow down.