Fernando Alonso happy to wait for McLaren-Honda success

By Andrew Benson
Chief F1 writer
Last updated on .From the section Formula 1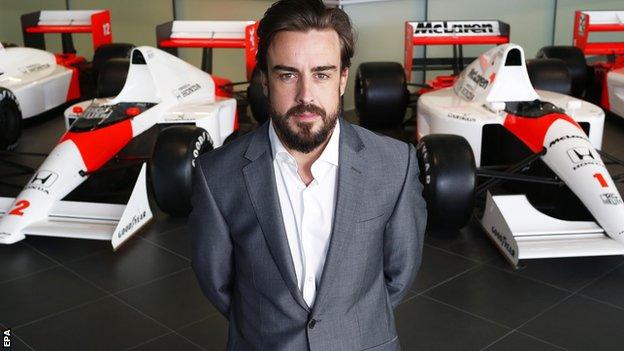 Fernando Alonso says he is prepared to wait for success with his new McLaren-Honda team.
The Spaniard, 33, negotiated an exit from Ferrari to join McLaren and says he is "sure" his new team will become winners.
"I am here to win, but not to win the first day," said Alonso. "I am here to win in a long-term relationship.
"If we need to go through a period of learning, I am here for that and I am committed to working together."
McLaren chairman Ron Dennis told BBC Sport last week that Alonso had signed a firm three-year contract with no facility to leave before the end of its term.
McLaren have had a difficult time for the last two seasons, but Alonso said he had been convinced they were on the road to recovery following a restructuring and recruitment programme.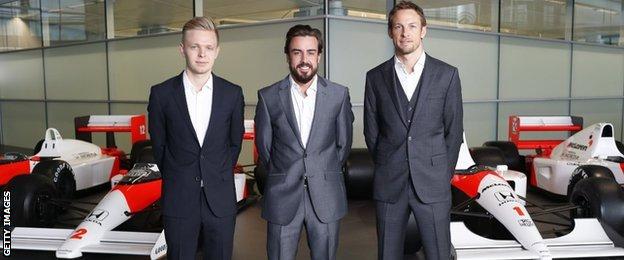 "There are some signs things are getting better and moving forward, especially with the new names, new people who joined the team, the change of philosophy," Alonso said.
"When a team is not delivering 100% normally you go deep into the problems and you find the reasons. In McLaren there is this way of working that everyone is here to win."
He added he had been "very, very impressed" with Honda's commitment to F1 on its return to the sport and that on a visit to their factory in Japan, "the professionalism and determination I saw there was outstanding".
McLaren's 2015 partnership

Fernando Alonso

Jenson Button

33

Age

34

Spanish

Nationality

British

2

World titles

1

236/32

Races entered/Wins

268/15

97

Podium finishes

50
Alonso said he had rejoined McLaren to bury memories of the tumultuous year he spent with the team in 2007 and because of the "honour" of working for McLaren-Honda, which has a historic resonance in F1.
"The association McLaren-Honda means a lot," he said. "When I was a child growing up I saw the battles between Senna and Prost, these famous colours and domination.
"I grew up with an idol and an image of what winning in F1 means and now I have the honour, the opportunity and the privilege to be part of this new era of McLaren-Honda, and it is quite inspiring for me.
"When you left one place where you feel you didn't finish what you were there for, you want to come back and finish that job.
"It is what I felt and what I am sure we will achieve now."