Bernie Ecclestone re-appointed to Formula 1 commercial board
Last updated on .From the section Formula 1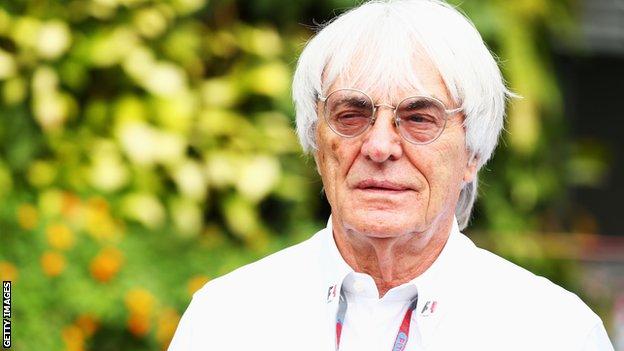 Bernie Ecclestone has been re-appointed to the board of the company that runs the commercial side of Formula 1.
The 84-year-old was forced to step down when fighting bribery charges this year, although continued in day-to-day control.
Ecclestone paid £60m to end a case in Germany in the summer without an assumption of guilt or innocence.
The F1 Group also appointed ex-Ferrari president Luca Di Montezemolo and businessman Paul Walsh to the board.
Both will perform the role of non-executive chairmen, while Ecclestone continues has chief executive officer of the F1 Group.
The changes to the F1 Group board will be seen as a victory for Ecclestone, whose stewardship of the sport has been under unprecedented scrutiny this year.
As well as surviving two separate trials arising from the bribery case, two teams have gone out of business and three of the surviving ones have heavily criticised the split of revenues in the sport.
Peter Brabeck Letmathe, who has been through a period of ill health, is to continue as chairman of F1.
Walsh, the former chief executive of drinks giant Diageo, had been lined up by main shareholder CVC Capital Partners as chairman.
But he withdrew his candidacy for that position on Tuesday following a meeting with Ecclestone last week.
Walsh is the chairman of the food services company the Compass Group and a non-executive chairman of FedEx and Unilever.
Di Montezemolo left Ferrari in October after taking the blame for the team's fall in performance in recent years.