Formula 1: Young drivers face tougher criteria to gain seat
Last updated on .From the section Formula 1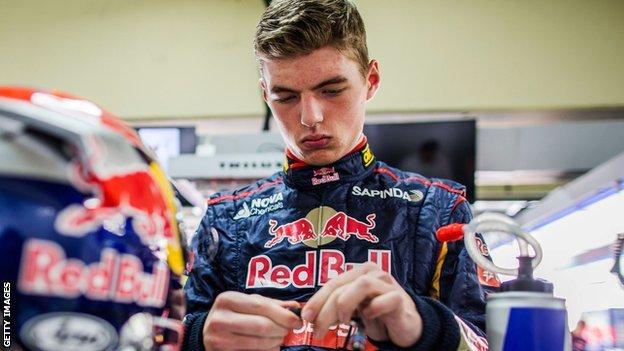 Drivers who wish to race in Formula 1 must be at least 18 years old and satisfy a new points system, under new rules to be introduced in 2016.
To gain a super licence from governing body the FIA, drivers must earn a fixed number of points from racing in junior series in a three-year period.
They must cover at least 300km in an F1 car and hold a valid driving licence.
Max Verstappen, 17, makes his F1 debut this year but would be ineligible to race if the rules were enforced now.
From next year, new drivers must also answer questions on the sporting regulations and have completed at least 80% of two full seasons in qualifying championships.
Fast fact
Had the new points system always been in place, Fernando Alonso, Sebastian Vettel, Jenson Button, Kimi Raikkonen and even Ayrton Senna would not have been able to make their debuts.
The 300km they complete in a representative F1 car must be done at racing speeds and over a two-day period.
Drivers score points from competing in junior categories, with 40 required in a three-year period before a super licence is granted.
A future FIA F2 championship, the GP2 series, European F3, the World Endurance Championship and the United States' IndyCar single-seater series offer 40 points or more to the winner.
The GP3 series and Formula Renault 3.5 world series only offer 30 points to the winner.
Max Verstappen was third in last year's F3 championship, which means he would have failed to have scored enough points and was also below the required age limit.
The Dutchman was 16 when he was signed by Toro Rosso and will become the sport's youngest ever driver when the lights go out at the season opener in Australia on 15 March.