Formula 1 bosses consider Honda engine rule changes

By Andrew Benson
Chief F1 writer
Last updated on .From the section Formula 1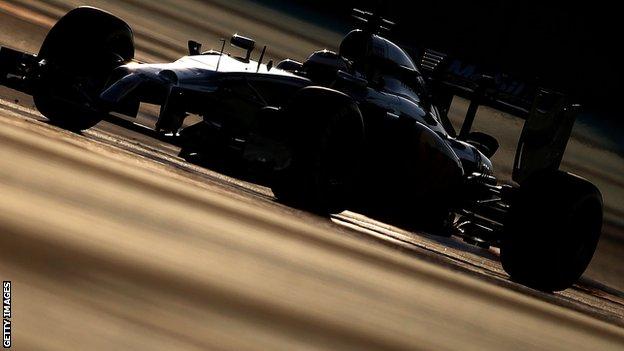 Formula 1 bosses are debating whether to make changes to the engine rules following a meeting with McLaren's new partner Honda.
The Japanese company, returning to F1 after a six-year absence, believes recent changes made the rules unfair.
Honda top brass flew over from Japan to discuss the issue with governing body the FIA on Monday.
An FIA spokesman told BBC Sport: "The meeting went well and we are discussing matters that arose."
The spokesman added that the meeting was "constructive".
Honda's concerns surround a recent clarification on in-season engine development.
The FIA has backtracked on its previous stance and allowed existing manufacturers Mercedes, Ferrari and Renault to make improvements to their engines after the start of the championship.
The FIA's U-turn came about because Ferrari pointed out a loophole in the rules.
Honda, though, is not being allowed to develop its engine during the season.
A Honda spokeswoman said the company would not add to its previous statement on the issue "until we can get a further update from FIA should they reveal something".
Its previous statement said: "Honda believes in fair competition for the goodness of the sport, and for our fans.
"McLaren-Honda have contacted the FIA in regard to this issue, but we cannot discuss any details at this time."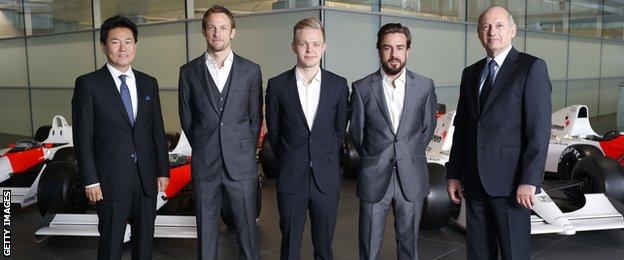 Honda believes the rules are unfair because:
- Its rivals can develop their engines in 2015 following the FIA's U-turn but it cannot
- It is being forced to supply only four engines to its drivers in 2015, the same as the other manufacturers, even though its rivals were allowed to supply five in their first season with their new engines in 2014
- Next year, it has the same restrictions on it as the other manufacturers
Insiders say Honda is "annoyed and unimpressed" with the situation.
Some insiders believe one way out of the current situation would be to bring Honda into line with the other manufacturers over the course of this season.
This could be done by allowing Honda to submit for official approval - or homologate - its engine on 28 February, as required, but then be given 32 tokens to develop it over the course of the season.
It would then be in the same position relative to its rivals heading into 2016 as they are.
Some F1 insiders have argued that the current situation sends out a poor message to any other car manufacturers thinking of entering F1 because it could be seen as putting new entrants at an automatic and unfair disadvantage.
Engine development: The breakdown
Engine development is restricted to a specified number of 'tokens' each season.
These tokens are ascribed to parts of the engine based on their influence on performance.
From 2014 to 2015 - the second year of the new turbo hybrid formula - Mercedes, Renault and Ferrari can change 32 tokens out of the 66 that comprise the entire engine.
For 2016, they can change 25 tokens; for 2017, 20; for 2018 15 and three each for 2019 and 2020.
hey can apply their 32 tokens at any point during the season, following a rule clarification which was introduced when it became clear no date had been defined in the rules for competitors to homologate their engines for 2015.
Honda has no tokens to develop its engine during this season and in 2016, its second year, it will be allowed to change only 25 tokens. So it will never get the chance to change 32 tokens from one year to the next, as its rivals have.
Last year, in their first year with the new turbo hybrid engines, Mercedes, Ferrari and Renault were restricted to supplying five engines per driver. This year, it is four.
Honda can supply only four engines to the McLaren drivers this year, even though it is its first year.