Formula 1: German Grand Prix back at Hockenheim - Ecclestone
Last updated on .From the section Formula 1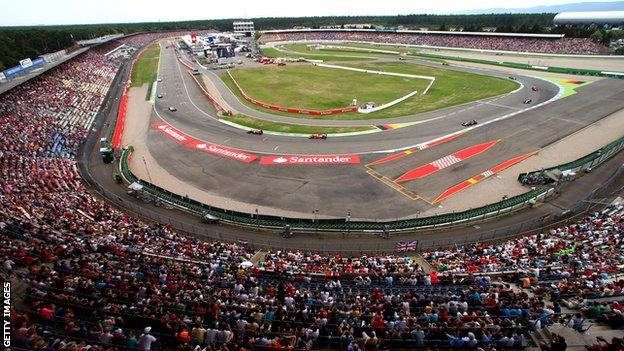 Hockenheim will host this year's German Grand Prix, according to Formula One boss Bernie Ecclestone.
The track hosted the 2014 race but is supposed to alternate each year with the Nurburgring.
But Ecclestone, 84, told Reuters: "It's going to be at Hockenheim. We just have to amend the years of the contract. It was alternating with Nurburgring so we'll just take that out."
Nurburgring confirmed it has not got a contract for 2015.
However, managing director Carsten Schumacher declined to comment further.
The official 2015 calendar does not yet specify a venue for the 19 July race.
The Nurburgring is under new ownership and Ecclestone added: "It can't be Nurburgring because there's nobody there."
Hockenheim staged its first Formula 1 grand prix in 1970.