Gossip column: Rosberg, Wolff, Williams, Hamilton, Toro Rosso
Last updated on .From the section Formula 1
Sunday, 1 February
Nico Rosberg says Mercedes want to dominate Formula 1 for "many years to come". (The Checkered Flag)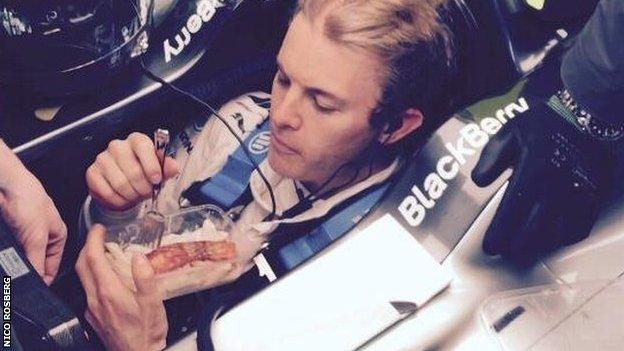 Meanwhile, head of Mercedes Toto Wolff says his team will not rest on its laurels, despite all its success in 2014. (Motorsport)
Sir Frank Williams is determined to build on an impressive 2014 season and says he hopes for "more success" in 2015. (Formula One)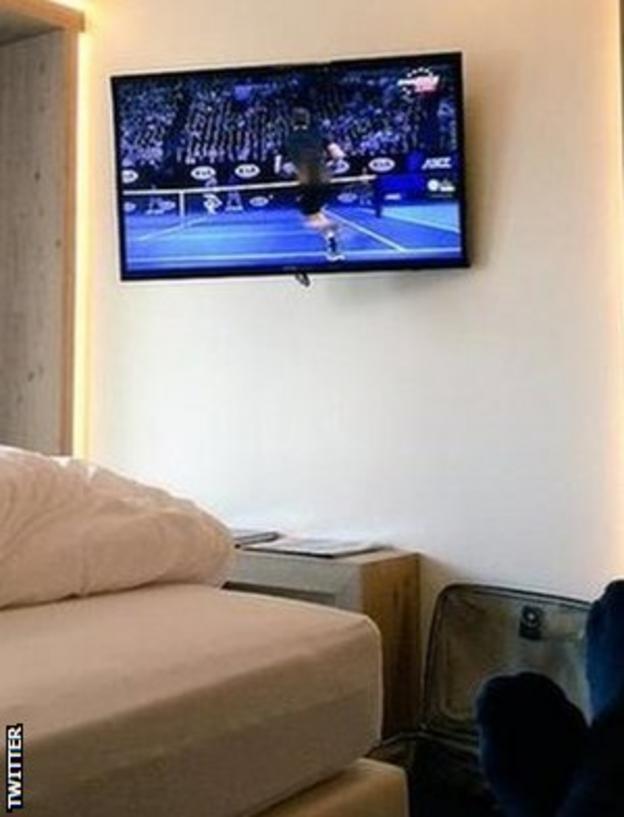 Formula One reportedly suffered a global drop in TV viewing figures of more than 5% last season, with 425 millions fans tuning in as opposed to 450 million the previous year. (Mail on Sunday)
A number of items worn by Lewis Hamilton, such as the race suit and boots he wore at the 2014 Abu Dhabi Grand Prix and his iconic yellow helmet from the 2013 season, are going on display at Banbury Museum for the next three weeks. (Buckingham Advertiser)
Toro Rosso team principal Franz Tost says his team should be stronger because of the work done by its engine supplier Renault over the winter break. (ESPN)
Saturday, 31 January
New Ferrari principal Maurizio Arrivabene has set the team a target of winning two grands prix in the 2015 Formula One season. (Daily Telegraph)
A former Ferrari chief has blamed Fernando Alonso for the team's recent struggles, saying he is "a great race driver, but not a good test driver". (F1 Today)
Meanwhile, Sebastian Vettel has given the thumbs-up to Ferrari's new car but warned fans not to expect too much from the team this season. (Stuff Sport)
Nico Hulkenberg - who has raced for three different teams since 2010 - says staying with Force India for a second successive season will make a big difference and "takes the pressure off". (Force India)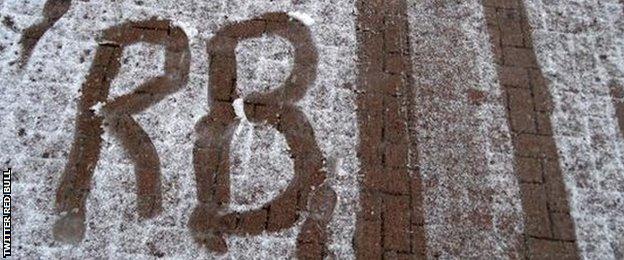 Daniel Ricciardo says he has been told he is the 'team leader' at Red Bull following Sebastian Vettel's departure, but says he does not feel under any extra pressure. (Motor Sport Talk)
Sauber say they have "learned lessons" from a 2014 season where they failed to score a single point and will "fight" to do better this year. (SBS)
Friday, 30 January
Fernando Alonso has asked new team-mate Jenson Button to put aside their rivalry so they can be successful in McLaren's new car. (Daily Mirror)
Kevin Magnussen wants a quick return to Formula 1 after losing his place at McLaren to make way for Alonso. (NBC Sports)
McLaren chief operating officer Jonathan Neale has played down the team's chances of a fast start to the 2015 season. (ESPN)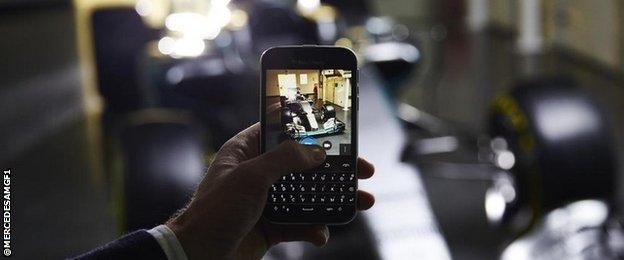 Former Caterham F1 driver Kamui Kobayashi has secured a place in Japan's Super Formula series with Toyota. (Motorsport.com)
Mercedes gave a sneak preview of their new car when Nico Rosberg took it for a test drive at Silverstone. (Daily Mirror)
Kimi Raikkonen could stay at Ferrari beyond 2015, his manager Steve Robertson says. (Motorsport.com)
Thursday, 29 January
Renault is interested in a deal to buy out the financially-troubled Force India team. (F1 Today)
Jenson Button and Fernando Alonso have appeared in a spoof of 1980s time travel film Back To The Future ahead of McLaren's season launch on Thursday. (Youtube)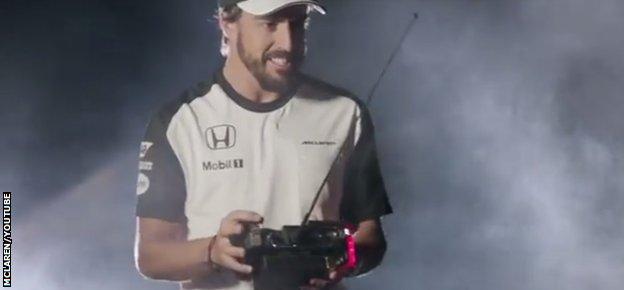 McLaren's new car will be completely black, while their sponsorship deal for next season is being negotiated. (Marca)
Former BMW and Williams driver Nick Heidfeld thinks Formula 1's cars have become too quiet. (Motorsport.com)
The McLaren production centre in Woking would double in size if plans to expand it were approved, artist's impressions show. (Woking Advertiser)
Wednesday, 28 January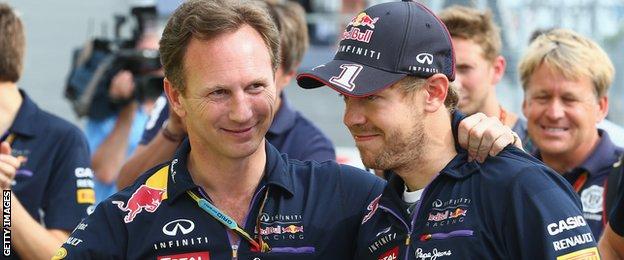 Sebastian Vettel considered quitting Formula 1 during 2014 as he failed to win a grand prix, according to his former Red Bull team principal Christian Horner. (Guardian)
Meanwhile, Vettel's new Ferrari team-mate Kimi Raikkonen has become a father after his fiancee was quoted in Finnish newspapers as confirming the pre-season arrival. (Motorsport.com)
McLaren looks set to debut its Honda-powered 2015 car on Sunday in Jerez with an all-black livery, according to reports in Spain. (Wheels24)
One team who will not be in Jerez are Force India, who have decided not to run their old car at the opening test of the 2015 season. (Sky Sports)
New Williams development driver Alex Lynn tweeted his delight at joining the Grove-based team: "I am extremely proud to be joining @WilliamsRacing, a team with such amazing history and undoubtedly an even better future!"
Tuesday, 27 January
Rivals of Mercedes have been warned to brace themselves for a step forward in performance from the engine supplier in the 2015 season. (Autosport.com)
Marussia will have to base themselves at Virgin's former headquarters in Dinnington, Yorkshire should they come out of administration after new American F1 team Haas completed a deal to buy their former factory in Banbury. (F1today.net)
Images capturing life on the Formula 1 circuit taken by drivers, team principals and well known figures from the sport have raised more than £20,000 at auction for Great Ormond Street Hospital's Children's Charity. (Telegraph)
McLaren's plans to expand their technology centre on greenbelt land north of Woking, Surrey have received objections from neighbours and conservationists. (Get Surrey)
Back at the team's current base, Fernando Alonso was trying on his new race overalls for the first time as this "suited and booted" tweet revealed.
Williams driver Valtteri Bottas has been hitting the roads on his bicycle before pre-season testing. The Finn tweeted pictures of his latest snow-swept ride and said: "Amazing new route found up to the mountains to see some snow."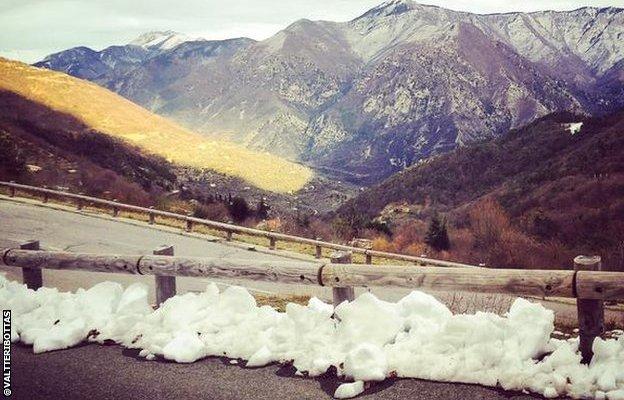 Monday, 26 January
Driver Romain Grosjean tweeted his approval after his Lotus team revealed the first pictures of their 2015 car. "New office for the year :-) looking forward driving the #E23 ! NOT long to go..." the Frenchman said.
Meanwhile, Ferrari have announced their new car will be called the SF15-T, paying homage to S for Scuderia and the car's turbo engine. (Autosport.com)
Williams driver Valtteri Bottas will debut the team's 2015 car at the first winter test in Jerez in February. Team-mate Felipe Massa will get his turn behind the wheel after the first two days. (ESPN)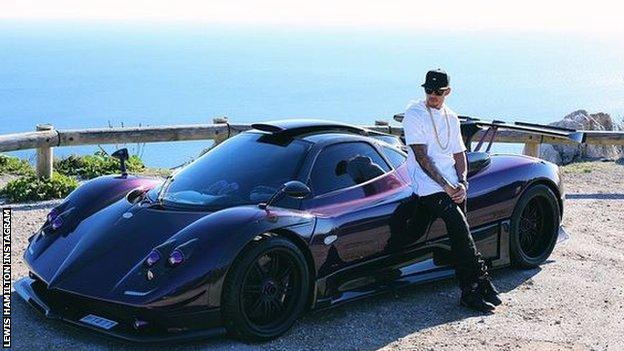 World Champion Lewis Hamilton showed his followers on social media how he maintains his need for speed outside the season as he shared pictures of his £1.5m Zonda on Instagram.
Hamilton's Mercedes team-mate Nico Rosberg has predicted another season of dominance for the Brackley-based team. (Autoweek)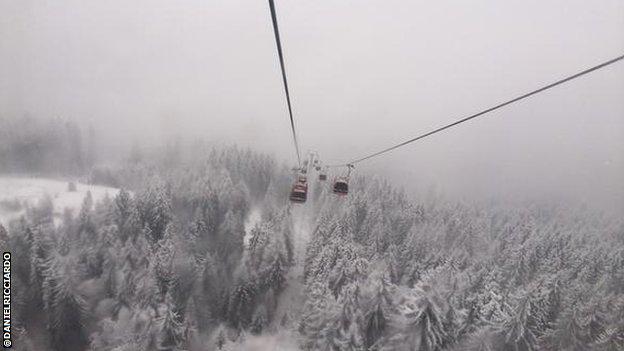 Red Bull driver Daniel Ricciardo tweeted a picture from a mystery ski slope as he celebrated Australia Day in a more wintry environment.
Caterham driver Marcus Ericsson gave fans a sneak preview of the design for his 2015 race helmet with this post on Instagram.