McLaren-Honda together again as wraps come off 2015 challenger

By Andrew Benson
Chief F1 writer
Last updated on .From the section Formula 1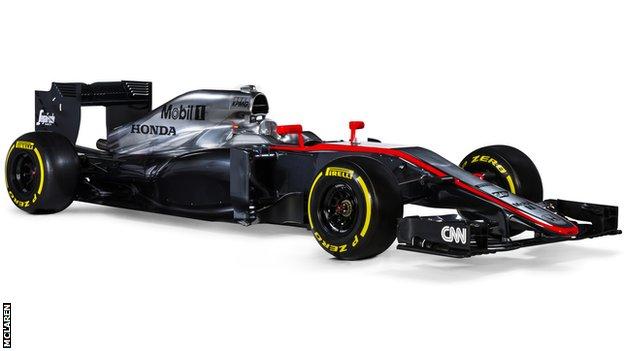 McLaren have unveiled the new car they hope will see them return to competitiveness this season.
The first car of their new engine partnership with Honda has been built by a restructured design team following changes made after two poor seasons.
New driver Fernando Alonso, who joins from Ferrari, said 2015 would be "a learning year, but the goal is to win".
Team-mate Jenson Button said there was a "feeling of reignited optimism and positivity" about McLaren.
McLaren and Honda hope to return eventually to the form of their previous partnership from 1988-92, when Ayrton Senna and Alain Prost won four consecutive world drivers' titles.
Alonso added: "I grew up as a child watching the McLaren-Honda domination of F1 and now I have this great privilege and opportunity to be back with them and to start from zero this new era.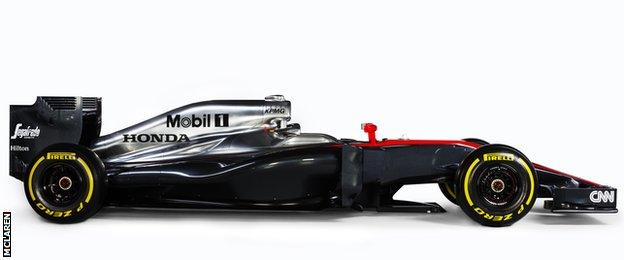 "The new car is looking good; a very interesting project from what I felt and heard from engineers and designers.
"There is a new philosophy in the team, a new way of approaching the car and everyone is so excited about this new partnership with Honda.
"There is a lot of work because everything is new but I see a lot of enthusiasm from everybody and this is the important thing. It will be a learning year for all of us."
Alonso will be the first driver to experience the car on the first day of the first pre-season test in Jerez, Spain, which runs from 1-4 February. He and Button will alternate over the remaining three days of the test.
Button added: "It's been interesting to spend time in the factory during the past few weeks. I've never seen such motivation among the guys."
The car, painted in a slightly redesigned silver, black and red livery, is the first McLaren produced since former Red Bull head of aerodynamics Peter Prodromou rejoined the team last season as chief engineer.
The car's tightly-packaged rear end and intricate front wing design both carry echoes of the Red Bulls that have proved so successful in recent years.
McLaren were at pains to emphasise that they will inevitably hit trouble in the first test as they try to get the car, turbo hybrid engine and all their complicated control systems working together for the first time.
Button said: "We don't expect to be pumping in 100 laps a day. It is going to be lots of system checks. Don't expect too much from us too soon. It is about working out the reliability aspects of the engine.
"Hopefully towards the end of the test and into the second and third tests, that's when we can start to push."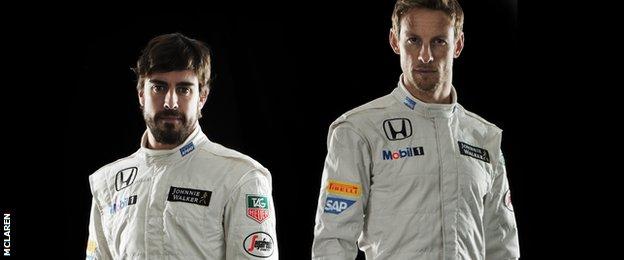 But the 2009 world champion did admit: "After two minutes of driving the car you have a slight understanding of where you are going that season. I'm a little bit nervous but very excited to jump in the car and see what we have."
McLaren racing director Eric Boullier said his restructuring of the team was about a new approach to design that ensured the car was more driver-friendly.
In recent years, McLaren have concentrated on theoretical maximums of performance, which can lead to a car that is very difficult for the drivers to exploit completely. A more consistent aerodynamic performance, even if it is slightly less on paper, can lead to a faster lap time.
Chief operating officer Jonathan Neale said: "Honda hasn't returned with anything other than ambitions to be at the front and win races and championships. But we have to be realistic about getting to that.
"Honda has had half the time to develop the new engine as the other manufacturers.
"There are a number of competitors who I expect to be very strong at the start of the season, but we expect to be in that mix during the season, racing at the front."
McLaren liveries down the years