Nico Rosberg: I can beat Lewis Hamilton to world title
By Andrew Benson and Jennie Gow
Chief F1 writer and 5 live pit-lane reporter
Last updated on .From the section Formula 1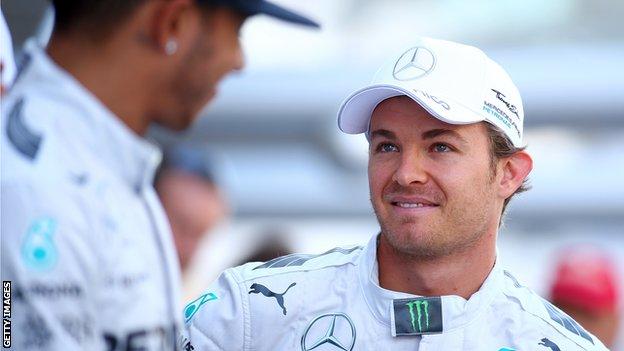 Nico Rosberg believes he can turn the tables on Mercedes team-mate Lewis Hamilton and beat him to the world title this season.
"I have looked at last year and analysed it and I'm trying to do even better," said Rosberg, who won five races to Hamilton's 11 but out-qualified him more often.
"I need to find a tiny step and I'm sure I can do it."
The German said he was "very confident" of building on last year, adding: "It was close and I can do it. It is one step higher and either way it is going to be a great year again."
Rosberg said he would be trying to maintain the qualifying form that won him the inaugural pole position trophy and focus on beating Hamilton in the races, where the Briton had a distinct advantage.
"The Saturday is already a big advantage," Rosberg said. "If I can keep going like that and start more often than not in front that will be a big step.
"There are a few little things I need to do a little bit better to keep him him behind and then find that little bit more pace in races."
The two engaged last season in a sometimes controversial duel, which spilled over at the Belgian Grand Prix when the pair collided while disputing the lead.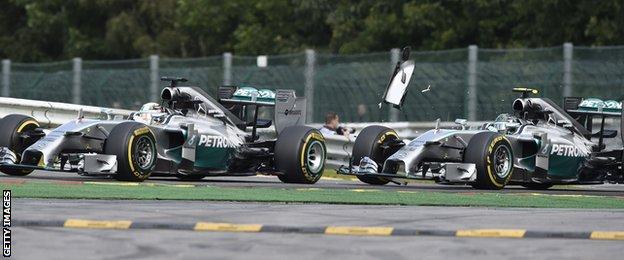 Rosberg was blamed by the team, reprimanded, fined and forced to make a public apology for his actions.
"I have fully accepted the past and don't have any criticisms," he said. "The difficult moments are when I learn the most.
"What did I learn from Spa? Just how to handle challenging situations. There are always going be difficult moments in sport. From my part, it's about just handling those in a more favourable way for me."
Asked whether he expected similar flash points in 2015, Rosberg said: "The racing is going to be intense, that's for sure. And that's what we're here for, to put on a great show.
"We managed to do that last year in many ways and that's awesome and we want to do that again."
He said he expected more competition than last year but believed Mercedes would still keep their edge over the opposition.
"I think the competition is going to be tough and that's why we have to keep going and keep an eye on them," Rosberg said. "But we have had a decent winter so I am still confident."