Caterham hopes fade as team's remaining assets go up for sale

By Andrew Benson
Chief F1 writer
Last updated on .From the section Formula 1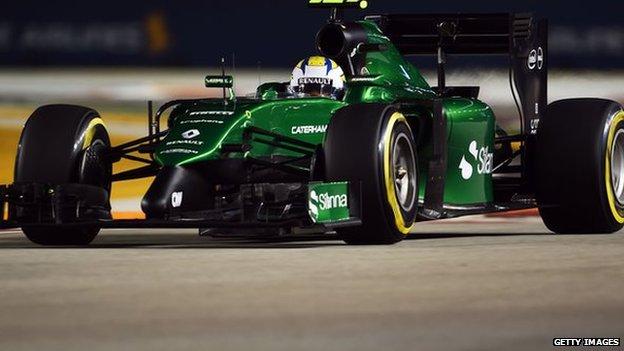 The remaining assets of the collapsed Caterham team have been put up for sale, apparently ending hopes they could return to Formula 1 this season.
Administrator Finbarr O'Connell told BBC Radio Oxford several auctions, including of the 2014 F1 race cars, will be held in March, April and May.
He also confirmed discussions have been held with two parties over a sale.
The team returned to race at last year's final race in Abu Dhabi on the back of a crowd-funding project having missed grands prix in the United States and Brazil.
Caterham F1 team assets advertised for auction
Formula 1 test car (2013)
Formula 1 car parts including race chassis and pit lane equipment
Full-size Formula 1 race simulator
Team race and hospitality trailers
Formula 1 steering wheels
Formula 1 wheels with tyres
Team memorabilia and clothing, plus other branded goods
An initial auction of the team's assets, including 2014 chassis, is scheduled for 11 March.
Caterham would need the chassis to have any chance of racing in 2015, as the team has been effectively defunct since October and has done no work on building a new model.
Mr O'Connell, from administrators Smith & Williamson, confirmed the auctions would be pulled if a sale could be agreed before 11 March.
"The team is still for sale," he told BBC Radio Oxford. "I've had meetings with two parties today. They're not advanced enough for my liking.
"But the next person believes they're going to convince me they've got the wherewithal to buy the team."
More than 200 staff at the team's Leafield factory in Oxfordshire were made redundant after entering administration.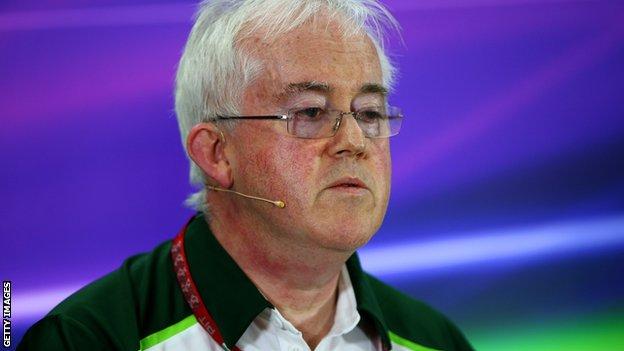 Mr O'Connell admitted time is "incredibly short" for Caterham to make the starting grid for the Australian Grand Prix in Melbourne on 15 March.
"I'm not going to set a deadline as I want to get it sold," Mr O'Connell said. "If they can get it done in enough time to satisfy the organisers of the championship, then that's good enough for me."
"I'm not going to say there's an absolute deadline on being able to make the first race.
"Teams can miss two races and I'm keeping the 'for sale' signs up for as long as there are interested parties out there."