Marussia comeback blocked by Force India no vote
Last updated on .From the section Formula 1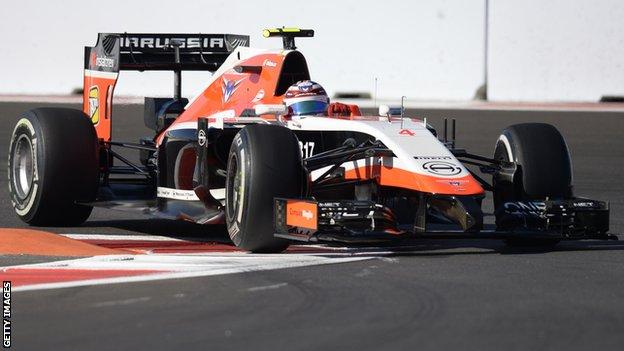 Marussia's chances of a Formula 1 return this season have been dealt a severe blow after Force India rejected their request to use last year's car.
The team hope to race again under a new name after ceasing trading in October and missing 2014's last three races.
But, with the new season starting in Australia next month, they do not have time to build a new car.
The request to use their old car required unanimous agreement from rival teams but Force India voted against.
Force India's deputy team principal Bob Fernley said Marussia's application "lacked substance".
He said: "Given the lack of information, uncertain guarantees, and the speculative nature of the application, the decision was taken that it is better to focus on ensuring the continued participation of the remaining independent teams."
Marussia were unavailable for comment.
Marussia needed unanimous agreement from the other teams as their request amounted to a rule change - and the cut-off point for those was the end of June last year.
Although sources say Force India were the only team to veto the plan in the meeting, a number of other teams were also against it.
Thursday's meeting of the rule-making strategy group also came up with a series of proposals for making F1 cars look more dramatic and harder to drive. These will be discussed by technical chiefs later this month.
Difficulty in modifying 2015 car
The rules governing the chassis and nose area of F1 cars have changed this year on safety grounds.
Those changes make it close to impossible to modify a 2014 car.
In particular, the front bulkhead - the top of the front of the chassis - needs to be 50mm lower.
There have also been changes to the regulations governing noses, in terms of both their dimensions and their resistance to an impact.
However, these could be met by designing a nose cone.
Plans to spice up F1
The strategy group also discussed how to make F1 cars more visually dramatic and harder to drive in a bid to enhance the sport's popularity.
Discussions focused on making the cars wider and the tyres bigger, with potentially more powerful engines.
Sources say that there are two main options:
to modify the cars and tyres for 2016, in which case the current engine rules would be left in place

to wait until 2017 to make wider changes, which also include making engines more powerful
Bosses have discussed raising the power output of engines to 1,000bhp from approximately 850-900bhp.
The simplest and cheapest way to do this would be to remove the fuel-flow meter that is at the heart of the current efficiency-based rules and which restricts the cars to a maximum of 100kg (130 litres) of fuel in a race and a maximum fuel-flow rate of 100kg per hour.