Force India no vote on Marussia request not money-driven - Fernley

By Andrew Benson
Chief F1 writer
Last updated on .From the section Formula 1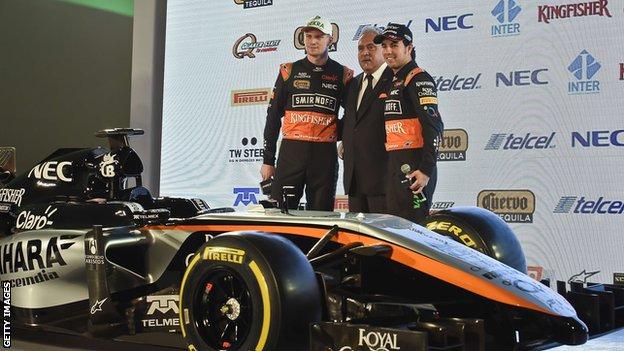 Force India say money was not the reason behind their decision to veto Marussia's request to race this year with a 2014 car.
If they do not race, the prize money they earned is split between the teams.
Force India deputy team principal Bob Fernley said: "£4m to the team is nice but not the driver for the decision."
Fernley also revealed that Force India's 2015 car would definitely not take part in the second pre-season test from 19-22 February in Barcelona, Spain, and that they would struggle to get it ready for the final test, which starts on 26 February, again in Barcelona.
Force India have already missed the first four-day test, which took place at Spain's Jerez track earlier this week.
But Fernley denied claims that the team would not be ready to take part in the first race of the season in Australia on 15 March.
Asked if he could categorically say the team would be ready, Fernley said: "From the information I have today and knowing what we do, the answer is yes.
"The question for me is only how much of the third test we will participate in.
"We won't make the second test at all - although we are looking at taking the '14 car there to do a little bit of driver and tyre work.
"I'm hoping we will make the start of the third test with the '15 car, but we have to get as much of it as we can."
He said the reasons for the delay were two-fold:
There had been delays in signing a contract to use a new wind tunnel in Germany because its owners Toyota had to be sure the collapsed Caterham team, which had a contract to use it, would not require it.
The collapse of the Marussia and

Caterham

teams had "hurt the suppliers and they can't afford to give us the credit terms we've had in the past".
Fernley added: "Is this helpful? No. Will it hurt us? Yes. But hopefully it won't affect us too badly."
He insisted that the financial gain for Force India if Marussia did not race was irrelevant to his decision to veto their request at a meeting of F1's rule-making strategy group on Thursday.
"It's impossible to say it was nothing to do with money, but the decision was not made on that," Fernley said.
He said the F1 Commission - a key element in F1's legislative process - had made it clear to Marussia in December what they had to do to be allowed to run a 2014 car this year.
This was to satisfy the commercial rights holder - represented by F1 boss Bernie Ecclestone - they were "sustainable for 2015 onwards from a financial point of view" and to convince governing body the FIA they would have a "safe, compliant car running the 2014 chassis".
Fernley said "none of that was adhered to," claiming there was also no information on the identity of the intended new Marussia owner.
He added: "The onus was on Marussia to present a case compelling enough to make the concessions they were asking for - and they are significant concessions."
Fernley said that other teams were also opposed to Marussia's request, "but it just so happened Force India were the first to vote".
As Marussia's request required unanimity, that was the end of the matter.