Formula 1 gossip column: Hamilton, Vettel & Button
Last updated on .From the section Formula 1
Sunday, 22 February
World champion Lewis Hamilton is unhappy with the performance of the "rock solid" tyres on his Mercedes during pre-season testing.(Autosport)
Sebastian Vettel plans to break the ban on changing his helmet design during a season if it means a small fine which goes to charity. (Planet F1)
Jenson Button has played down McLaren's technical problems during testing as he insisted the team is "not in for another tough season".(ESPN)
Hamilton has been suffering with illness during testing but tweeted a picture with the message: "Hope you're having a great day! Still feeling under the weather but I'm pushing for you guys. #TeamLH"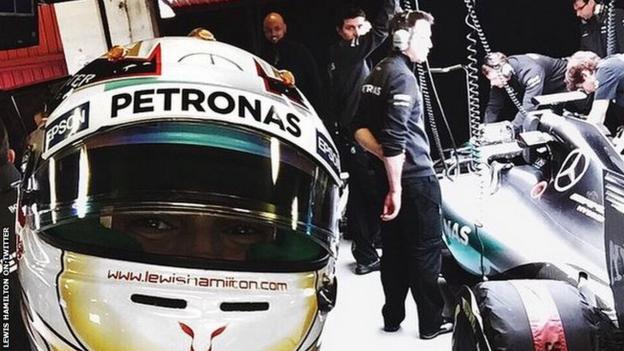 Saturday, 21 February
Mercedes driver Nico Rosberg says the the German team have their "eyes wide open" when it comes to their dominance of the sport being challenged by other teams. (F1 Today)
Fernando Alonso is unsure whether McLaren-Honda will be "completely ready" for the Australian Grand Prix in March after reliability problems that surfaced in testing. (Autosport)
Meanwhile, McLaren racing director Eric Boullier says the team will not focus on pure performance until the third and final test in Barcelona. (ESPN)
Brazil and Barcelona forward Neymar made an appearance at the third day of the Barcelona test and caught up with his compatriot, Williams driver Felipe Massa.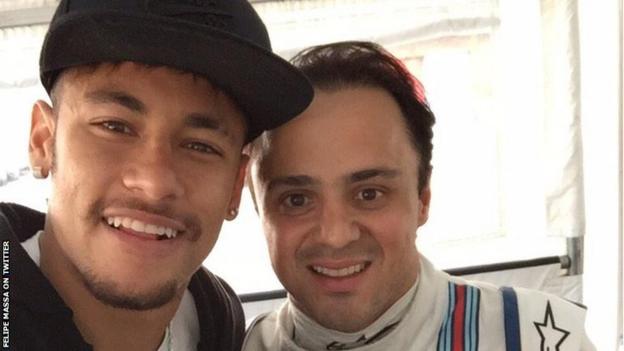 Friday, 20 February
There will be a new arrival in the Nico Rosberg household later this year after the Mercedes driver announced that wife Vivian is pregnant. He wrote: "Exciting time for our little family! Vivian is pregnant and if all goes well we will get a little baby girl in August!"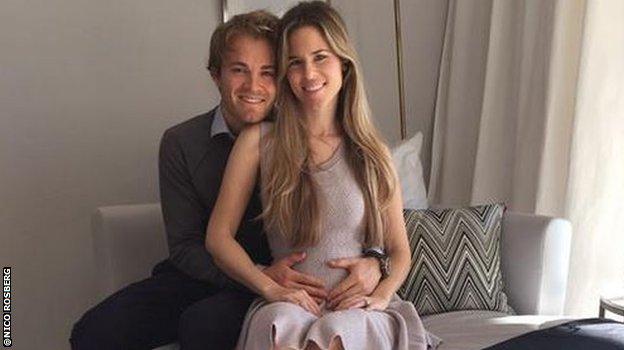 Lotus driver Pastor Maldonado believes the team have taken a "huge step forward" in terms of reliability after topping timesheets in the first pre-season test at Jerez, despite earlier causing two red flags. (Planet F1)
Sebastian Vettel has denied he is a "carbon copy" of fellow German and F1 legend Michael Schumacher. Vettel's comments come after new Ferrari boss Maurizio Arrivabene welcomed the arrival at Maranello of Red Bull's quadruple world champion. (F1 Today)
Williams driver Felipe Massa has backed the new ban on multiple helmet livery changes in a season. He claimed: "The helmet is your second face. I don't understand why you need to change it all the time."(inautonews.com)
Thursday, 19 February
Force India team principal Vijay Mallya says Mercedes reserve driver Pascal Wehrlein is "an exciting young talent". (F1i.com)
While testing goes on, the teams have plenty of other important jobs to take care of. Over at Williams, the team tweet from behind the scenes at Felipe Massa's photo shoot.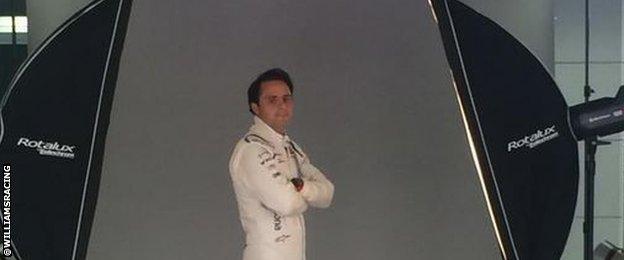 It's not just Felipe Massa having his photo taken. His Brazilian counterpart, Felipe Nasr takes time away from his lunch to have his photo taken with fans at testing. His team, Sauber, tweet this: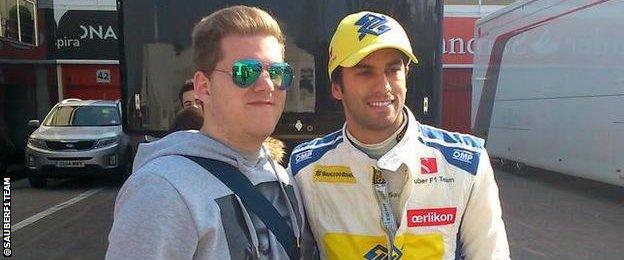 Wednesday, 18 February
Britain's GP2 champion Jolyon Palmer, 24, will drive for Lotus for the first time on the second day of pre-season testing in Barcelona on Friday. (F1 Planet)
Lotus driver Romain Grosjean is fitter than ever and ready for pre-season testing in Barcelona. He posted an image of himself in the gym and tweeted: "Barcelona D-2, training hard...".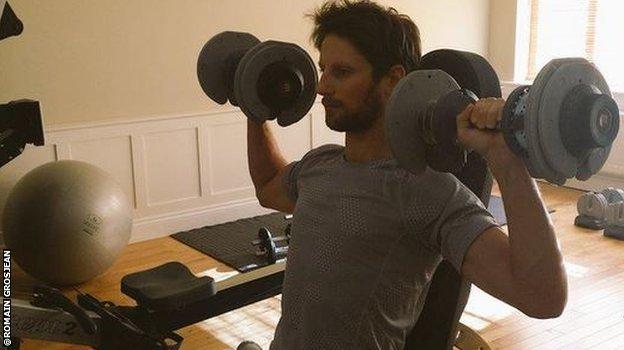 The Chairman of the Bahrain International Circuit, Sheik Salman bin Isa Al-Khalifa, is not convinced that the Gulf region is ready for a third F1 race as Qatar steps up its bid to join Bahrain and Abu Dhabi on the sport's calendar. (Crash.net)
Sauber are changing their grey livery to blue and yellow for the 2015 season. (Fox Sports)
Tuesday, 17 February
New Ferrari boss Maurizio Arrivabene has been so impressed with the driving skills of four-time F1 champion Sebastian Vettel that he compares him with seven-time champion Michael Schumacher. The Italian said: "I confess that there are times when I look at Vettel and, in some ways, it really seems like a carbon copy of Schumi!"(grandprix.com)
Red Bull tweeted a response to Ferrari's concept design of a future F1 car with an image of a future F1 Red Bull car and a cheeky message "Way ahead of ya".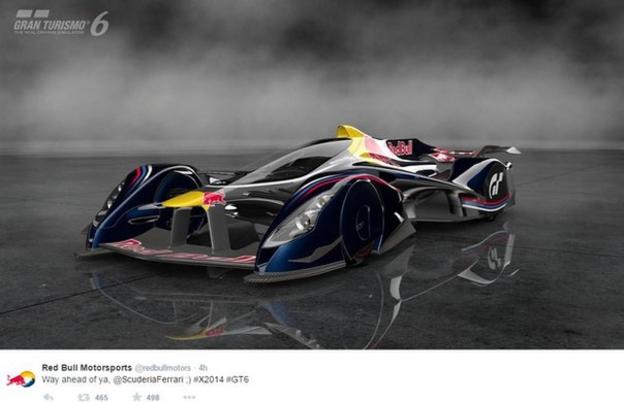 McLaren chief executive Ron Dennis says smaller teams need financial self-discipline rather than a cost cap to ensure they remain in Formula One.(ESPN)
A meeting of the F1 Commission in Geneva on Tuesday did not back plans for a rapid overhaul of car regulations that would have resulted in wider cars, bigger tyres and bodywork revisions for 2016.(Autosport)
A study commissioned by the FIA examined the finances of nine F1 teams and found that costs in the sport could be halved without hurting its popularity.(inautonews.com)
Lego has replaced luxury sports car brand Ferrari as the 'World's Most Powerful Brand', according to research from BrandFinance.(thedrum.com)
Monday, 16 February
Former Formula 1 driver John Watson believes Fernando Alonso will win the McLaren battle with Jenson Button thanks to his better qualifying pace.(F1 Planet)
McLaren have not ruled out returning to the radical rear suspension blocker system later this season, even though the concept did not appear on their new car.(Autosport.com)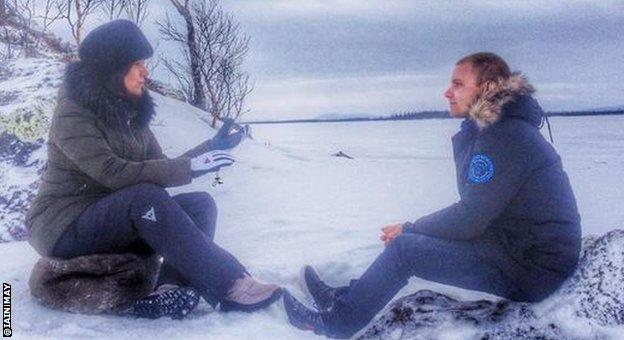 Williams driver Valtteri Bottas spent a chilly Valentine's Day with BBC F1 reporter Lee McKenzie and a film crew in Lapland, but the Finn looks at home in the snowy conditions.
Malaysian Grand Prix organisers say a new contract has yet to be signed because it has yet to agree a race fee with Formula One management. This year's race on 29 March is the last under the current contract.(F1i.com)
Despite replacing an under-performing Renault engine with a Mercedes engine, Lotus do not expect to return to the top step of the podium in 2015.(F1today.net)
Brazilian Felipe Nasr has defended his move into F1 this year with Sauber despite the 22-year-old having finishing no better than third in GP2 last year with the British team Carlin.(motorsport.com)