Formula 1: The five most lavish car launches
Last updated on .From the section Formula 1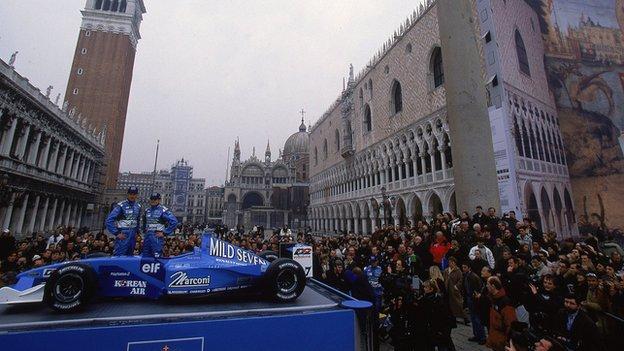 If it did not involve the biggest pop band in the world, then you were not doing a Formula 1 car launch properly.
There was once a time when the unveiling of a new car was the highlight of pre-season, but in this age of austerity, they amount to little more than a few pictures posted on social media, or the reveal simply being when the car rolls out of the garage for the first time in testing.
From the Spice Girls to a Sicilian opera house, BBC Sport takes a look at some of the most lavish F1 car launches.
McLaren's zig-a-zig ah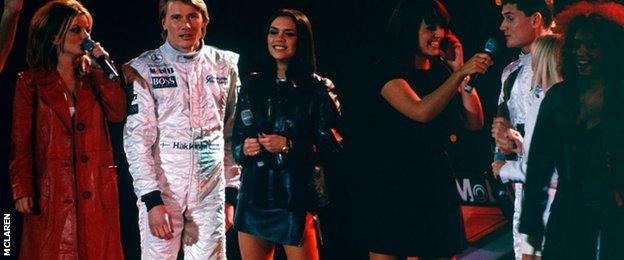 Who: McLaren in 1997
Concept: Pop group of the moment to launch new title sponsor and bold new car design.
What happened: The Spice Girls took to the stage to strut their stuff in front of a very young David Coulthard and Finn Mika Hakkinen. The future Mrs Beckham attempted to brighten the seemingly stilted atmosphere by sharing a giggle with the future world champion, loosening his race suit.
Was it a good season? It proved Too Much for the Wannabe title contenders - Williams dominated.
Eddie Jordan's flight of fancy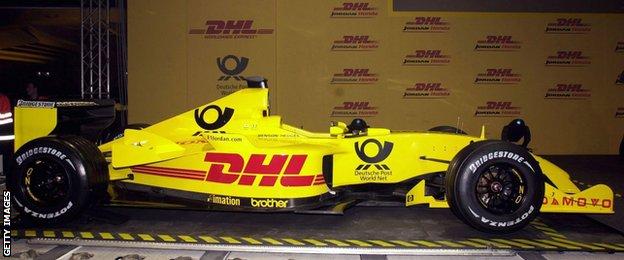 Who: Jordan in 2002
Concept: New title sponsor delivers the newly designed car via a cargo plane.
What happened: The assorted media gathered in a cavernous aircraft hanger as a control tower radioed to say there was a special delivery for Eddie Jordan. Cue a huge cargo plane landing and the new EJ12 being lowered from the cargo bay. To top it off, EJ had to sign for the delivery.
Was it a good season? They might have wished the car missed the flight. Jordan scored just nine points, although they did finish a solid sixth in the constructors' championship.
Honda's broken dreams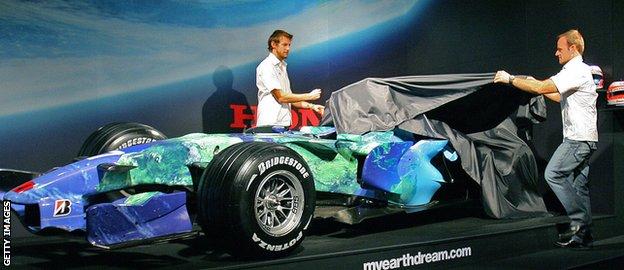 Who: Honda in 2007
Concept: Honda goes green with 'earth' car to highlight climate crisis
What happened: Unveiling the new car at the Natural History Museum in London, drivers Jenson Button and Rubens Barrichello pulled back the covers to reveal a car with a paint scheme depicting planet earth instead of traditional advertising and sponsor logos.
Was it a good season? It was down to earth with a bang for Honda. With one of the highest budgets in F1, they finished nearly last of all in the constructors' standings, down in eighth place.
Renault's night at the opera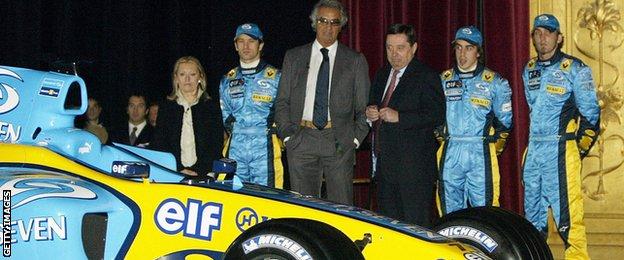 Who: Renault in 2004
Concept: The R24 is unveiled at Sicilian Opera house Teatro Massimo in Palermo, Sicily.
What happened: Nothing was done by halves in the Renault launch as more than 600 media and guests attended the unveiling at the largest Opera House in Italy. The concept of the launch was "ready": ready to race and ready to win.
Was it a good season? They weren't quite ready. Only one race win, but that success did not lack glamour - it was Jarno Trulli's sole F1 career win at Monaco.
Classy car delivery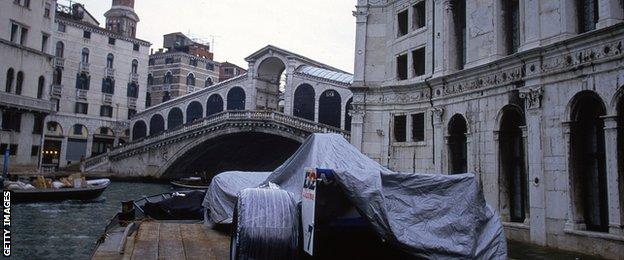 Who: Benetton in 2001
Concept: One final lavish launch from Benetton, who were departing the sport, but not before a season with their B201.
What happened: On a misty morning in Venice, expectant media and guests waited at St Mark's Square as Benetton's latest design was transported along the canals for its grand unveiling.
Was it a good season? The season was more about treading water than winning championships. They ended up seventh.