Lewis Hamilton & Nico Rosberg: Lessons learned, says Toto Wolff
Last updated on .From the section Formula 1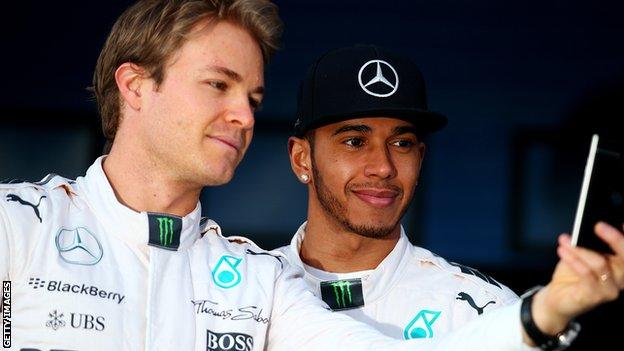 Mercedes motorsport boss Toto Wolff says lessons have been learned about the fierce rivalry between team-mates Lewis Hamilton and Nico Rosberg.
"The team never expected it to be any different but we've learned a lot from last year," said Wolff.
"We've learned from working with each other, analysing mistakes, and we will be trying to do things better in 2015."
Wolff accepts the rivalry could again have its bitter moments this year as they both battle for the championship, but says they are well equipped to deal with them.
"We were well aware last year they could run into difficult moments," said Wolff. "We are very well aware this could happen this year as well."
Tempers flared between Hamilton and Rosberg, who were childhood friends, at a number of races last season, notably in Monaco and Spa.
It was at Spa where Rosberg collided with Hamilton, testing the patience of Wolff and non-executive chairman Niki Lauda.
The title battle went down to the final race of the season in Abu Dhabi, with 2008 champion Hamilton winning comfortably to secure his second world title.
Wolff added: "They are team-mates fighting against each other for the Formula 1 world championship so you cannot expect them to be best friends."