Mark Webber and Alex Wurz mock helmet design rule change
Last updated on .From the section Formula 1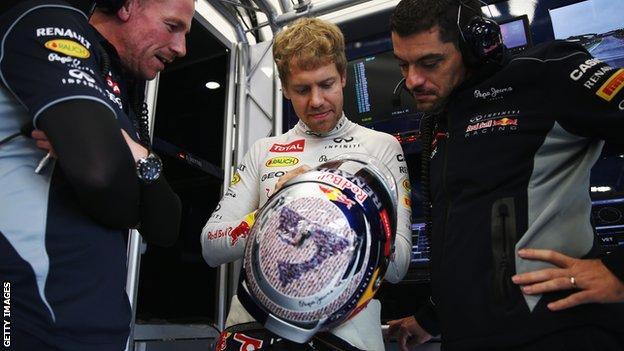 A new rule banning Formula 1 drivers from changing their helmet design during the season has been mocked by ex-drivers Mark Webber and Alex Wurz.
Lewis Hamilton and Sebastian Vettel are among those to have regularly altered their livery in recent seasons.
Austrian Wurz, chairman of the Grand Prix Drivers' Association, tweeted: "I am a fan of consistency, but seriously what's next? Rules on haircuts?"
And ex-Red Bull star Mark Webber added: "Bigger issues than this...#jobsworths"

Britain's Hamilton, who won the F1 title last season, has previously worn bespoke helmets with tributes to musicians Michael Jackson and Bob Marley, as well as a design in honour of three-time world champion Ayrton Senna.
Germany's four-time champion Vettel has also become known for his splashes of creative inspiration with a recent design marking his first day of testing with new team Ferrari.
McLaren's Jenson Button has been among the drivers to raise funds for charitable causes by auctioning specially-designed helmets, such as the one he wore after the tsunami in Japan in 2011.
Until recent years, drivers generally kept the same helmet design, often for their entire careers.
The rule change was agreed at a meeting of the Formula One Commission but still needs to be ratified by governing body the FIA's World Motor Sport Council.
The first race of the 2015 F1 season is in Australia on 15 March.