Lewis Hamilton withdraws and Susie Wolff crashes in testing

By Andrew Benson
Chief F1 writer
Last updated on .From the section Formula 1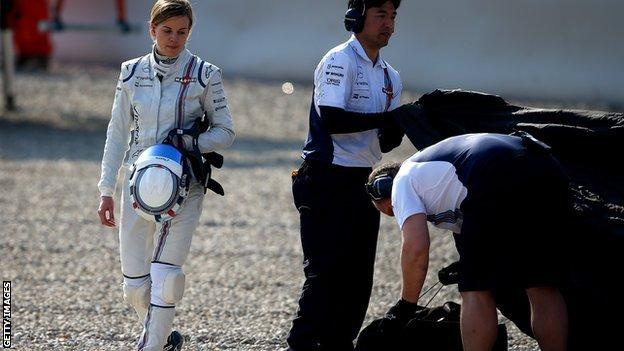 Williams test driver Susie Wolff and Sauber's Felipe Nasr collided at the second pre-season test in Barcelona as Lewis Hamilton stood down with illness.
Wolff and Nasr crashed as the Brazilian was trying to pass into Turn Five at Circuit de Catalunya in what appears to have been a misunderstanding.
Mercedes' Hamilton, suffering with a fever, stood down after less than two hours in the car.
His team-mate Nico Rosberg could miss Friday's test because of a neck injury.
The German has an inflamed nerve in his neck and the team said their plan for Rosberg to drive remained unchanged, but they would adapt accordingly if he remained unfit in the morning.
Mercedes reserve driver Pascal Wehrlein replaced Hamilton on Thursday and could be drafted in if neither race driver is able to take part on Friday.
Wehrlein's running in the afternoon was curtailed by a fuel-pump problem and the 20-year-old German was actually fractionally faster in the Force India he drove in the morning than the Mercedes.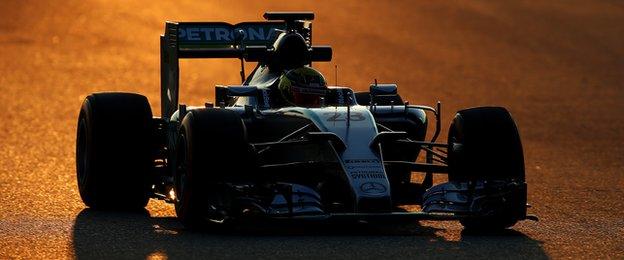 Both Williams and Sauber were able to get their cars repaired in time for a handful more laps in the closing half-hour of the day. Despite the incident, Wolff ended the day having completed more than 80 laps.
A video from the circuit's closed-circuit cameras, seen by BBC Sport, shows Nasr's car passing Wolff's on her left between the right-hander at Turn Four and the left-hander of Five and continuing its trajectory from one side of the track to the other, before his right rear wheel swipes into Wolff's left front.
Nasr said he believed Wolff was moving out of his way.
Nasr said: "She was driving quite slow in front of me. As I did Turn Four I caught up. I saw her moving to the right so I thought she knew I was coming. I committed myself to braking on the inside and as I was doing the braking I felt a big hit on my rear suspension so I think she never saw me coming."
Wolff said: "I most certainly didn't apologise. In my mind I had nothing to apologise for.
"I stayed completely on my line. I didn't expect him to move across as aggressively as he did and he hit my front left with his rear.
"It was an unfortunate incident but one I couldn't have avoided. I went straight over to him and said: 'What the hell went on?' And he was a bit speechless, and so was I. It was one of those things that you think: 'How did that just happen?'"
Lotus driver Pastor Maldonado ended the day quickest, with a lap of one minute 25.011 seconds, 0.156secs quicker than Kimi Raikkonen, who was second fastest in his Ferrari. Red Bull's Daniel Ricciardo was third fastest, a further 0.38 adrift.
Raikkonen's time was set on medium tyres, which are said by teams to be about 1.2secs slower than the softs on which Maldonado and Ricciardo set their fastest laps.
Second Pre-season Test, Day One, Circuit de Catalunya

Fastest times (* denotes 2014 car)

1 Pastor Maldonado (Ven) Lotus-Mercedes

1:25.011

2 Kimi Raikkonen (Fin) Ferrari

1:25.167

3 Daniel Ricciardo (Aus) Red Bull-Renault

1:25.547

4 Sergio Perez (Mex) Force India-Mercedes

1:26.636*

5 Felipe Nasr (Brz) Sauber-Ferrari

1:27.307

6 Max Verstappen (Ned) Toro Rosso-Renault

1:27.900

7 Jenson Button (GB) McLaren-Honda

1:28.182

8 Pascal Wehrlein (Ger) Force India-Mercedes

1:28.329*

9 Wehrlein, Mercedes

1:28.489

10 Susie Wolff (GB) Williams-Mercedes

1:28.906

11 Lewis Hamilton (GB) Mercedes

1:30.429
The fuel loads in the cars are not revealed. These are critical to establishing their true pace as 10kg of fuel (13 litres) equates to about 0.35secs a lap around Barcelona.
Nevertheless, Ferrari's pace continued to catch attention.
The team set the fastest time on three of the four days at the first test earlier this month and the impression is that the team may be on the road to recover after a poor 2014 season that persuaded their former lead driver Fernando Alonso to leave the team two years before the end of his contract.
Alonso is now at McLaren, whose troubled pre-season as they embark on their new engine partnership with Honda continued.
There was encouragement for the team when Jenson Button was second fastest to Raikkonen after completing a trouble-free 21 laps in the early part of the day.
However, the car then suffered a failure of a seal on the motor-generator unit recovering energy from the rear axle.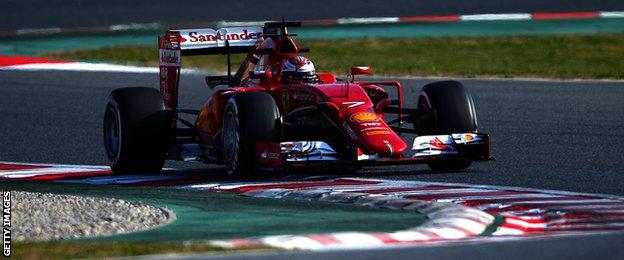 Honda said it would need to redesign the component to prevent the problem recurring and that the new part would not be ready until Saturday. So although Alonso will have a new engine for his turn in the car on Friday, the problem that affected Button may well recur then.
All the teams confirmed for entry in this year's championship are in Barcelona for the four-day test which ends on Sunday.
Force India made their first appearance of 2015, with Mexican Sergio Perez setting the fourth fastest time driving the team's 2014 car as the new model is not yet ready.
The team say it will be completed in time to run in at least some of the final test next week.
Although not in Barcelona, the former Marussia team - now back in their original guise as Manor - are continuing their efforts to return to the sport this season.
Marussia failed to take part in the last three races of 2014 after collapsing with financial problems, but have now exited administration and are working hard to make it on to the grid.