Fernando Alonso: McLaren driver concussed after crash

By Andrew Benson
Chief F1 writer
Last updated on .From the section Formula 1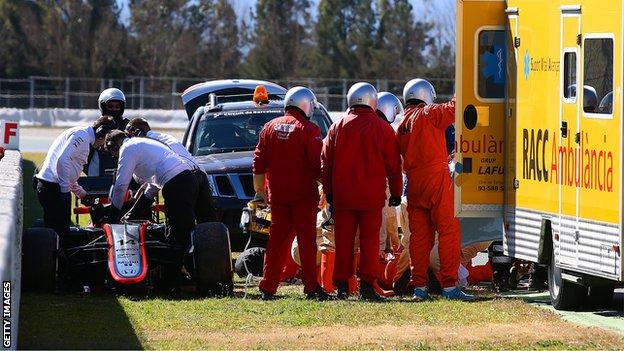 McLaren driver Fernando Alonso has escaped serious injury from a heavy crash in pre-season testing.
The two-time champion hit the wall on the exit of the 150mph Turn Three at the Circuit de Barcelona-Catalunya, one of Formula 1's most demanding corners.
McLaren said results of hospital scans showed the driver was concussed but otherwise uninjured.
Team boss Eric Boullier said the Spaniard would stay in hospital overnight "as a precaution".
He added: "Fernando's accident was just one of those things that happens in testing. Fortunately, he's fine, but was concussed during the accident, which therefore required an overnight stay."
Alonso's crash happened at 12:35 local time on Sunday, shortly before the lunch break on the final day of the second of three pre-season tests.
He was airlifted to hospital where CT and MRI scans were carried out.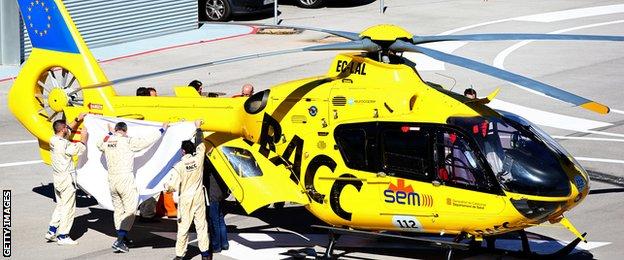 McLaren - who have given no information on what caused the accident - said Alonso "left the track at Turn Three, causing the right-hand side of his car to strike the wall" on the inside of the circuit. It is unclear whether Alonso made a mistake or something broke on the car.
His team-mate Jenson Button had been scheduled to take the car over for the afternoon session, but the team decided not to run again.
"While the car wasn't particularly badly damaged, it was enough of an impact to warrant quite a lengthy check of the gearbox and power unit systems," said Boullier.
"Given the time needed to carry out such an analysis, we decided to bring the curtain down on our test a few hours earlier than anticipated."
Sebastian Vettel, who replaced Alonso at Ferrari when the Spaniard rejoined McLaren, was right behind him at the time of the crash.
The German said: "The speed was slow - maybe 150kph. Then he turned right into the wall. It looked strange."
Alonso's former team Ferrari tweeted: "All the best, Fernando."
Alonso is regarded within F1 as arguably the greatest driver of his generation and has won 32 races in a 13-year career, putting him sixth on the all-time list.
He has rejoined McLaren, for whom he last drove in 2007, because he believed their new engine partnership with Honda would finally give him a car with which to win the third world title he has been seeking since 2006.
The partnership has had a troubled start, with repeated reliability problems restricting their running in the eight days of pre-season testing so far.
But Boullier said: "It's been a tough week for the whole team, but we'll be back, and pushing harder than ever, in Barcelona next week."