Alonso's crash adds to McLaren's pre-season problems

By Andrew Benson
Chief F1 writer
Last updated on .From the section Formula 1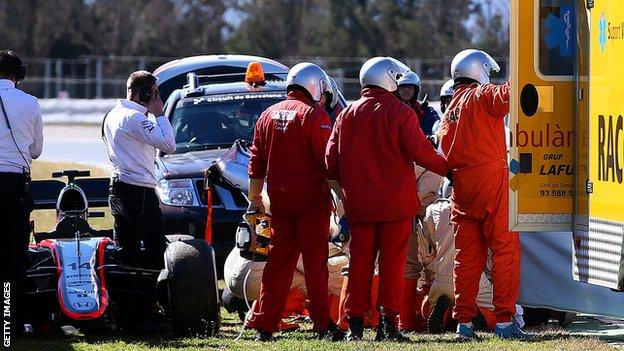 Just when McLaren probably thought their preparations for the new Formula 1 championship could not get any worse, they did. A lot.
The crash suffered by Fernando Alonso shortly before lunch on the final day of the second pre-season test not only resulted in the two-time world champion being taken to hospital, it put the team's struggles with their new Honda engine firmly into perspective.
A recalcitrant new engine badly restricting the testing mileage of an ambitiously aggressive car at the start of a new relationship that costs hundreds of millions of pounds a year is one thing. The health and fitness of any driver is quite another.
And Alonso is not just "any driver". He is arguably the finest of his generation; undoubtedly one of the greatest in history. And he is being paid the biggest salary in F1 - $40m (£27m) a year - to lead McLaren into their new era and eventually, all involved hope, to the world championship.
There was serious concern for Alonso for a time after the accident, which happened on the exit of Turn Three of the Circuit de Barcelona-Catalunya. This is a formidable corner - taken almost flat-out at 150mph - and any accident there is not going to be a small one.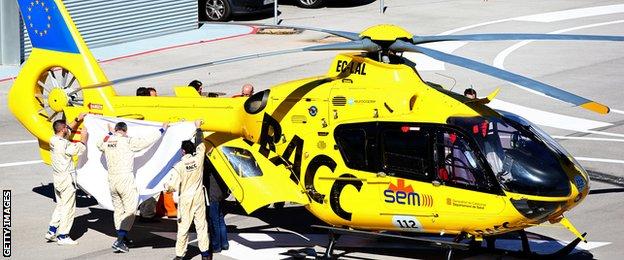 In the end, everyone in the sport will have been glad to hear Alonso is basically fine, but has suffered a concussion and is under observation in hospital in Barcelona until doctors are sure there are no further ill effects.
Early indications were that this was an abnormal incident - the relatively light damage to the car, the fact it was still facing forward, the comments from Ferrari driver Sebastian Vettel, who was following Alonso, that the crash "looked strange", and the speed with which Alonso was flown to hospital all created a confusing picture.
But on Monday afternoon McLaren put out a statement explaining what had happened.
They said the accident was "caused by the unpredictably gusty winds at that part of the circuit at that time".
Alonso had run wide on to the Astroturf surrounding the track, lost traction, the car had become unstable and was spat back towards the inside of the circuit, where it struck the wall side on. The driver was braking at maximum pressure and changing down until he hit the wall.
At least McLaren have now got to the bottom of what happened, and some of the wild conspiracy theories have been discounted.
But even though the team are now convinced that the accident was not caused by car failure, having their star driver in hospital, and not knowing when he will be able to drive again, simply adds to their already-mounting problems.
A drama? Or a crisis?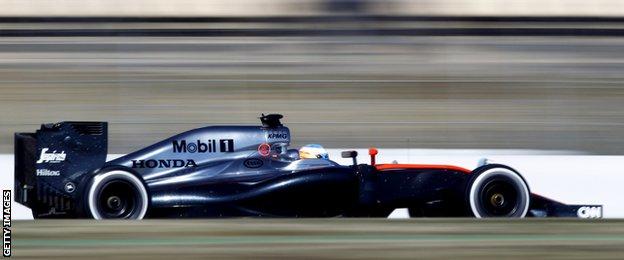 After a first test in Jerez that was not far short of a write-off because of a series of problems with the Honda engine, Barcelona was little better, largely in this case because of one small issue - a recurring problem with a seal on a part of the hybrid system.
It broke on Thursday, restricting Jenson Button to just 21 laps. A temporary fix was put in place for Friday, when Alonso completed 59 laps with the engine turned down. And then the redesigned part intended to solve the problem itself broke within a few laps on Saturday, when Button managed only 24.
The part was "re-engineered" again for Sunday, but still Alonso had done only 20 laps at the time of his accident.
What was already a drama is now looking very much like a crisis. McLaren have only four days of testing left before the start of the season and have so far done no running with the car in terms of establishing its performance level.
This is not exactly unexpected. It is, after all, Honda's first season with one of the ultra-complex and high-tech new turbo hybrid engines now used in F1, while their three rivals all have a year's experience.
McLaren-Honda's problems are very similar to the truncated build-up of Red Bull and Renault last year. Red Bull hardly ran at all in pre-season testing in 2014, but Daniel Ricciardo turned up in Australia and qualified and finished second, before being disqualified for a technical infringement.
It's not beyond the realms of possibility that McLaren could do something similar, but it's very hard to make any sort of judgement about their car after such a fractured test schedule.
There have, though, been hints of what might be. The Honda has been running de-tuned, but even so Alonso was respectably fast on Friday, and McLaren believe the car is fundamentally good.
They admit they may well not be ready for the first race of the season. But, assuming Honda can get the engine working, there seems to be at least the potential prospect of McLaren bouncing back and challenging at the front later in the year, perhaps even winning a couple of races.
Ominous Mercedes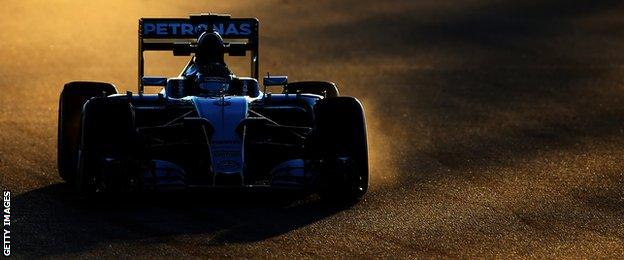 If they do, it is pretty obvious that the team they will have to beat are Mercedes.
Already the pre-season favourites, there was at the second test what looked like the first real signs of the true potential of the 2015 Mercedes car. And it made a huge impression.
Despite still suffering with the fever that forced him to abandon testing after just 11 laps on Thursday, Lewis Hamilton made everyone sit up and take notice with what he did on Friday.
He was only fifth in the list of headline times, but he was using a tyre reckoned to be more than a second slower than the one used to set the pace by Ricciardo, who was only 0.349secs quicker.
Hamilton also did a race-simulation run - a full race distance, including pit stops - at the same time as Ricciardo, and the Mercedes was 0.8secs quicker a lap than the Red Bull. That equates to nearly a minute over a race distance.
The two blisteringly quick laps Hamilton's team-mate Nico Rosberg did on mediums on Sunday only added to the impression of a team still on another level from the rest.
Of course, the usual caveats apply - it's only testing, we don't know what spec the cars were in, there will be upgrades before the start of the season and throughout, the championship itself is 20 races long, and so on.
And inevitably, Mercedes themselves are playing any advantage down.
Hamilton said he was "anticipating a closer fight this year". While Rosberg said it was "clear that the others have really stepped up their game, their lap times are surprising to us and it seems Ferrari have made the biggest step right now".
Ferrari better - but how much?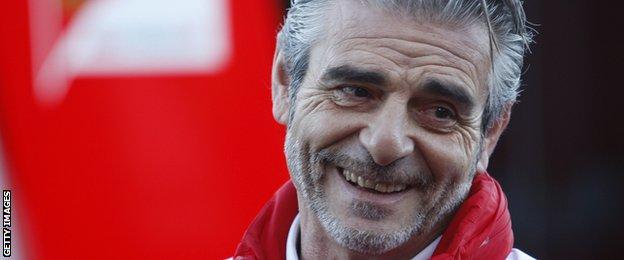 Ferrari have been grabbing a lot of headlines in testing so far, with a series of fast laps creating the impression they have made a step forward after a dismal 2014 which led to major upheaval within the team, including several top-level sackings, including that of short-lived team principal Marco Mattiacci.
Ferrari do look in better shape than they were in 2015, but then that is only to be expected; last year was their worst season for 21 years.
The 2015 design is the first car on which new technical director James Allison, who joined in September 2013, has had free reign. Allison is highly regarded within F1 and is expected to turn Ferrari around, as long as the team give him the freedom to do so, which they appear so far to be doing.
But Ferrari's performance is hard to read, not least because they have not yet done any race runs.
Publicly, Ferrari continue to be cautious. New team boss Maurizio Arrivabene says he is "not so crazy as to change the objectives" of two race victories in 2015 on the back of some decent testing times.
The other top teams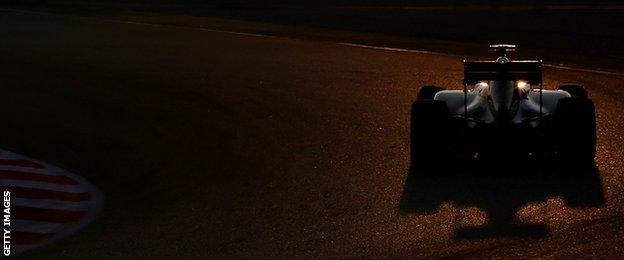 Williams, Mercedes' closest challengers by the end of last season, have had a low-key winter but are quietly confident of a strong start to the year.
As for Red Bull, they may well start the season a bit behind. Their Renault engine had a 60bhp power deficit to Mercedes last year and Red Bull are expecting the French company to make up no more than half of that by Melbourne - while Mercedes are said to have added about an extra 50-60bhp themselves.
Renault, though, are saving up some of their permitted development 'tokens' until later in the year, to ensure they get the biggest possible gain from them. So Red Bull, like McLaren, could come on strong later on.
And Lotus could be a dark horse, judging by the pace they have shown on occasions.
"It looks like Ferrari have potentially picked up their pace," Hamilton said. "Red Bull are just as quick and have improved their engine and Williams are going to be there.
"I imagine they have made a step but so have we. Time will tell how big a step they have made compared to us."
A conclusion, such as is possible
Overall, the general feeling remains that Mercedes' advantage will be reduced, that their main rivals have made a step forward, and that could well be true.
But it could easily be that Mercedes are even further ahead than before. Either way, it looks like they will take some beating.
In the immediate aftermath of this test though, the main thing is that it looks like Alonso should be able to take part. It somehow would not be the same without him. For McLaren, especially, but for everyone else, too.