Fernando Alonso: Injured McLaren driver still in hospital

By Andrew Benson
Chief F1 writer
Last updated on .From the section Formula 1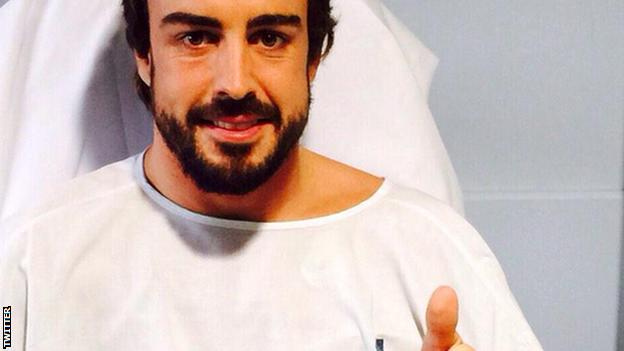 McLaren driver Fernando Alonso remains in hospital in Barcelona following Sunday's accident in pre-season testing that left him with concussion.
McLaren initially said the incident was a "normal accident" but the length of the two-time world champion's stay has raised questions about his condition.
The Spaniard, 33, has spent three nights in hospital and there has been no information on his likely release.
McLaren have not said whether he could drive in this week's final test.
With that four-day test session starting at Barcelona's Circuit de Catalunya on Thursday, it looks extremely unlikely that Alonso will take part, given the length of his stay in hospital.
A McLaren statement on Monday said Alonso had been given body and brain scans in hospital, the results of which were "completely normal".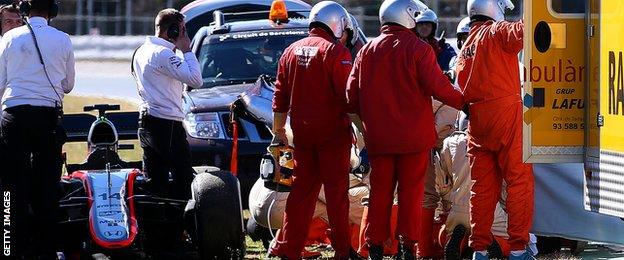 A photo of a smiling Alonso sitting up in his hospital bed was also posted on social media by his manager on Monday.
Alonso suffered concussion after hitting the wall on the exit of a right-hand turn at the Circuit de Catalunya.
McLaren dismissed as "simply not true" speculation in some media that the accident had been caused by Alonso suffering an electric shock from a malfunction of the car's hybrid system.
The statement said the data from the car showed Alonso was conscious until the moment of impact because he was braking at maximum force and changing down the gears until the car hit the wall.
On Tuesday evening, a former Formula 1 official doctor, Gary Hartstein, questioned whether McLaren had provided complete and accurate information about Alonso's condition.
Andrew Benson on Alonso's lack of testing time
"If Alonso cannot drive at the final test, he would enter the first race of the season having completed just 117 laps in the car because of the repeated reliability problems experienced with it so far.
"However, this is more than enough for a driver of his calibre to gain sufficient experience of how to operate the car's complex systems. And world-class drivers such as him can explore any car's limits within only a couple of laps.
"McLaren's greater concern will be to fix the problems with the Honda engine that are preventing them running it at full power and exploring the car's potential, and with Alonso's general well-being."
Hartstein wrote on his Twitter account: "Don't know what the story is with this non-accident, with a non-injured driver who spends two days in hospital.
"No doubt there is more to this story than meets the eye. By definition a successful sedation yesterday would require absolutely no recovery per se today.
"A story, which was so banal to not be worth mentioning (driver hits wall, driver concussed, driver hospitalised), gets curiouser and curiouser."
McLaren have so far refused to comment on Hartstein's remarks.