Fernando Alonso: McLaren driver leaves hospital but misses test
Last updated on .From the section Formula 1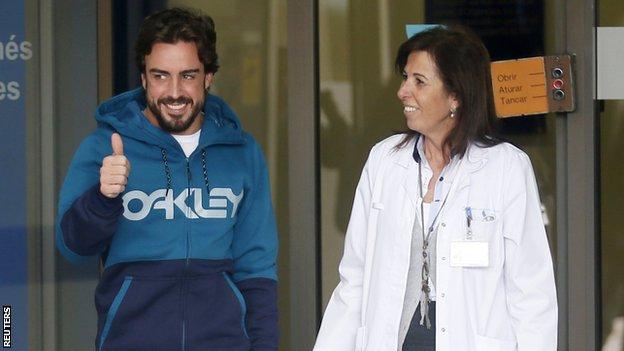 Two-time world champion Fernando Alonso has left hospital following Sunday's crash in testing.
The McLaren driver, 33, has returned to his family home in Spain for further rest and recuperation.
As a result, he will miss the third and final testing session, which is due to start on Thursday in Barcelona.
McLaren said Kevin Magnussen will now share testing duties with Jenson Button at the Circuit de Catalunya, the scene of Alonso's accident.
The Formula 1 season gets under way in Australia on 15 March.
Alonso suffered concussion when he crashed into a wall 20 laps into testing on Sunday and was airlifted to hospital under sedation.
A McLaren statement on Monday said he had been given body and brain scans in hospital, the results of which were "completely normal".
A photo of a smiling Alonso sitting up in his hospital bed was also posted on social media by his manager.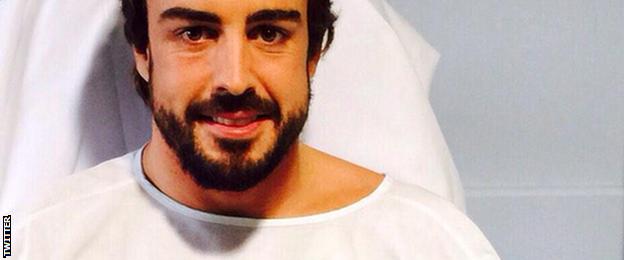 McLaren dismissed as "simply not true" speculation in some media that the accident had been caused by Alonso suffering an electric shock from a malfunction of the car's hybrid system.
The statement said the data from the car showed Alonso was conscious until the moment of impact because he was braking at maximum force and changing down the gears until the car hit the wall.
The circumstances of the accident and length of Alonso's hospital stay have raised questions about whether McLaren and the driver's management have been fully open about what happened.
BBC Sport has learned that governing body the FIA is to conduct a comprehensive investigation into the accident to ensure its causes and consequences are fully understood.
Following news that Alonso had left hospital, Magnussen tweeted: "Nice to see Fernando leaving the hospital. Now I'll go and do my best to help prepare the car for Melbourne in the tests this week."

BBC Sport's chief F1 writer Andrew Benson
"There has to be considerable doubt about whether Fernando Alonso will be fit to race in the season-opening Australian Grand Prix following his accident in testing last weekend.
"The McLaren driver has been released from hospital to "rest and recuperate" but the concussion he suffered must have been pretty serious for him to be kept under medical observation for three days.
"Racing drivers who have suffered concussion talk of the discombobulating effects of the condition. Unless there is no doubt about his recovery, the prospect of a 24-hour flight and the intensity of a grand prix weekend in two weeks' time might well be too much for him."