Fernando Alonso: McLaren driver 'must not rush return' after crash

By Andrew Benson
Chief F1 writer
Last updated on .From the section Formula 1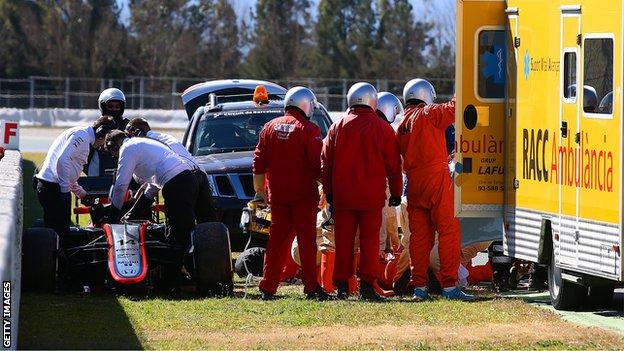 Fernando Alonso has been warned not to rush back to racing following the crash that left him concussed and forced him to miss this week's test.
The advice comes from Gil De Ferran, a winner of the Indianapolis 500 and two-time IndyCar champion, who suffered major concussions in his career.
De Ferran told BBC Sport that he feared his career was over after one of his concussion injuries.
And he says that returning too soon is "the worst thing a driver can do".
De Ferran, who was also sporting director of the Honda F1 team from 2005-7 after his retirement from the cockpit, said: "Hopefully he'll be OK and recuperate 100% but if I was his friend or advising him I would say: 'Don't return until you are 100% ready'.
"Especially a guy like him, whose talent is beyond question. He can only do himself more damage if he comes back when he's not ready."

In an exclusive interview, De Ferran, who raced against former F1 drivers David Coulthard and Rubens Barrichello in the junior ranks, spoke of:
the three times he suffered concussion in major accidents in his career

his fears after suffering concussion that his career might be over

the disorientating effects of the condition

how he managed to overcome the injury and fight back for his greatest career achievement
De Ferran added: "It seems that if Alonso had to spend three days in hospital, it's fairly serious.
"I had a lot of broken bones and so on, but concussions are by far the worst type of injury a racing driver can incur.
"The brain is a very delicate thing and it reacts in funny ways."
Physical effects of concussion
De Ferran, now 47, suffered concussion in two high-speed crashes in IndyCar racing - at Chicago Speedway in 2002 and at Phoenix Raceway in 2003 - after another early in his career, in Formula 3 in 1991.
"Concussions are not much fun," the Brazilian said. "The first one, in F3, affected my vision. I couldn't really see anything for a couple of weeks.
"The '02 one affected my inner-ear balance. I was dizzy for about a month. I couldn't even stand up properly, never mind drive. It was like being drunk,
"In the 2003 one, my third big concussion, I also had compression fractures of my neck and lower back.
"I missed a race and when I came back, for the Indy 500, everything was off. I could tell I wasn't driving well. My timing was off."

Fears for his career
De Ferran returned from the third accident in time to take part in practice for the Indy 500, where average lap speeds are well in excess of 200mph.
He says that he had so much trouble driving on his first day in the car that he felt he might have to retire.
"Frankly, it was a bit of a mild panic", he said. "It was a matter of saying: 'Calm down a bit. Let's see if that's really the case, get out there again and see what happens.'
"Thankfully, in Indy you had a lot of practice time and things started to come back to me.
"It was only really when I was able to find myself alone on the race track, when no-one else was going out at the hottest part of the day, that I was able to say: 'Just let me do my own thing here.'
"I drove around and started feeling more at one with the car again.
"You don't know if you're going to be like this forever but eventually things came back to normal and I was able to do everything normally again."

A happy ending
It is two weeks before the F1 teams will be in Australia for the first race of the season, with first practice starting at 12:30 local time on 13 March.
While there must be questions about whether Alonso will be fit enough to take part in that race, it is far from impossible. Back in 2003, three weeks after thinking his career was over, De Ferran won the Indy 500.
"The beauty of the story is that there I was on the first day of practice thinking my career is over I can't drive any more and at the end of the event I was drinking the milk," De Ferran said, referring to the traditional winner's celebration at Indianapolis.
"I went from the lowest low - thinking I was going to have to give up a career I loved and had been my life ever since I was a kid - to achieving possibly my biggest success in a racing car."