Fernando Alonso: McLaren expect driver to start F1 season
Last updated on .From the section Formula 1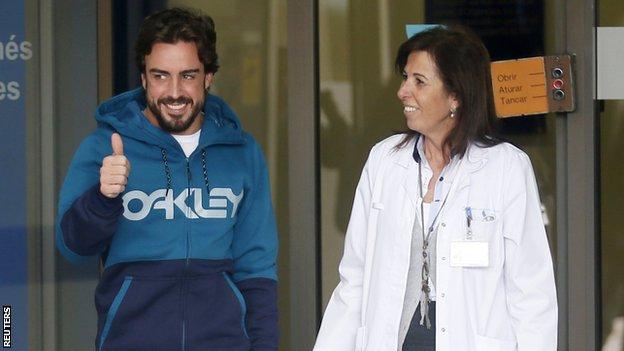 Fernando Alonso is "devoid of all injuries" and expected to race in the season-opening Australian Grand Prix, says McLaren boss Ron Dennis.
Alonso, 33, is now resting at home in Spain after being flown to hospital by helicopter following Sunday's crash in pre-season testing in Barcelona.
Dennis says Alonso was unconscious "for a few seconds" after the incident at the Circuit de Catalunya.
The new Formula 1 season begins in Melbourne on 15 March.
Dennis said a final decision on Alonso's fitness would be taken by doctors but added that the two-time world champion was "completely fine".
Asked if Alonso would line up on the grid in Melbourne, Dennis said: "I'm not a doctor, but I can't foresee any reason why not.
"There is a process of tests laid down by the FIA and I can't see any reason why he won't sail through it, but it's not for me to determine."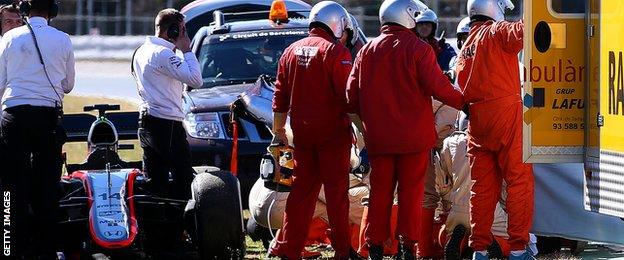 Dennis said Alonso, who is earning $40m a year with McLaren after leaving Ferrari, was "pushing very hard to get in the car".
He added: "All he wants to do at the moment is to race and test."
Although McLaren initially said Alonso was concussed in the accident, Dennis said that tests had revealed that not to be the case.
"He is physically perfect," Dennis said. "There is no concussion, anything. He had the symptoms at one stage but nothing that shows (on scans)."
Dennis also confirmed the accuracy of a report in Italy's Gazzetto Dello Sport newspaper on Thursday that claimed Alonso had retrograde amnesia following the accident.
But he added that some loss of memory was "nothing abnormal" for accidents such as this.
Dennis denied that McLaren was withholding any facts but said further investigations may reveal more information.
Alonso is not taking part in this week's final pre-season test in Barcelona, with Dane Kevin Magnussen stepping in to partner Jenson Button.