Fernando Alonso: The dangers of concussion explained

By Andrew Benson
Chief F1 writer
Last updated on .From the section Formula 1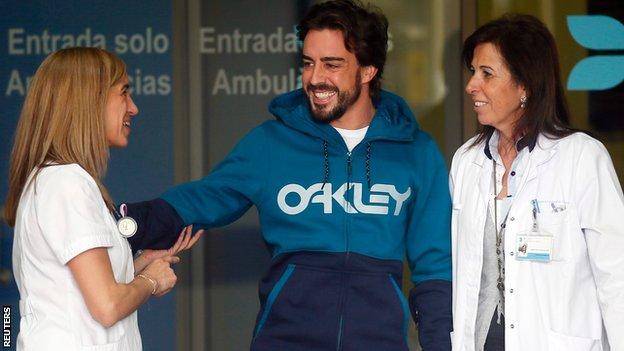 McLaren chairman Ron Dennis said on Thursday he "cannot foresee any reason why" Fernando Alonso won't be fit to race in the season-opening Australian Grand Prix on 15 March.
Chief F1 writer Andrew Benson spoke to a leading neurosurgeon and head injury expert, Professor Steve Olvey about concussion.
There's no test that will tell you
Professor Olvey: "If he's had concussion, he could completely recover within that period but it could also take longer than that.
"There is really no test that will tell you. You have to wait for it to run its course."
Olvey made it clear he could not offer a precise diagnostic assessment of Alonso as he had not seen him since the accident.
But he is arguably the world's leading figure in this field, has treated several world-class drivers with concussion, and is able to talk with authority in general terms about what can be expected in concussion injuries in motor racing.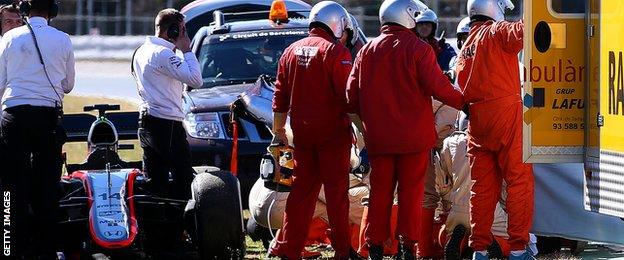 Is a three-day stay in hospital normal?
Following his crash, Alonso was flown straight to hospital in Barcelona and was kept there for three days before being allowed home to Oviedo to continue his recovery.
Professor Olvey said that the 33-year-old's time under observation was towards the upper limit of what is typical in such injuries.
"Concussion is really a spectrum from very mild to more severe, and anywhere along that spectrum you could be required to be in the hospital," Professor Olvey said.
"The majority of concussions actually don't require staying in the hospital, but some that are more severe could go as long as three days.
"It could be longer than that but that would be quite unusual."
Was Alonso concussed?
McLaren chief executive Ron Dennis said in a news conference on Thursday that Alonso was "not even concussed", which contradicted earlier statements made by the team and Alonso's management.
Dennis was mistaken. Alonso was concussed in the accident, in which his head first hit one side of the cockpit and then the other, and after which he was unconscious for an unspecified period of time, which Dennis says the doctors say was "seconds".
Dennis did admit Alonso had suffered retrograde amnesia following the accident - where a patient cannot remember the incident that caused the injury and perhaps other aspects of his life.
Alonso in F1

Was the youngest driver to start an F1 race for Minardi in 2001

Last won a race in Spain in May 2013 for Ferrari
Won two titles with Renault in 2005 & 2006

Won four races during his previous season with McLaren in 2007
Olvey said this was not unusual in concussion injuries and was not in itself a cause for concern.
"It may or may not mean the concussion was more severe than a minor one that clears up in a day or two."
"People with retrograde amnesia have a little more serious concussion than the most minor type, but it does not necessarily mean it will not completely recover. In fact, it would be expected to completely recover."
What are the risks with concussion?
There has been a heightened focus on concussion injuries in sport in recent times, particularly in contact sports such as rugby and the NFL.
Motorsport, in which drivers control high-speed projectiles and in which any accident can lead to very high G-forces, is an area where this is a major concern.
Dennis said that Alonso was "pushing very hard to get in the car" and that he "will appear in Australia" and go through the official test to ensure he was safe to drive.
However, he added that the timing of Alonso's return to the cockpit would be defined by the doctors treating him.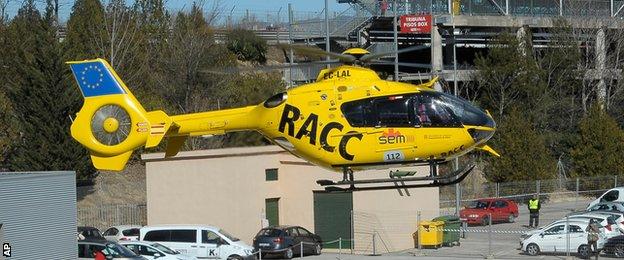 And Olvey said doctors would be acutely aware of the risks inherent in Alonso suffering another head injury.
"We know it is risky to get into a situation where you could very possibly have another concussion," Professor Olvey said. "You do not want to have a second concussion if you have had a first concussion until the first one has completely healed.
"It's different for each individual but the bottom line is too many concussions too close together are thought to cause long-term effects that could have an effect on a person later in life, so it is not worth the risk."
What are the symptoms of concussion?
"The most common post-concussion symptom is headache," Professor Olvey said. "There can be difficulty with balance and co-ordination. There can be sleep disturbance, difficulty with bright lights; sometimes sounds are more amplified than they really are.
"Depending on what part of the brain is concussed, there is a variety of symptoms that can occur after it.
"And we feel that until those symptoms are resolved there is still some injury to the brain and it is not safe to put oneself at risk as long as some of the brain is injured."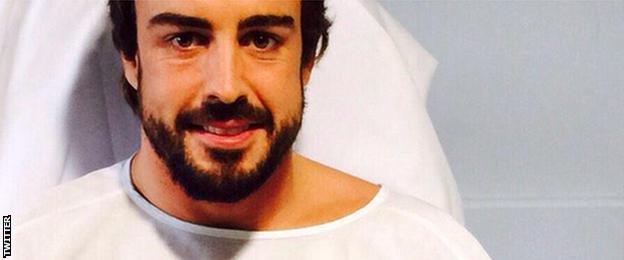 Potential for recovery
Head injuries can be very serious - Michael Schumacher and Jules Bianchi are still facing very long roads to recovery after suffering severe injuries in accidents, Schumacher in skiing and Bianchi in a crash at the Japanese Grand Prix last year.
But while concussion carries its own serious risks, most drivers recover completely.
Olvey has been involved in the treatment of concussion injuries in leading IndyCar drivers such as Al Unser Sr, Gil de Ferran and Dario Franchitti.
All made complete recoveries and returned to racing afterwards - each of them winning America's blue riband event, the Indianapolis 500, after suffering concussion injuries.
However, Franchitti's career is a lesson in the potential risks for drivers of having too many concussions.
The Scot was forced to retire after his major crash in the 2013 Houston IndyCar race. It was the latest in a series of concussions in Franchitti's career and doctors warned him that his life would be at risk if he suffered another.
Why did the crash happen?
Alonso is already showing progress in his recovery from the concussion he suffered in the accident.
However, the causes of the crash have not yet been fully explained.
McLaren say there is no evidence of a car failure and have said that they believe Alonso ran wide, perhaps as a result of strong gusting winds, the car was destabilised on the Astroturf on the outside of the corner and was spat back towards the inside of the track, where it hit the wall.
They say their telemetry read-outs prove Alonso was conscious up to the impact as he was braking at maximum force and changing gear.
But Ferrari's Sebastian Vettel, who was following the McLaren, said the car appeared to steer right towards the wall. It has not yet been explained why Alonso was braking but apparently did not try to avoid crashing.
If doctors believe he suffered some form of cerebral malfunction in the run up to the accident, then that could make a difference in whether he is allowed to return to the cockpit.