F1 testing: Mercedes set fastest time as McLaren improve

By Andrew Benson
Chief F1 writer
Last updated on .From the section Formula 1
McLaren-Honda had their best day of the winter as Mercedes underlined their status as favourites on day two of the final pre-season test.
Jenson Button completed 100 laps in the McLaren - half what the team had managed in nine previous testing days.
Button was fifth fastest, 2.798 seconds slower than Mercedes' Nico Rosberg, who set the fastest time of the winter.
The German's lap was 1.203secs clear of the rest, led by Williams's Valtteri Bottas and Sauber's Felipe Nasr.
Rosberg's pace was also 0.7secs quicker than the previous best of the winter, set by Williams driver Felipe Massa on Thursday.
Rosberg's lap was the first done by Mercedes all winter on the soft tyre, which had been used extensively by other teams.
And it backs up the advantage Mercedes appeared to have following race-simulation runs by top teams last week.
"We are confident we have a good car but we are well aware the others are posting some good times so we need to keep our heads down and keep working," said Rosberg.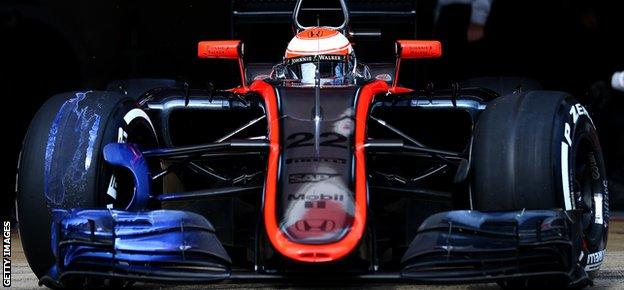 Rosberg's team-mate Lewis Hamilton was 0.8secs a lap on average faster than similar runs done by both Red Bull drivers and Bottas.
McLaren's day ended with Button stopped out on track, but they will be hugely encouraged by the mileage done by their car.
The Honda engine has been beset by reliability problems all winter and there are only two further test days before the first race in Australia on 15 March.
McLaren badly needed to get some miles on the car and this will have proved a major boost.
"My engineer has to buy the beers if it's over 100 laps," joked Button. "It's a starting point. It's a shame we've missed so many days, but we are on the right track now.
"We have a lot of work to do still. We did some higher fuel runs and some lower fuel runs. We know we're not the quickest guys out there, have a lot of work to do with set-up and getting the maximum out of the power unit.
"You'll see a lot of improvements out of us before Melbourne."
The team were given more good news by a video message posted by their driver Fernando Alonso following the accident last Sunday that left him in hospital for three days.
The Spaniard, who is recovering from concussion, said that he was "completely fine" following last Sunday's testing crash and was keen to get back in the car.
The 2015 Force India car also appeared for the first time, Nico Hulkenberg completing an impressive 77 laps after it started running shortly before lunchtime and ending the day with ninth fastest time.
Final pre-season test. Day two, Circuit de Catalunya
1 Nico Rosberg (Ger) Mercedes 1:22.792
2 Valtteri Bottas (Fin) Williams-Mercedes 1:23.995
3 Felipe Nasr (Brz) Sauber-Ferrari 1:24.071
4 Sebastian Vettel (Ger) Ferrari 1:25.339
5 Jenson Button (GB) McLaren-Honda 1:25.590
6 Pastor Maldonado (Ven) Lotus-Mercedes 1:26.705
7 Max Verstappen (Ned) Toro Rosso-Renault 1:26.766
8 Daniil Kvyat (Rus) Red Bull-Renault 1:26.965
9 Nico Hulkenberg (Ger) Force India-Mercedes 1:29.866