Lewis Hamilton has the speed but Nico Rosberg has the stability

By Andrew Benson
Chief F1 writer
Last updated on .From the section Formula 1195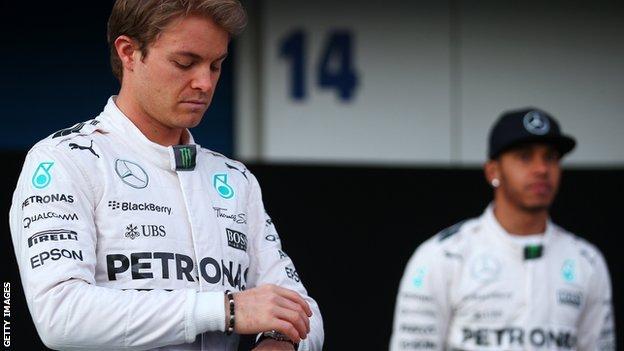 The forthcoming duel between Mercedes drivers Lewis Hamilton and Nico Rosberg will be one fought with gloves off, with no quarter asked and none given, beyond the orders of their team not to crash into each other.
Last year provided plenty of proof of that. Just look at the on-the-edge racing in Bahrain, Rosberg's questionable trip up the escape road in Monaco qualifying, and the collision between the two in Belgium, to pick but three examples.
And Mercedes F1 boss Toto Wolff believes this year will be just the same, with Hamilton and Rosberg again expected to fight a private battle for a title out of reach of the rest.
"The atmosphere is pretty much as normal as it can be between competitors," Wolff said as pre-season testing drew to a close earlier this month. "It was pretty calm last year at this time and it got more intense during the season. I am pretty sure we will have a similar situation this year."
Several tense moments between the drivers last year tested their relationship, and the team's management of it, to the limit.
"No doubt it will be challenging this year," Wolff said. "We want to maintain the same philosophy of letting them compete against each other."
Already there are indications that Wolff was right to take seriously the chances of another season of occasional bitterness and recrimination.
"We have a relationship that goes up and down - and it will continue to go up and down," said Rosberg. "It is an intense battle between us - and that will not change any time soon.
"Last year's experience helps. It's that 'been there, done that' kind of thing. All the difficult times have made me stronger. It is the difficult moments where I learn the most."
Hamilton, meanwhile, is already scoring psychological points. Asked in an interview with F1 Racing magazine recently who had been his toughest rival in his F1 career, he chose Fernando Alonso, saying: "In terms of natural talent, he's the best." Rosberg was not even mentioned.
Champion oozing self belief
Hamilton exudes a confidence that betrays his belief that he is simply a better racing driver than Rosberg. It is a conviction that was formed when they were teenage karting rivals, and Hamilton has seen no reason since to change his view.
And on the evidence of last year, why should he? Although the championship went down to the last race, it was in reality much less close than it appeared.
In races, Hamilton has good reason to believe he had Rosberg handled every single weekend - even the ones where he did not beat him.
Rosberg's victory in the opening race in Australia came after Hamilton suffered an engine problem. Hamilton then took a run of four consecutive victories. In the last two of those, in Bahrain and Spain, Rosberg was quicker, but Hamilton beat him anyway.
Rosberg then won in Monaco, but only after the controversy of qualifying, when he ran wide on his final lap and prevented Hamilton having a chance to beat him to pole, something the Englishman still believes was done on purpose.
In Canada, Hamilton was leading when he suffered brake failure. He was catching Rosberg before the German retired at Silverstone. He was then forced to start from the back because of car problems in qualifying in Germany and Hungary - but still beat the pole-starting Rosberg to third in Budapest.
After their collision in Belgium, caused by Rosberg messing up a passing attempt, Hamilton won five straight races.
The Englishman was defeated in the penultimate race in Brazil, but was faster on race day after losing out in qualifying, only to spin away his chances of passing Rosberg around the pit stops. Hamilton then dominated the final race in Abu Dhabi even before Rosberg's car hit trouble.
Even the qualifying statistics - 12-7 in Rosberg's favour, in terms of who was quicker - are not quite what they seem.
In two of those races, Germany and Hungary, Hamilton could not compete, when he had looked quicker all weekend. That could have made it 10-9.
Then, only his own mistakes prevented Hamilton being on pole in Canada and Austria, when he was again quicker. And that's suddenly 11-8 in Hamilton's favour.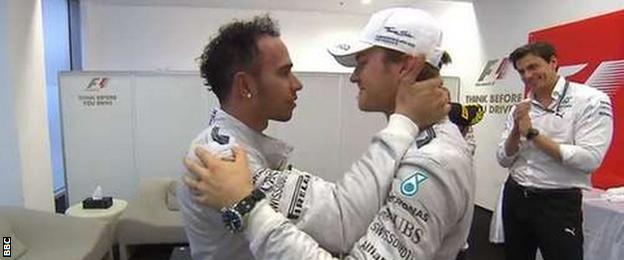 In other words, Hamilton will head into this season thinking he has his team-mate under control, and that all he has to do is keep calm and night will follow day.
As he said when he was asked how he felt about a re-match with Rosberg: "I'm ready. That's all I need to be."
Challenger chasing material gains
There will be no such remarks from Rosberg, who has always taken a much more reserved and unassuming approach to the challenge of beating Hamilton.
Rosberg knows he is up against it. He knows full well that Hamilton is, as his former team-mate Jenson Button puts it, "one of the fastest drivers ever to have raced in F1".
This explains Rosberg's candour about why he was beaten last season.
"There is not one specific point," Rosberg said. "Lewis just did it a little bit better - that's it. He drove better all in all. Small bits here and there - and I need to find smalls steps to beat him. And I am going for it."
Rosberg approaches his racing in the same way performance director Dave Brailsford led British cycling to world-beating levels - by the pursuit of marginal gains.
Hamilton v Rosberg

Lewis Hamilton

Nico Rosberg

30

Age

29

2007 Australian Grand Prix

F1 debut

2006 Bahrain Grand Prix

148

Races

166

33

Wins

8

70

Podiums

26

1,767

Career points

887.5
A photo from the final day of pre-season testing sums this up in one image. It is taken in the Mercedes engineering room, where the drivers spend a lot of their time at tests and race weekends going through the data, trying to understand how to make their cars go faster.
The room is almost empty. The engineers have gone, along with all but one of their computers. A cleaner is sweeping up. Rosberg is alone, still in his race suit, staring at his open lap top.
This is Rosberg all over. He might have been an aerodynamics engineer - he turned down a place at London University to study it because his racing career was taking off. Now he uses that background to try to find the small advantages that can help him overcome the gap in talent he knows there is between him and Hamilton.
Take, for example, this remark last month: "I learned some things in the winter. For example, my breathing in the car was something I could work on, because when we go through fast corners we hold our breath, because we have so much G-force."
He has also stepped up his training regime "to be that little bit more fit at the end of races, a little bit more on it. That 1-2% that makes the difference in the end".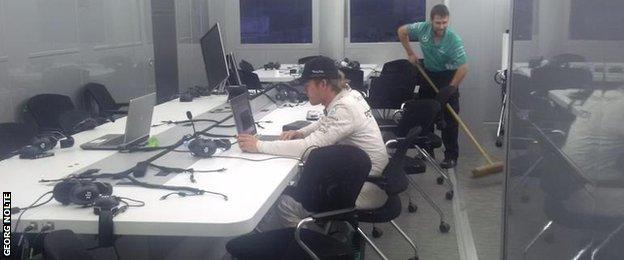 Rosberg's approach to last season was fascinating. He knew the Mercedes was the best car, and that his only opposition was Hamilton. So he knew if he was beaten in qualifying, he would still at worst be second on the grid, and the race would give him another opportunity.
So he did not force anything, didn't over-reach; just focused on doing his job, tried to shut out what Hamilton was doing - other than to study his data to see what he could learn.
Helped by the the fact Hamilton was on the back foot from the start following his retirement in Australia, the result was a very consistent first half of the season. And this began to get under Hamilton's skin.
Hamilton felt under pressure to be on pole and win all the time, because he was chasing a deficit, and because no other team were a threat. Then the incident in Monaco qualifying, which resulted in another victory, destabilised Hamilton further, to the point that he made mistakes in qualifying in the next three races, when he really should have been on pole at all of them.
In the end, Hamilton refocused, got it back and went on to a comfortable win. But Rosberg now knows Hamilton is vulnerable, as long as he can keep the pressure on. The difficulty is doing that against someone who is nakedly faster, and always will be.
Outside factors
Rosberg has one more advantage in his favour. He has stability, both personal and professional, while Hamilton has neither.
The German married his long-time girlfriend Vivian Sibold last summer, and the couple recently announced they were expecting a baby this summer. His contract with Mercedes lasts at least until the end of 2016.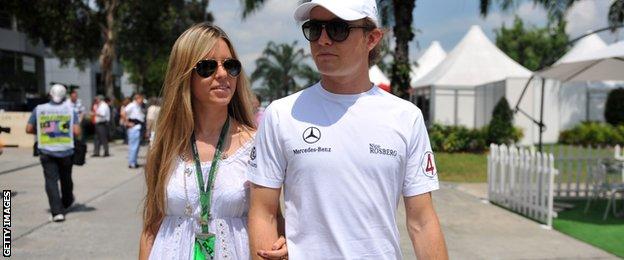 Hamilton, by contrast, has recently split up with pop star girlfriend Nicole Scherzinger, after seven tempestuous years, and his Mercedes contract runs out at the end of the season.
Both he and Mercedes say they want to renew it. They did not talk about it during last season, saying they wanted to get the championship out of the way first, but that they were sure it would be concluded shortly afterwards. It wasn't and still isn't.
This year, Hamilton is doing the negotiations himself, a role he seems to cherish and find uncomfortable in equal measure. Whatever else, that is inevitably going to be a distraction for him this year, and one he will have to compartmentalise from his racing.
Likewise, Scherzinger. The last time they split up, in 2011, it was an influencing factor in Hamilton having what he himself admitted was his worst season in F1. He's four years older and wiser now, and as he put it himself: "I am 30 now, I am my own man."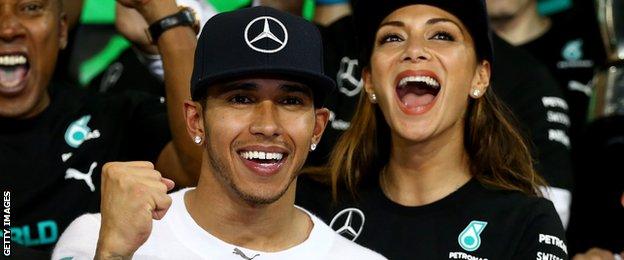 These are the sorts of things all top sportsmen - indeed all of us - have to deal with. But still it will be fascinating to see how Hamilton navigates what are, for him, uncharted waters.
As Wolff put it last year: "If you look at Lewis's career, drama and glory were always very near each other."
Already it's hard to imagine this year being any different. But it is equally hard to imagine that, ultimately, Hamilton will not end the year with a third world title.