Formula 1 gossip: Newey, Hamilton, Button, FIA
Last updated on .From the section Formula 1
Sunday, 15 March
Red Bull chief technical officer Adrian Newey says it may take years for his team to challenge for the title again as there is "no light at the end of the tunnel" with engine supplier Renault.(Sunday Telegraph)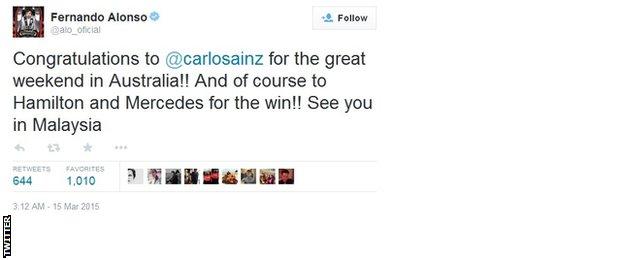 Jenson Button has warned Hamilton to be wary of a Nico Rosberg revenge mission after beating his Mercedes' team-mate to last year's world title. (Sunday Mirror)
The FIA has issued a technical directive to allow it to measure fuel pressure through each car's fuel system. (Autosport)
Saturday, 14 March
Williams' Formula One test driver Susie Wolff says she is "never going to change the male-dominated environment" in F1, and believes she would be wasting her energy if she tried. (Stuff)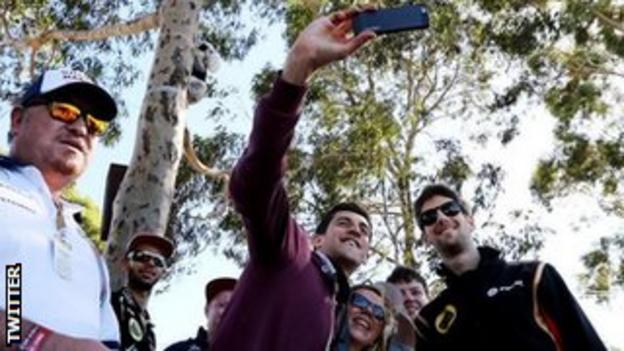 McLaren team boss Eric Boullier says there "are still some grey areas to clarify" regarding the fitness and health of driver Fernando Alonso. (Inautonews)
Nico Rosberg says he is completely unfazed and "not worried at all" by Lewis Hamilton's domination in qualifying for the season's first grand prix in Australia. (Sportal)
Red Bull's Daniel Ricciardo says he found qualifying "tricky" and that he does not know what to expect from a race in which he will start from seventh on the grid. (Sports Fan)
Valtteri Bottas, 25, is understood to have complained of a bad back after limping out of his car having qualified in sixth for Williams. (Motorsport)
Friday, 13 March
Kevin Magnussen, driving for McLaren in place of the absent Fernando Alonso, says a mistake of his own making led to his crash in practice at the Australian Grand Prix. (Planet F1.com)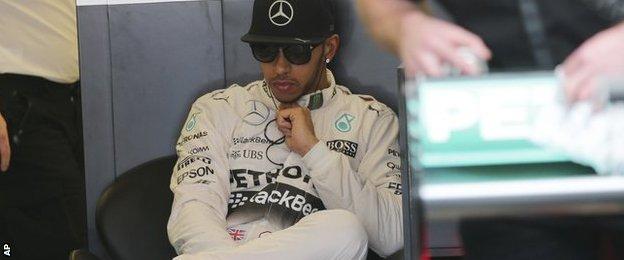 Jenson Button says he sought assurances over the safety of the McLaren cars following the crash that has put his team-mate Fernando Alonso out of the Australian Grand Prix. (Daily Telegraph)
Ferrari driver Kimi Raikkonen has conceded he needs to improve his one-lap performance to get his car into the best grid position possible for Sunday's opening race in Melbourne. (Autosport.com)
Williams have joined Mercedes in arguing against a proposed ban on wind tunnels for testing. (Autosprint)
Williams driver Felipe Massa believes Ferrari will pose a threat for a podium finish in Australia after posting impressive times in practice. (F1i.com)
Thursday, 12 March
McLaren boss Ron Dennis has conceded he made a mistake when he denied that Fernando Alonso had suffered concussion when he crashed during testing in Barcelona last month. (Guardian)
Lewis Hamilton's contract renewal talks with Mercedes are now "down to the details", according to team boss Toto Wolff. (Sky Sports)
Formula 1 designer Adrian Newey's teenage son Harrison, 16, will be team-mate to Michael Schumacher's 15-year-old son Mick in German Formula 4 this season. (Reuters)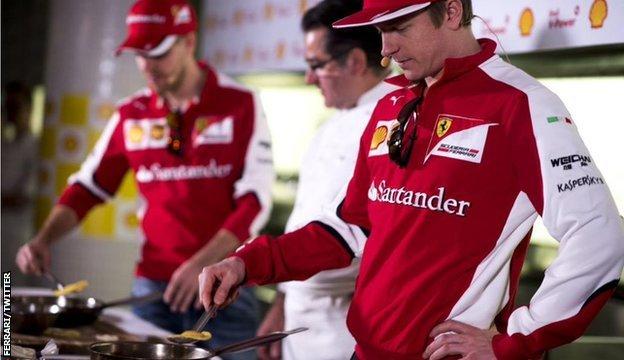 Australian television chef Guy Grossi gives Ferrari drivers Kimi Raikkonen and Sebastian Vettel help in the kitchen of the Merchant Restaurant in Melbourne during a media event.
Red Bull team boss Christian Horner believes Formula 1 should consider a ban on windtunnel use as a radical cost-cutting measure. (Autosport)
Kevin Magnussen - who is standing in for Fernando Alonso at McLaren - has confirmed he has not had any contact with his team-mate and is uncertain which one of them will be racing in Malaysia. (Sky Sports)
Felipe Massa, 33, believes Williams are in considerably better shape as the 2015 F1 season approaches than last year and feels they are still improving. (Crash.net)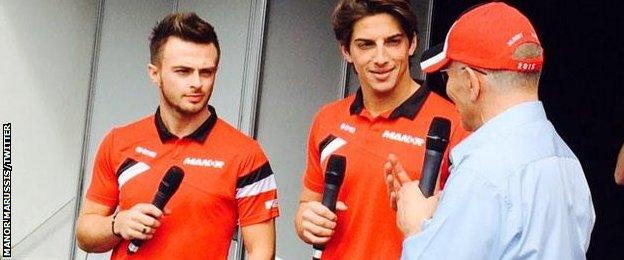 Sebastian Vettel is convinced Ferrari have a better car than the one that stuttered through a winless season last year, but has played down his team's chances of upsetting Mercedes at Sunday's season-opening Australian Grand Prix. (Reuters)
Vettel has continued his tradition of giving his F1 cars girls' names. His Ferrari SF15-T is known as 'Eva', he told journalists in Melbourne. (Planet-F1)
Mexican Sergio Perez says former Sauber reserve driver Giedo van der Garde, 29, is correct to challenge the team for reneging on a contract to offer him a 2015 F1 seat, saying drivers should "stand up for their rights". (Crash.net)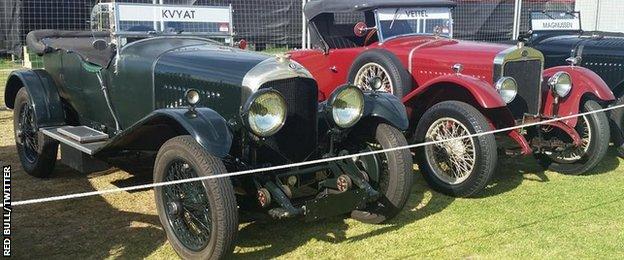 Wednesday, 11 March
The rivalry between Mercedes team-mates Lewis Hamilton and Nico Rosberg will become even more intense in 2015, team boss Toto Wolff says.(Autosport)
McLaren's Fernando Alonso has topped a list of F1's most marketable drivers for the second year in a row. The list measures public awareness of a driver through a range of criteria including likeability, visibility in print and broadcast media and trendsetting capability. (JamesAllenonF1.com)
The new Mercedes AMG GT S will be the 2015 Formula 1 safety car, replacing the SLS AMG which served from 2010.(Wheels24)
Nico Rosbergtweeted a pictureof his tram journey to deliver the Australian Grand Prix trophy to the Albert Park venue in Melbourne.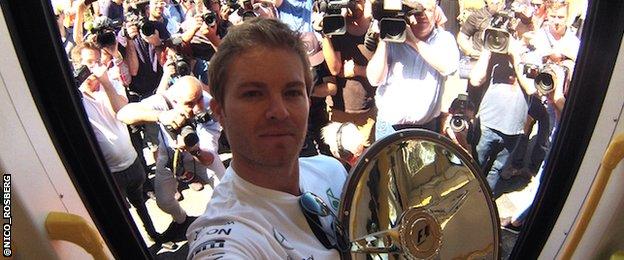 Tuesday, 10 March
David Coulthard says he cannot understand why McLaren are lagging so far behind their rivals and believes the team's involvement in road cars is a distraction for them. (Guardian)
Mercedes racer Nico Rosberg is determined not to let team-mate Lewis Hamilton beat him to the Formula 1 drivers' title after finishing runner-up to the world champion last year. (Daily Star)
Williams driver Valteri Bottas says he is a better driver this year as he bids to earn his maiden F1 win. (Autosport)
Red Bull driver Daniel Ricciardo admitted he was blushing live on television when pop star Kylie Minogue asked him for three autographs. (Daily Mail)
Kylie Minogue later tweeted: "Hey Daniel Ricciardo ... Now EVERYONE wants me to get your autograph!!! #lineuppeople!!!"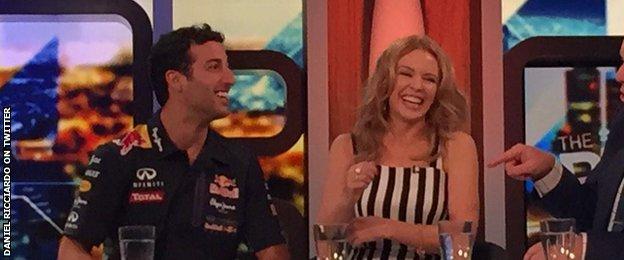 Monday, 9 March
Lewis Hamilton has twice been approached by Ferrari with a view to moving for the 2016 season, but the world champion has kept his word to Mercedes boss Toto Wolff and refused to open talks with the Italian team. (Daily Mirror)
Hamilton is negotiating his own contract with Mercedes and believes the two parties are in the "final stages" of agreeing a new deal. (Daily Express)
Former world champion Damon Hill has predicted "lots of pain" for McLaren at the start of the season. (Daily Mail)
Ferrari duo Sebastian Vettel and Kimi Raikkonen are the "perfect combination" of drivers, according to team boss Maurizio Arrivabene. (Autosport)
Mercedes driver Nico Rosberg tweeted a picture of a meeting with F1 supremo Bernie Ecclestone and the message: "Just went to see Bernie to collect my pole trophy and the big boss already told me the result of the 2015 championship. I'm very happy with it ;)."