Haas F1 on schedule for 2016 debut after key acquisitions
Last updated on .From the section Formula 1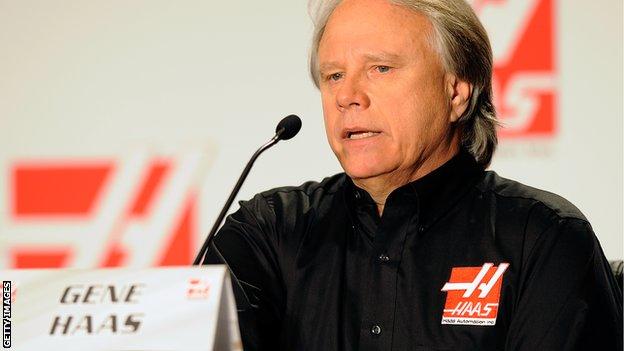 The US-owned Haas Formula 1 team have confirmed they are on schedule to make their planned debut next year.
Haas have bought the Oxfordshire-based former headquarters of Marussia and hired key technical personnel.
Ex-Marussia pair Dave O'Neill and Rob Taylor have been appointed team manager and chief designer respectively.
Team principal Guenther Steiner said: "A lot has already been accomplished for us to be competitive when we join the grid in 2016."
The Marussia pair will be joined by another with vast experience in F1, Ben Agathangelou, who arrives from Ferrari as the new chief aerodynamicist.
Agathangelou and Taylor have already designed a 60% scale model of their 2016 car, with the team using Ferrari's wind tunnel.
Steiner added: "Our technical partnership with Ferrari [whose engines will power Haas cars] has allowed us to develop our car and our people at an exceptional pace.
"We're committed to our plan, we're committed to F1 and we're on schedule. This time next year, our cars will have already been tested and we'll be readying them for Melbourne."
More than 200 staff were made redundant when Marussia ceased trading in early November 2014, two weeks after being placed in administration.
The team have since relaunched as Manor Marussia but Haas have purchased their former headquarters, in Banbury, to use as a European base.
Haas will become the first US-led F1 team on the grid for 30 years.