Australian GP: Lewis Hamilton & Nico Rosberg expect another battle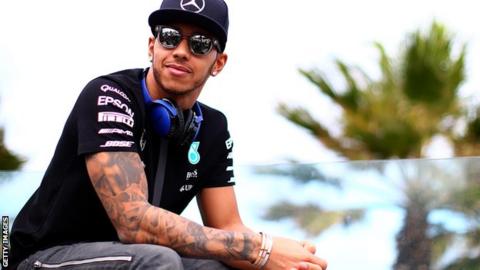 Mercedes drivers Lewis Hamilton and Nico Rosberg say they expect another tense and difficult battle for the championship this season.
The two had an occasionally mistrustful and bitter relationship last year and their team are again expected to be clear of the rest of the field in 2015.
Hamilton said: "I anticipate a very similar season to last year."
Rosberg added: "It has been a great battle and I am sure it will continue to be a big challenge for both of us."
Hamilton, 30, clinched the title at the last race of the season in 2014 after a see-sawing battle between the two throughout the year.
The season was marked by a series of controversies, particularly around Rosberg's on-track behaviour at the Monaco and Belgian Grands Prix.
In Monaco, he went off the track in qualifying and prevented Hamilton having a chance to beat him to pole position, an incident the Englishman believes was deliberate.
And in Spa, the two collided while disputing the lead on the second lap, which eventually led to Hamilton retiring from the race. Mercedes blamed Rosberg for the incident and fined him.
Chief F1 writer Andrew Benson on the Australian GP
"It's hard to think of a better place to start the season than Melbourne and somehow it would not seem right if the opener was anywhere else.
It's an awfully long way to go for a motor race but the reward is a vibrant, fun city, a view of Port Philip Bay, and one of the loveliest venues on the calendar.
The autumn leaves are just starting to fall in Albert Park when Formula 1 pops by, the air is scented by pine and eucalyptus and the atmosphere crackles with anticipation of the season ahead. And the track, a mix of street and road circuit, with walls ever close, pretty much guarantees action of one kind or another."
The team again plan to let their drivers race freely - starting with this weekend's season-opener in Australia - with the proviso they do not crash into each other.
"The situation is different," Mercedes team boss Toto Wolff told BBC Radio 5 live. "Last year the pressure was very big to win the championship and we were very keen on scoring in every single race.
"The pressure is still there but it's maybe a more relaxed approach this year.
"It was a very conscious decision to let them fight and we're going to have the same approach.
"We have spent a lot of time talking about it. We have looked at the many critical situations from last year. But then it would be very naïve to think it's not happening again this year."
Rosberg, 29, said the likelihood of team-mates being each other's main opposition made the battle more intense.
"With another driver in another team it would be less complicated," Rosberg said.
"But when it is in the same team it makes it more difficult. You always have that extremely big compromise to play because you have to go for the team first and then go for yourself, especially at the beginning of the season.
"It is going to continue to have its ups and downs and easy phases and difficult phases. That is quite natural but I am confident we will manage another great season."
Rosberg says Mercedes appear set to start the season in a very strong position.
"We are keeping a very close eye on the opposition," he said. "We are confident in the job we have done.
"We have a strong team and it is fair to say we are the best in F1 and we are the ones to beat, but the others have been pushing hard and some of them have been making huge steps.
"We look forward to seeing where we are on Saturday but we are optimistic."
Pre-season testing indicated Williams, Ferrari and Red Bull are expected to stage a close battle for best of the rest.
Hamilton said: "Ferrari are looking very strong. it will be interesting to see how they are this weekend."