Australian GP: Sauber lose appeal over Giedo van der Garde ruling
Last updated on .From the section Formula 1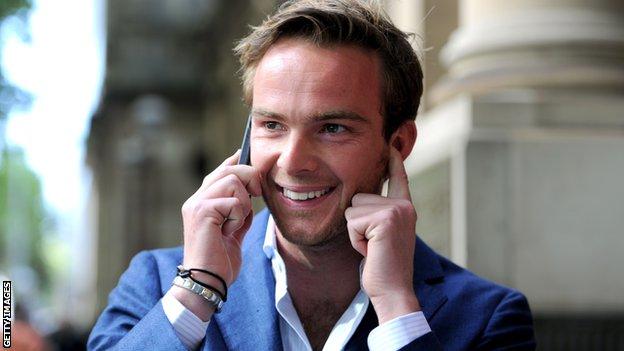 Sauber have failed in an appeal to overturn a court ruling that says Giedo van der Garde should race for the team at Sunday's Australian Grand Prix.
Three appeal judges ruled against the team on Thursday, clearing the way for the Dutchman to compete this weekend.
Marcus Ericsson and Felipe Nasr are the team's nominated drivers.
"The appeal is dismissed because we see no error in the reasoning of the trial judge," the head of the appeals panel said.
Andrew Benson, chief F1 writer in Melbourne
"What a mess. How could a team run by a qualified lawyer have ended up with three drivers contracted to run two cars in 2015? It is hard to believe, yet easy to understand. Sauber signed one driver who brings millions to the team - Giedo van der Garde - and then found two more who brought even more,and who would pay it up front as well. That they decided to ignore Van der Garde's valid contract underlines just how dire the team's straits were at the end of 2014. What happens next, though, is much harder to work out. Sauber clearly don't want to run Van der Garde."
Sauber were also ordered to pay Van der Garde's legal costs.
Speaking outside court, Van der Garde said: "Sauber has to work with us now. There is no other issue."
It is unclear whether Sauber will drop one of their current drivers to accommodate Van der Garde in Melbourne this weekend, or race with Ericsson and Nasr, risking contempt of court.
BBC Radio 5 live commentator James Allen says current rumours in the Melbourne paddock indicate Swedish driver Ericsson would be the man to step aside should Van der Garde drive.
Reporters at the Victoria Supreme Court say Van der Garde's legal team has filed a contempt of court application to force Sauber to comply with the order.
Van der Garde's lawyer said failure to comply could result in the seizure of Sauber's assets.
Sauber have been asked to provide a list of those assets, which includes their cars and equipment currently at Melbourne's Albert Park.
Court proceedings are due to continue at 10:30 local time on Friday (23:30 GMT), just two hours before the start of first practice.
Van der Garde versus Sauber background
Van der Garde originally brought the case against Sauber after he was dismissed from his role as a test driver at the end of 2014. He said he had proof he had been offered a race seat for this year. He took his case to a Swiss arbitration tribunal, which ordered Sauber to keep him on the team, a decision the Victoria court has now enforced.
Prior to launching their failed appeal, Sauber team principal Monisha Kaltenborn said letting Van der Garde race at such short notice - in a car designed for Ericsson or rookie Nasr - would be unsafe.
"What we cannot do is jeopardise the safety of our team, or any other driver on the track, by having an unprepared driver in a car that has now been tailored to two other assigned drivers," she said.
But McLaren's Jenson Button criticised Sauber for taking such a view.
"It is a shame that they have gone in that direction, because safety is always a concern in motorsport and we shouldn't be throwing it around lightly," said the 2009 world champion.
"Personally, him driving the car is not a safety issue. I think it is unfair to use that against Giedo."
Van der Garde must still acquire a valid super-licence - required for any driver to compete in F1 - as last season's has now expired.
F1 drivers on Sauber v Van der Garde
Force India driver Nico Hulkenberg: "Geido wants what he was promised, what he signed for and, I think, also paid for. It's his right. It's not a way to do business and to screw people like this."
Williams driver Felipe Massa: "It shouldn't be the way people treat drivers. They should respect drivers. It doesn't matter if you are a driver or an engineer, if there is a contract then that should be respected. Drivers should stand up for their rights, so I see it as a good thing."