Australian GP: Fernando Alonso return unknown - McLaren

By Andrew Benson
Chief F1 writer in Melbourne
Last updated on .From the section Formula 1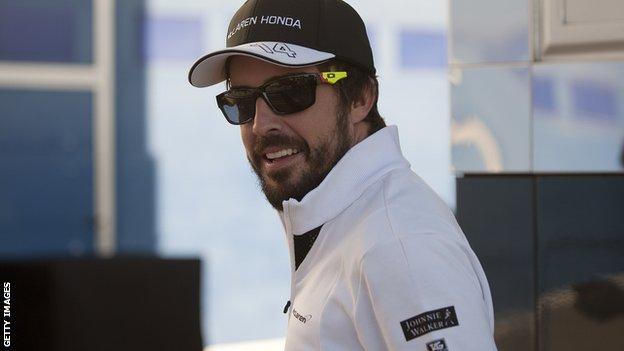 McLaren have admitted they do not know the cause of Fernando Alonso's crash in pre-season testing nor when he will return to the cockpit.
The Spaniard misses the season-opening Australian Grand Prix to recover from concussion sustained on 22 February.
The team initially said strong winds caused him to lose control at the Circuit de Barcelona-Catalunya.
But they have now said "it is not known exactly why the accident occurred" and it is "not up to us" when he returns.
Alonso, who has been signed by McLaren-Honda this season on a three-year deal worth $40m (£27.1m) a year, has said he intends to return for the next race in Malaysia on 27-29 March.
But to do so he must be cleared by his own doctors, who advised him to miss Australia, and pass extensive medical tests by governing body the FIA.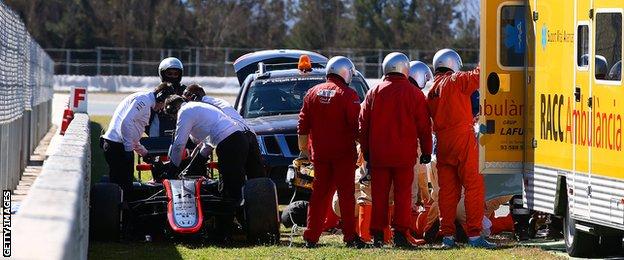 There is video of the accident from closed-circuit television cameras at the track and from a camera mounted to the Ferrari of Sebastian Vettel, which was following Alonso at the time he crashed.
But the images are said to be poor quality, indistinct and inconclusive by insiders who have seen them.
There has been speculation that Alonso, who lost control of his car at about 134mph, suffered some kind of cerebral malfunction and might possibly have been unconscious before hitting the wall.
But McLaren say all tests on the 33-year-old have been negative.
A spokesman told BBC Sport: "After undertaking a very thorough analysis, we are confident that the accident was not caused by a car malfunction of any kind.
"Equally, the exhaustive imaging and monitoring tests that Fernando has undergone have revealed no abnormalities whatsoever.
"Bearing both those facts in mind, it is not known exactly why the accident occurred.
"Nonetheless, we at McLaren-Honda are continuing to liaise and co-operate with the FIA, and with Fernando's doctors, but it will not be up to us to decide when he will return to the cockpit.
"In the meantime, therefore, all we can say is that he feels fit and well, he is training hard, and he is keen to go racing again as soon as possible.
"It goes without saying that, on his behalf, we share that keenness."
The FIA has given no information on its investigation into the accident nor when it might reveal its findings.
The governing body is expected to stay silent on the issue until its doctor tests Alonso, which will be in Malaysia if he goes to the race.
McLaren chairman Ron Dennis has admitted the cause of the accident may never be known.
Australian GP practice results