Australian GP: Toto Wolff says Horner should get his head down

By Andrew Benson
Chief F1 writer in Melbourne
Last updated on .From the section Formula 1
Mercedes F1 boss Toto Wolff has accused Christian Horner of "moaning" after the Red Bull team principal called for Formula 1 to equalise engines.
Red Bull, who use Renault engines, had a poor weekend at the season-opening Australian Grand Prix, with one car lapped and the other retiring.
Wolff's team took a one-two with Lewis Hamilton and Nico Rosberg in Australia.
He said Red Bull and engine supplier Renault should "get their heads down and work hard and sort it out".
"Is it healthy to have this? The FIA have an equalisation mechanism within the rules," Horner had said. "They perhaps need to look at it."
Wolff, whose team won 16 of the 19 races last year, responded to the claim by saying: "If you come into F1 and you try to beat each other or perform at the highest level and equalisation is what you need after the first race and you cry out after the first race, it is not how we have done things in the past and not how we have moaned."
The FIA is not expected to make any moves to appease Red Bull.
Horner was referring to appendix four of the sporting regulations, which is to do with engine homologation.
It contains what is known as the "fair and equitable rule". But this was entered in the rules to allow flexibility over new manufacturers entering F1, not equalising existing engines.
Horner has been trying to persuade the FIA to use it against Mercedes since last year, so far with no success.
Horner said that the Renault engine used by Red Bull in Australia had less performance than the one they used at the final race of the 2014 season.
The engine also had major problems with reliability and driveability.
Horner described the situation as "frustrating", adding: "It's been a very tough weekend for Renault. The engine is just quite undriveable.
"You can see Ferrari have made a step forward and Renault at this stage appear to have made a retrograde step."
He said Renault were "probably 100bhp down on Mercedes".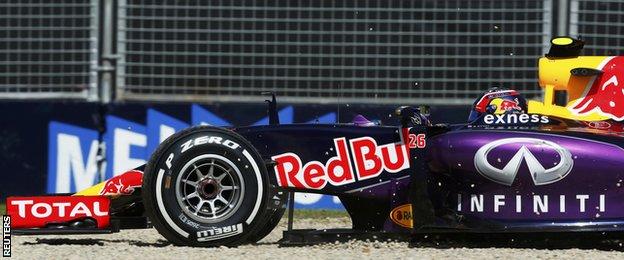 And he implied Renault did not know how to solve their problems.
"With any problem, first of all you have to understand what the problem is in order to be able to address it. Until they get to the bottom of what the issues are it is going be very difficult to address that."
Red Bull were barely any more competitive than their junior team Toro Rosso, which is the only other team with a Renault engine but runs on about half the parent team's budget.
Asked whether it was a concern that the Toro Rosso car appeared to be as good as the Red Bull, Horner said: "Not really because it masks so many things to do with corner entry, corner exit, degradation, slip angle of the tyre.
"You're not able to drive the car properly. You then start moving your brake balance around to try to compensate. So you are so far away from optimum. you start to lose temperature in brakes. Then the tyres aren't working as they should. It's a spiralling effect."
"They are struggling the same amount [with the engine]. It is just having a more dramatic effect on our car."
Australian GP coverage details