Lewis Hamilton: Mercedes driver expects 'good fight' with Ferrari

By Andrew Benson
Chief F1 writer in Melbourne
Last updated on .From the section Formula 1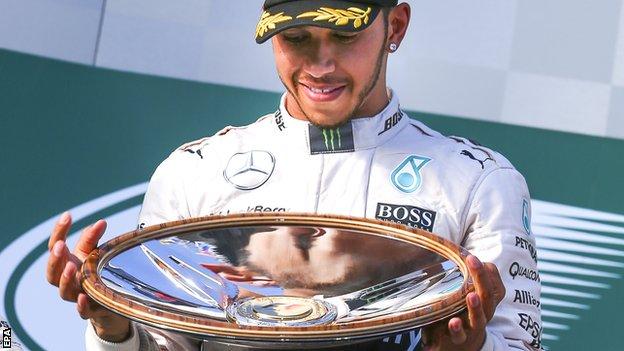 Lewis Hamilton says he expects Ferrari to mount a challenge against his Mercedes team later this season.
Winner Hamilton and team-mate Nico Rosberg dominated in Australia, but Sebastian Vettel's third place was progress for Ferrari after a poor 2014.
"The Ferraris have taken a huge step forward, so we definitely cannot back off because I'm sure they're going to be pushing," Hamilton said.
"I anticipate we might have a good fight with them at some stage."
The Ferraris of Vettel and Kimi Raikkonen qualified 1.4 seconds slower than Hamilton and the German four-time world champion was more than 30 seconds adrift at the end of the race.
Finn Raikkonen retired on lap 41 with a loose wheel.
Rosberg said: "I hope we can have a good fight. That would be awesome.
"The next couple of races we're going to be leading the way and we're going to try and keep it that way, but we know it would be good if they can come a bit closer, as long as they don't come too close."
His remarks, in the post-race news conference, provoked a cynical response from Vettel.
"Be honest," he said. "Do you really hope so? Seriously? You finished 30 seconds ahead of us and you hope it's going to be closer? So you hope to slow down? Is that what you're saying?"
Rosberg insisted that a challenge from Ferrari was "important for the sport and the fans". He added: "I do think about the show. If you do come a bit closer that would be awesome for everybody."
Vettel does not believe it is likely that Ferrari will be able to catch up this season.
"They have a great package at the moment, which will be difficult to beat," he said.
"It's a big gap. Thirty-four seconds down the road is a lot for everyone else. You can turn it around a little bit for the next grand prix - we can be closer but it could be even worse.
"They are the favourites; they had a huge advantage last year and I think they did a good job in increasing that advantage for this year. It will be difficult but not impossible for us and the rest to catch up."